We're making snack time a little more fun with a theme, ants! Along with some storytime fun, we're snacking on ants on a log as well!
Ants are interesting little creatures. And especially as of late, as these little bugs have been creeping all around our yard. So to become a little less of an Ant Bully, we decided to to find out more about ants for story time. Here are 2 great books about how to treat a tiny little ant, keeping your feet off it's back.
We started with The Ant Bully by John Nickle. It's all in the title and the book's front cover! This fun book has also been made into a movie.
Then we read Hey, Little Ant by Phillip M. Hoose. The last page of this book stops with the child's foot in the air and you get to decide what the boy did next. What would you choose to do?
Ants on a Log Snack
After we read these books, we made the classic snack Ants on a Log. I can remember eating this snack as a child and imagining the ants marching along their log. All you need for this tasty treat is celery, peanut butter, and raisins. I've had so much fun passing this childhood classic along to my own children!
Making this simple snack is a fun way for kids to get started in the kitchen. No matter their skill level, they'll come out with a healthy, delicious treat to enjoy!
I guess we decided to eat ants instead of step on them! But I do have a better appreciation for them and what amazing creatures they are. I think my kids and I won't be as quick to step on their little ant hills anymore.
More Healthy Snacks for Kids:
Looking for more healthy snacks for your little ones to enjoy? Try these ideas next!
Healthy Frozen Yogurt Fruit Dots
These gorgeous yogurt fruit dots turn ordinary ingredients into something fun!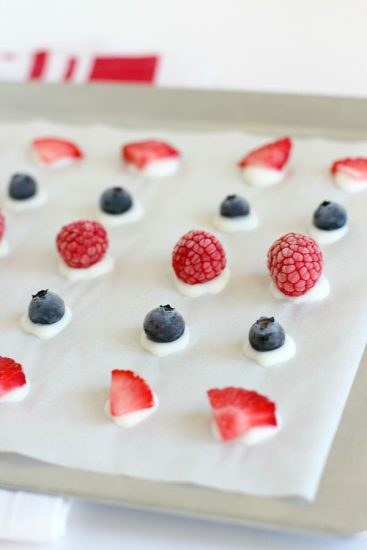 Zucchini Parmesan Tater Tots
These zucchini parm tater tots are so delicious, the kids won't even realize they're eating veggies!
ABC Smoothies for an After School Snack
These yummy smoothies are a great way for little ones to recharge after a long day at school!
Chocolate Peanut Butter Apple Slices
A little bit of chocolate and a little bit of protein makes these treats totally delicious!
Cream Cheese and Jam Cracker Snacks
Who doesn't love the combo of salty and sweet? These simple snacks have both!