Today I stamped up these fun apple-shaped stamped cards. They are perfect for a back to school gift for teacher, especially with one of these free back to school printables.
Apple Sponge Stamped Cards
Thanks to the folks at Martha Stewart and Plaid, who've teamed up to create a power pack of decorative paint and supplies, I received a fun box full of supplies. Right away I headed for these circle sponge stamps, endless possibilities with these sponges, I'm sure you'll be seeing more crafts from these.
Supplies:
circle sponge brush, straight paint brush
red, brown and green craft paint
card stock paper
plate
optional: cellophane bag, ribbon, tag
1. Cut your paper in half for 2 folded cards. You can cut it horizontally or vertically, right in half. Then fold them over and press to crease.
2. Add red paint to a plate and press your circle sponge into the paint. Press the painted sponge onto your card. I placed my red circle in the bottom corner to give it a decorative look. And the sponge creates bubbles on the paper, which I think gives it a fun texture.
3. With a small paint brush, add a brown stem and a green leaf of paint. Then you'll need to let these stamped cards dry completely.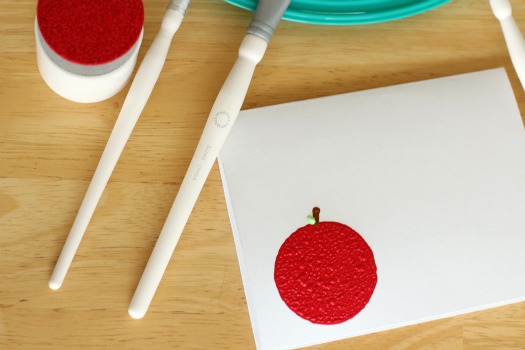 4. Create 5-6 cards per teacher, adding in envelopes as well.
5. Download and print out the free back to school printable tag to attach to the gift.
6. Place your cards into a cellophane bag, wrap with ribbon and attach the gift tag.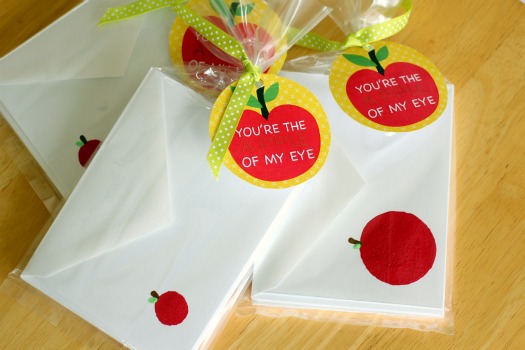 Now it's ready for the first day of school, or really any time of the year!
More fun painting crafts:
Make sure you head on over to your local Michael's Crafts to find these paints, tools, and other cool stencils!
More Handmade Card Ideas:
Looking for more handmade card ideas? Here are more awesome cards that you can keep to use yourself or give as gifts!
Birthday Cards with Washi Tape Cakes
Aren't the birthday cakes on these cards adorable? They're made from washi tape!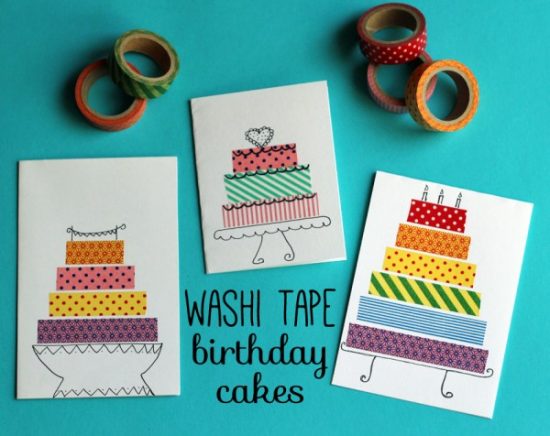 Pop- Out Valentine's Day Card
Nothing will make you feel like a rockstar faster than making your own pop-out card! This heart version is perfect for Valentine's Day!
Puffy Paint Rainbow Cards
The combo of puffy paint and a rainbow of colors brings these cards to life!