I know it's hard to believe, but it's that time of year… Back to School! School supplies can be hard to miss this time of year and you're either the type to jump on in and gather them all up or avoid that isle all together ;) Regardless, it's time to start prepping, and with that… how about a little handmade love for your child's teacher?! Try one of these back to school crafts for teacher below!
I'm sure you're out and about shopping for supplies and maybe a new shoes for the kiddos! But how about getting creative and crafting up a few back to school projects to celebrate the new school year?! Here are 15 Back to School Crafts for Kids. Let's get crafty!
15 Back to School Crafts for Kids
1. Teacher Crayon Printable – print out this free printable for making a fun and creative sign for teacher. Kids will love to use crayons in their picture!
2. Personalized Pencil Holder – using a little washi tape, decorate a mug for your child's teacher. Add in a few pencils and you're set for a crafty gift.
3. Backpack Name Tags – make a fun backpack tag for your child's pack. They'll love to add it to their backpack and walk into school!
4. Pipe Cleaner Pencil Toppers – twist and bend a few pipe cleaners to top off pencils. This makes a fun and fancy gift for a teacher as well.
5. Apple-Shaped Cards – stamp a few spongey circles onto a card to make sweet looking apples! These make great cards for teachers!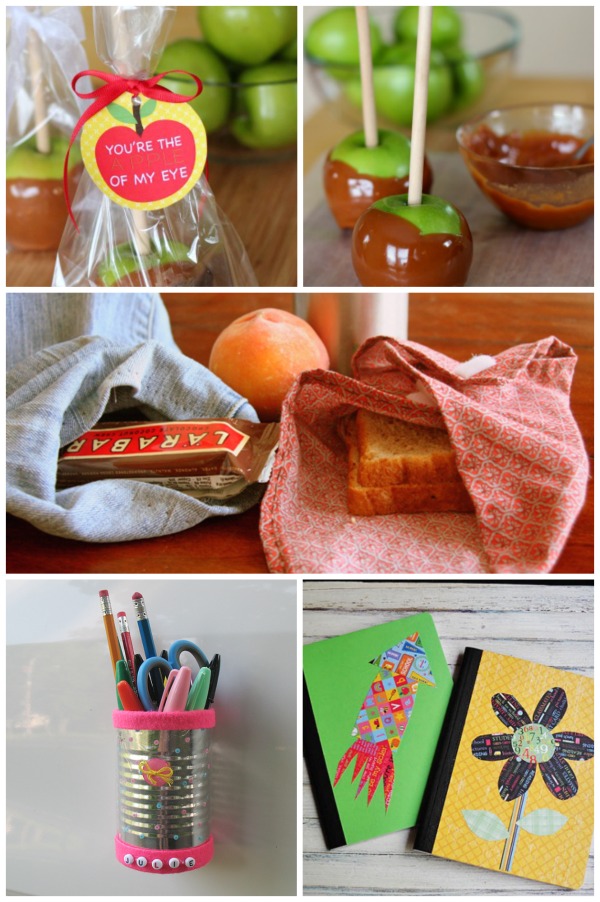 6. Apple of My Eye Printable – print out these apple tags to put on a treat for teacher.
7. Candy Apples Recipe – dip your apples in caramel to make your apple a sweet treat!
8. DIY Reusable Lunch Sack – make one of these reusable lunch sacks to store your food. A durable, plastic-free way to pack your lunch!
9. Locker Pencil Holder – add some magnets to a recycled can and use it for some pencils in your locker. These are so fun to personalize!
10. Decorated Personalized Notebooks – decorate a fun shape onto the top of your notebook to make it fun!
More back to school ideas for teacher:
11. Apple Paper Tube Stamps – stamp the shape of an apple onto paper using a recycled paper tube.
12. Gumdrop Apples for Fall – shape gumdrops onto a styrofoam ball to create an apple shape. Make sure you save a few extra gumdrops for snacking!
13. Magazine Collage Notebooks – cut out a magazine collage to add to your notebooks. A great way to add a personal touch to an ordinary notebook!
14. After School Snack Place Cards – get fancy for snack time as you add place cards for the kids. A fun way to commemorate the first day of school!
15. Lastly, 4 "Green" Tips for Back to School! – be sure to go green as you look forward to back-to-school.
See more inspiration on our Pinterest Page!
*Originally posted 8/25/14