I have been loving the Summer Camp Crafts week over at Impress Your Kids. There are so many fun and creative ideas for summer camp. Today, Amanda is showing how to make a God's Eye craft that doubles as a memory holder. And I'm joining the fun and sharing a craft I have done once before, but is just too perfect for camp that I need to share it again! Peanut Butter Bird Feeders are an easy craft that would be great for camp, both young and old. Most of these supplies and pretty common. Just need to buy some bird feeder and find pinecones from your yard. Read on for the instructions.
Camp Craft: Peanut Butter Bird Feeders
Supplies for Pine Cone Bird Feeder:
pine cones
peanut butter
bird seed
string or yarn
something to hang it from- a tree, your porch, a fence, etc.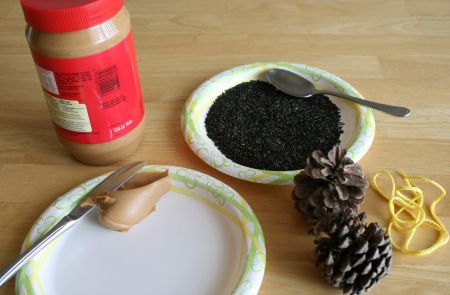 Start with a nature hike to find your pine cones! Any size pinecone will work. Make sure to get pinecones that have most of their scales. This will help hold more peanut butter and seeds.
Spread the peanut butter onto the pine cone. Make sure to get it in between the scales.
Roll the pinecone around in bird seeds to cover the peanut butter.
Tie a tight string at the top of the pine cone. This will help the bird feeder to not fall off the tree branch.
Now hang it from a tree. Pick a tree in your yard that you think birds will frequent the most. You could also hang in off a porch or a fence.
Hopefully soon the birds will start munching! You and your kids will love watching the birds enjoying their snack that you made for them. This craft is so easy and fun to make.
SaveSave