For birthday's, I love to pick party themes and play games and eat cake all centered around a theme. My little girl just turned 3 and for her birthday she chose to have a Care Bear Party. We celebrated with hearts, rainbows, and bears – Cheer Bear is her favorite. It was so much fun and she loved it. And I have to say that life has now come full circle for me as my daughter has embraced the love of Care Bears, "Care-a-lot, we care-a-lot, clap clap – clap clap"! You can even take this fun Care Bear quiz to see which little bear you are. I'm Harmony Bear – always helping others get along!
Care Bear Birthday
Once my kids choose what type of party theme they want, I get to work on what games can be played or what the cake will look like to support the theme. There's lots of great party websites out there with supplies, games, and cake ideas.
Here's a few Birthday Party Sites I check out for almost every birthday:
For the Care Bear Party, my daughter wanted "cupcakes with fire" (meaning with candles)! I made cupcakes with rainbow colors of frosting. Then shaped the cupcakes on a tray into a rainbow, just like the tummy of Cheer Bear. Way easier than making a cake.
When my daughter's two friends first arrived, I had blown up balloons for them to kick and hit around. The easiest activity. They would be content on playing with these for the whole hour! Then we played a few games centered around Care Bears: A Care Bear Blanket Toss, Pin the Rainbow Belly Badge on Cheer Bear, and a treasure hunt for their go home goodie bags.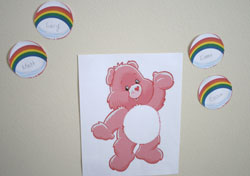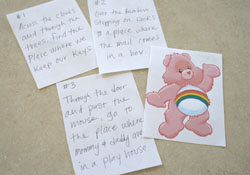 My son has been planning his next birthday theme for months, except it keeps changing. It's Ninja Turtles, then worms, then Transformers, then Star Wars, and so on. What fun theme's have you chosen for parties?
Well, we had a great time at the party. I've learned what can make or break a party as a parent. I'll be posting more on birthday tips soon. I hope these ideas inspire you to do your own Care Bear party. Happy Birthday my little princess!
SaveSave