We don't usually give big gifts for Father's Day, but we do like to celebrate Dad with a day of relaxation and yummy goodies. This year, Dad will get to spin for special treats throughout the day with our homemade Father's Day spinner card. My girls are so excited to give this to their Dad in a few days!
Celebrate Dad with a Fun DIY Spinner Card
First, make your spinner outline on card stock or other heavy paper. We traced a bowl, then used a ruler to divide our spinner into 8 wedges. Our spinner is around 5″ across. (You can also skip this step and print a blank spinner & arrow template from The Homeschool Hutt.)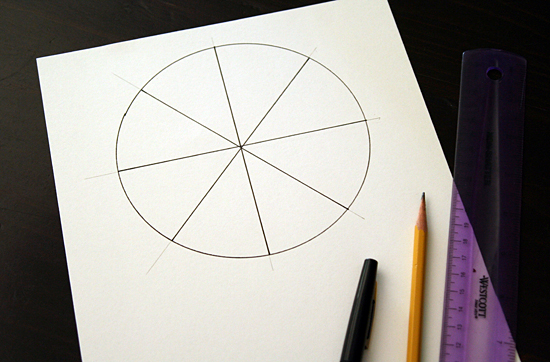 Color the wedges, if you like. My girls chose crayons, but colored pencils or watercolors would work well, too.
Brainstorm a variety of treats, activities, and other special things for Dad. Since we're going to let our dad spin this throughout the day, we picked easy things to do anytime.
Our 8 spinner choices are: a hug and a kiss, a cold drink, a sweet treat, nap time!, watch TV, shoulder rub, hear a joke, and Dad's choice.
After your wedges are colored, write your activities on the spinner. We used a black Sharpie for writing. For little ones, do the writing part for them, or have them draw pictures for each activity.
Cut-out and glue your spinner to the front of your card. A piece of colored construction paper folded in half makes a perfect card base for a 5″ spinner. Punch or poke a small hole through the center of the spinner and card.
Make an arrow from stiff paper or thin cardboard. Punch a hole in the arrow and attach it to the spinner with a brad (paper fastener). Or, do like we did, and use a paper clip for your arrow. If your arrow is not spinning well, loosen the brad a little, or put a spacer underneath the arrow. We used a small circle of craft foam under our paper clip arrow. Now you're ready to spin!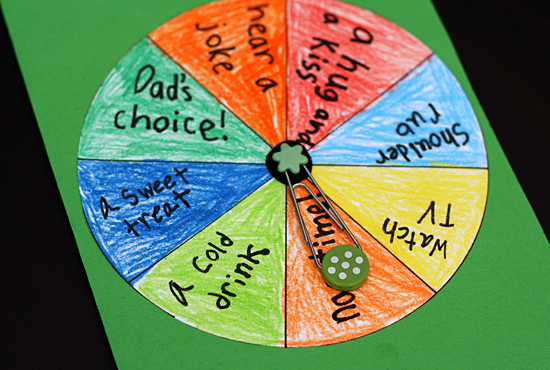 Write a sweet message inside and get ready to spin and celebrate Dad this Father's Day!
Want more ideas for Dad?
SaveSaveSaveSaveSaveSaveSaveSave