We're still on the chain-train, woot woot, with our Crochet-A-Day series! Head over to our last post about Chain Stitch Wrapping Ribbon for a quick tutorial on making a long crocheted chain stitch piece. Now we're going to be chaining yarn 'til our fingers fall off, crocheting Chain Stitch Necklaces!
Chain Stitch Necklace
These necklaces make great gifts for giving something new, different, and sassy to your friends and loved ones. Even my kids love wearing them too.
They're simple and fun to crochet!
Supplies:
yarn – any color or gauge
crochet hook – size depending on your yarn gauge
scissors
crochet needle
You can do this a few different ways:
-1st Necklace Option-
I used 3 different colors of yarn and blended them together as one piece of yarn. Just to give it some flare and make it a little more chunky.
Chain one long piece, forEVER! Once you can wrap it around your neck 4-6 times, tie the ends together in a knot. Use a crochet needle to hide the ends back through the piece.
Now it's ready to wrap, long or short. I like it as a tight neck piece.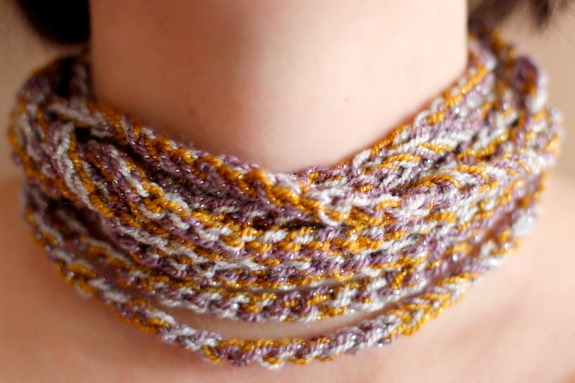 -2nd Necklace Option-
With the gray necklace, chain stitch one long piece. Wrap them into 5 loops and wrap one of the ends around the whole group. Tie a knot and tuck the knot under the wrapped section. I'm wearing it as a long necklace piece.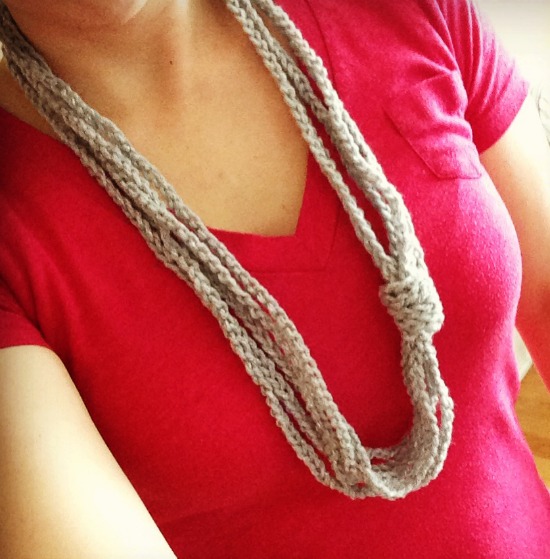 Or you can double it up for a shorter necklace piece.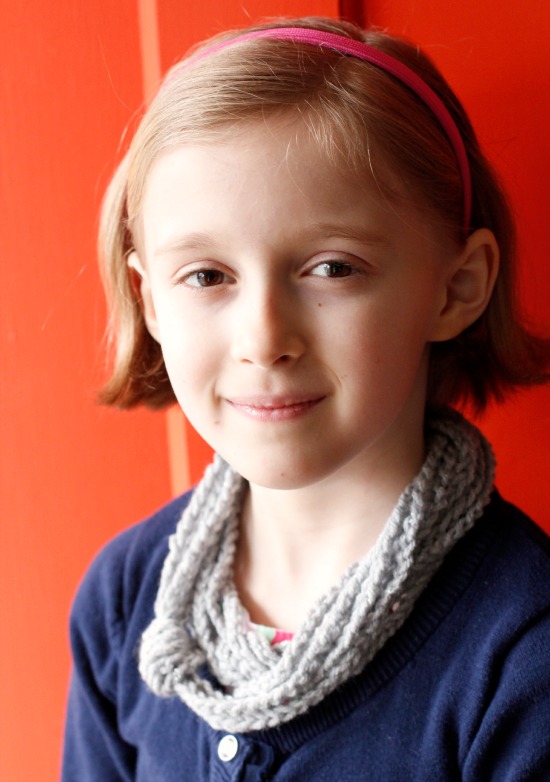 With this same method, you can use 4-5 different colors of chain pieces and wrap them together for a multi-colored necklace. Chain stitch several 1 loop crochet pieces and attach them together, either by tying them into a knot and wrapping the crocheted yarn over the ends like the gray one, or hiding your ends with a crochet needle.
-3rd Necklace Option-
Chain stitch some of your left over scraps, seeing how long you can get it, even if it's just one small piece. Finish it off by tying a simple knot or bow and make that a focal piece of the necklace.
If you're giving your new crochet necklace to a friend, be sure to wrap it up in some chain stitch wrapping ribbon for that little extra handmade touch!