Guest Post by Lisa of Petit Appetit
Happy Chinese New Year!  2010 ushers in the Year of the Tiger (no, really), which also happens to be on February 14th this year.  Like Christmas the celebration is an entire season (so you still have time for Valentine treats too).  The festival traditionally begins on the first day of the first month of the Chinese calendar and ends on the 15th; this day is called Lantern Festival.  This is the biggest Chinese holiday of the year, with the focus on uniting family and friends and looking towards luck, happiness, longevity, and prosperity for the coming year.
My family is lucky to live near San Francisco where we have the largest Chinatown outside of Asia.  This year, like the last two, my family will be celebrating the last evening of the New Year with a stroll through the streets to see fresh produce and live fish, followed by dim sum and noodles at our favorite spot, then finally, huddle under umbrellas and experience the sights and sounds of the parade.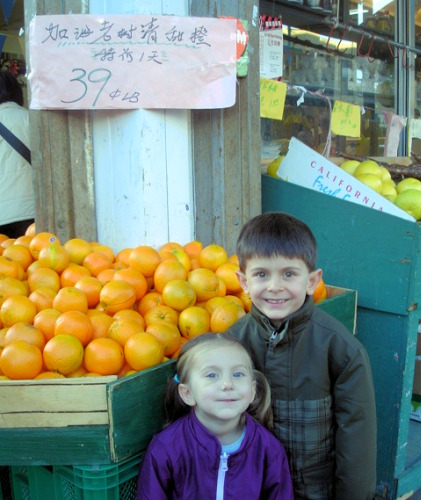 I enjoy learning about and participating with my family in a variety of world holidays and celebrations; and I love making the different foods and introducing new flavors to my son and daughter.  (Just another excuse to cook right?)  If you're not heading to a community event, create a fun gathering for your friends, family or school with festive foods, simple decorations (tiger masks, drawings, stuffed animals) and a mini parade (kids, drums and noisemakers).  Here are a few of my favorite Chinese New Year's foods for feasting at home or making and taking to share with family and friends.  The Lettuce Cups have been a bit hit at school potlucks any time of year.
Gung Hay Fat Choy! – Lisa Barnes
Recipe for Long Life Noodles:
(all recipes from Petit Appetit: Eat, Drink and Be Merry.  Easy, Organic Snacks, Beverages, and Party Foods for Kids of All Ages)
Fireworks, lantern festivals, dragon dances, parades, and lots of food are all part of this special occasion. Both symbolic and delicious, noodles make a great food for sharing during Chinese New Year. There are many options for noodles that could work besides rice noodles; try Chinese egg noodles, udon, or soba for a variation. The peanut butter lends a bit of sweetness your child will enjoy.
Makes 8 to 10 (1-cup) servings
8 ounces rice noodles
2 teaspoons expeller-pressed canola oil
1 teaspoon minced garlic
1 teaspoon minced fresh ginger or ½ teaspoon ground ginger
1 cup julienned organic carrot (1 large)
1 cup julienned organic red bell pepper (1 large or 4 mini)
¼ cup chopped scallions (about 3)
2 tablespoons gluten-free tamari
1 tablespoon peanut butter
½ cup organic vegetable broth
1 teaspoon freshly squeezed lime juice
Prepare the noodles according to package directions. Drain and set aside.
Heat 1 teaspoon of the oil in a medium pot over medium heat. Add the garlic and ginger and cook until fragrant and soft, about 1 minute. Add the carrot and bell pepper and cover. Cook until vegetables are tender but not soft, 5 to 7 minutes.
Add remaining 1 teaspoon oil, scallions, tamari, peanut butter, broth, and lime juice and bring to a boil. Add the noodles and heat until hot, stirring to combine with vegetables and sauce.
Recipe for Beef-Filled Lettuce Cups:
Lettuce cups are a fun excuse for kids to eat with their hands. If you're looking for the flavor without the mess, you can simply have children eat the beef mixture out of a bowl with a spoon or fork. This also works as a salad when entertaining by shredding the lettuce and mixing with the beef to be enjoyed with chop sticks out of individual Chinese take-out boxes. For vegetarians substitute diced firm tofu for the beef.
Makes 3 cups beef mixture or 16 to 18 filled lettuce cups
2 teaspoons expeller-pressed canola oil
2 tablespoons minced organic red bell pepper
1 tablespoon minced shallot
1 teaspoon minced garlic
1 pound organic lean beef
¼ cup fresh organic mushrooms (portobello, crimini or shiitake), chopped
3 tablespoons minced fresh cilantro leaves
2 teaspoons organic low-sodium tamari
1½ teaspoons ground allspice
1 teaspoon ground ginger
1 teaspoon freshly squeezed lime juice
16 to 18 organic butter lettuce leaves
2 tablespoons prepared plum sauce (optional)
In a large frying pan or wok, heat oil over medium-high heat. Add bell pepper, shallot, and garlic and stir-fry for 1 minute. Add beef, breaking apart and stirring, until starting to brown, about 5 minutes. Drain off excess fat and liquid from mixture.
Stir in the mushrooms, cilantro, tamari, allspice, ginger, and lime juice and cook until beef is cooked and mushrooms are tender, about 2 minutes.
Serve beef mixture in a large bowl alongside lettuce leaves. To eat, spoon beef mixture into leaves then top with ½ teaspoon plum sauce (if using).
Pack Perfectly. To pack and take to a family dinner or pot luck, put beef mixture in one container and layer cold, crisp lettuce leaves in another.
Recipe for Tangerine or Blood Orange Granita:
This recipe was inspired by pastry chef Andrea Mautner of Restaurant TWO in San Francisco. While attending a cooking class she prepared a wonderful dessert with this as one of the "elements." I thought this simple icy treat would be perfect for a Chinese New Year celebration, because one of the symbols for luck is tangerines, which are given to children during the holiday.  The granita in the photo was made of a mix of tangerine and blood orange for a rich pink color)
Makes 8 (1/2-cup) servings
Juice of 5 to 6 tangerines or other citrus (about 1½ cups)
¾ cup Simple Syrup (see note)
¼ cup water
Combine tangerine juice, Simple Syrup, and water in a bowl. Pour into an 8-inch-glass baking dish or pie dish. Freeze for about 2 to 3 hours, until frozen.
Once fully frozen, scrape granita into flakes with a fork. They may melt easily and be a bit slushy. Granita can be eaten as a slushy now or refreeze for another hour. It will become icier. Spoon into tall, old-fashioned ice cream glasses or mini ramekins. Serve immediately or return to freezer until ready to serve. Fluff with a fork again before serving.
Tip. Clear the Freezer. Be sure you have a level space to set the granita to harden before walking over to the freezer with the liquid.
Kids Korner
This will melt quickly. If kids aren't eating it fast enough, serve along with straws to get all of the juice. Or spoon over vanilla ice cream or frozen yogurt for an old-time Creamsicle reminder.
Note to Make Simple Syrup:
Heat equal amounts (1 cup each) of turbinado (raw) or white sugar and water in a small saucepan over medium heat. Stir until sugar has dissolved and mixture has thickened, 2 to 3 minutes. Cool to room temperature.
Recipe for Ginger Soda:
Ginger has such a pleasant aroma and taste, besides helping upset tummies. Here's a natural and refreshing ginger ale drink without any of the high fructose corn syrups and added colorings of store bought.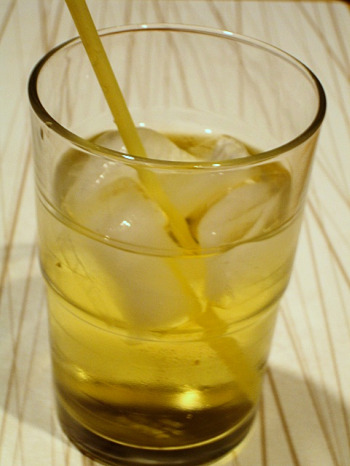 2/3 cup ginger syrup; 3½ cups soda
Ginger Syrup
½ cup light agave nectar
1 (3-inch) piece fresh ginger, peeled and finely chopped
1 cup water
Ginger Soda
½ cup Ginger Syrup
3 cups sparking water
Ice cubes
To make the syrup: Place agave nectar, ginger and water in a small saucepan and bring to a boil over medium-high heat. Reduce heat to simmer, cover, and cook until ginger aroma and flavor is strong, about 1 hour. Let cool. Strain and refrigerate for up to one week.
To make the soda: In a pitcher, combine ½ cup syrup with the water. Pour over ice to serve.
Choosing Ginger: Good-quality fresh ginger should have smooth light brown skin with a light sheen and white flesh. Pick the roots with the least number of knots and/or branching.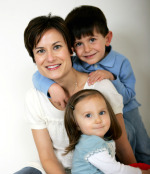 Lisa Barnes is the founder of Petit Appetit, culinary education services, and an iParent award winning children's cookbook author.  Through her cookbooks, blog, and private cooking classes she empowers parents to provide fresh, healthy, organic foods for their children and families.  Lisa lives in Mill Valley, California with her husband, Lee, son, Jonas and daughter, Ellery (her sous chefs and taste testers).