Today post is brought to you by Karen, my Mom. As I have already posted, she makes great Christmasy treats. Check out the Lollipops and the Bread Dough Wreaths we used to make with her as kids. I'm excited for her to share her own Mother's Famous Chocolate Fudge. She has passed the how-to on to me and we are now passing it on to you.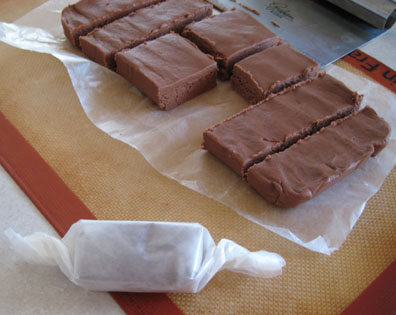 Karen/Mom:
I enjoyed watching my own parents make fudge during my growing up years at home. When my husband and I got married we wanted to start making our own fudge. We found an old piece of marble and used it for many, many years until one of our kids gave us a brand new marble slab. A marble slab is used for cooling the hot liquid fudge mixture.
When making fudge, never be in a hurry. I like to use low temperatures to start with to melt the chocolate with the cream.
Grandma Passey's Chocolate Fudge:
2 squares Baker's unsweetened chocolate (no substitute), shaved or chopped
1 cup thinned cream (1/2 cup whipping cream and 1/2 cup milk OR 1 cup half and half)
3 cups granulated sugar (place sugar in a small bowl for easy pouring)
2 T. dark Karo Syrup
Dash salt
1 – 2 T margarine or butter
1 t. vanilla
walnuts, chopped – Optional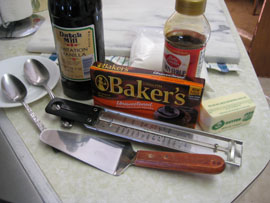 On low heat, melt chocolate with 1/2 cup thinned cream, stirring constantly. When melted and thickened, continue to stir while adding another 1/2 cup cream, sugar, dash salt, and Karo syrup. Stir in circles, scraping the sides to get all the sugar crystals. Turn the heat to medium high, stirring constantly mostly in the middle of the pan until ready to boil (the sides of the pan will start to bubble).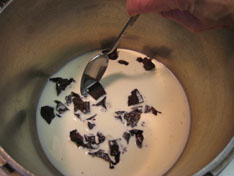 WHEN THE MIXTURE STARTS TO BOIL, DO NOT SCRAP THE SIDES OR IT WILL ALL GO SUGARY. Place the candy thermometer in the pan and cook to soft ball stage on lowered heat. (Warning – a math degree required to read the following: The soft ball stage is different for everyone even though the thermometer says what it is. So you will need to find your actual boiling point with water and then subtract 212 from the number you have as your boiling point. Take that number and subtract it from the "soft ball" degree of 240, and that is the temperature where your household should be at "soft ball" stage. Whew!) The second it reaches the desired temperature which is a soft ball stage, pull off the heat and add the butter and vanilla, stirring in the middle (again, no sides) with a clean spoon until melted.
Pour onto marble slab. JUST LET THE FUDGE POUR OUT OF THE PAN WITHOUT SCRAPING THE SIDES OR BOTTOM. Cool to lukewarm (the edges will cool faster than the middle). Feel the edge of the fudge with your palm to see if it has cooled some.
Beat the fudge with a metal pie-shaped spatula, scraping the fudge off the marble slab. (Have a clean butter knife there to help scrape the fudge off the spatula.) Be aggressive with hand motions, moving up and down, turning the spatula up and over, up and over… scrape, scrape. This takes some arm strength, so I suggest having a few extra arms around to help with this process.
Then the shine disappears and just starts to become a dull finish. If you add chopped nuts, fold in just as the shine disappears. (Marie doesn't like nuts, so we didn't pour any here.) Scrape up quickly before the mixture hardens, and knead quickly into a large soft ball of goodness.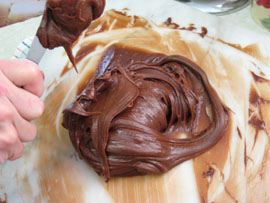 When soft and pliable, divide the fudge and make into rolls, or place the fudge in a square pan and cut into squares using a knife. Wrap the fudge in plastic-wrap, then foil or wax paper. The fudge should last up to a week or two, but we've never tested that out because it is always gone after a day!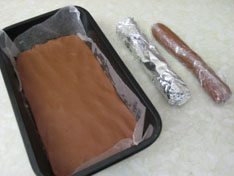 Thanks, Mom. Now that I have learned how to make my own Chocolate Fudge, I don't have to put in any walnuts. My family thinks I am crazy, but I think that the nuts just get in the way of the yummy velvet fudge. Do you put nuts in your fudge?