For today's Crochet-A-Day series post, I have the lovely Brandyce from Lion Brand Yarn sharing all sorts of different ways to choose the perfect yarn and stitch for your project.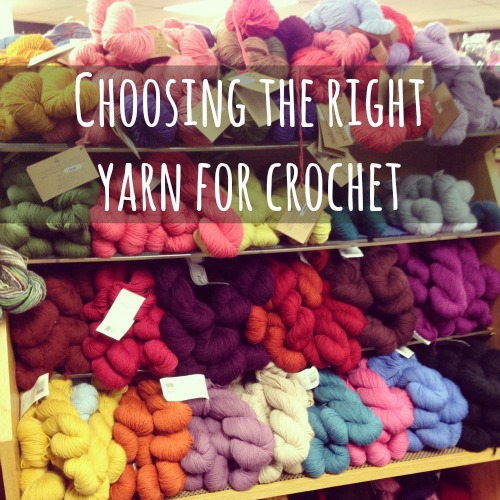 One of the most important decisions to make when beginning a new project is figuring out what type of yarn you want to work with. You have to figure out the gauge of the yarn you want, and of course – the color. What colors do you want to highlight your stitch work and suit the needs of your project?
Personally, when it's time for me to start a new crochet project, I know it's most likely going to be done in a fast and simple stitch like a double crochet, and preferably with a yarn that has an interesting color story. I like to "let the yarn do the work" for me. Self striping yarns, tweeds, and blends are favorites of mine.
When you work with a yarn that has subtle color changes or blends (ex: one ply has a primary color with specs or blends of a complementary hue.), crocheting can be a lot more fun. These types of yarns allow you to create a visually stunning piece without having to master color work techniques. Plus, if you're working with a variegated (self-striping) yarn, it's exciting to see what colors come next.
Below, I've gathered some patterns from LionBrand.com for examples of beautiful, simple crochet patterns with intriguing yarns that add sophisticated depths of color to your finished piece.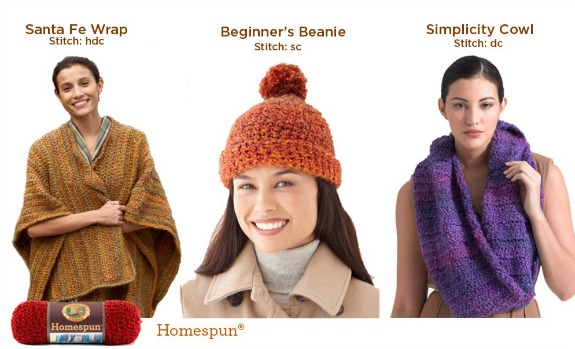 Homespun is loved by many for its softness, and subtle color changes. The Beginner Beanie hat is an example of a blended shade of Homespun, since the color changes are more subtle. With the Santa Fe Wrap, there is a greater color change throughout the yarn, causing a striping effect.
Tweed Stripes has slow color changes that stripe and blend harmoniously together. It doesn't matter what stitch you use when working with Tweed Stripes, you'll end up with a great palette of mixed colors.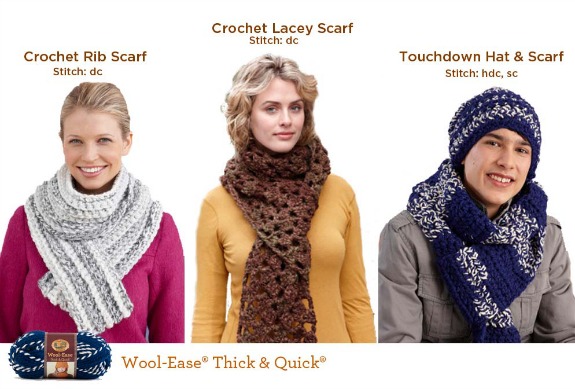 Wool-Ease thick & Quick has a wide range of colors from solids, to prints (Crochet Rib and Lacey Rib scarfs above) and stripes. The striping colorways, as shown in the Touchdown Hat and scarf set, combine a section of striping colors and solid colors, giving the appearance that you used more than one yarn to achieve that look.
Check out LionBrand.com for plenty more crochet projects that range from beginner to advanced in the yarns mentioned above, and also check out projects made in one of Lion Brand's cult classic self-striping yarns, Amazing.
**Thanks to Lion Brand Yarn for sponsoring this post. Find them on facebook, twitter, and pinterest for yarn project inspiration!