A new year means it's time for a new calendar! This year, I made a colorful and modern yearly wall calendar to hang by my desk for easy reference. The best part? It's made with my four-year-old's artwork – that will definitely put a smile on my face every time I look at it! I love to reuse my kids' artwork, and one way I do this is by cutting it up for collage projects like this. I love the bright, cheery colors on this calendar – each circle is like a mini-masterpiece!
Colorful Modern Art Calendar
First, you will need to commission some paintings from your child. My little guy made three separate paintings, each with a limited selection of colors: one with red and yellow, one with green and turquoise, and one with blue and purple. We used a heavier art paper, and let him go to town painting and mixing with a large brush. Let the paintings dry completely.
If you already have a stack of paintings on hand from preschool or past art activities, those will work, too!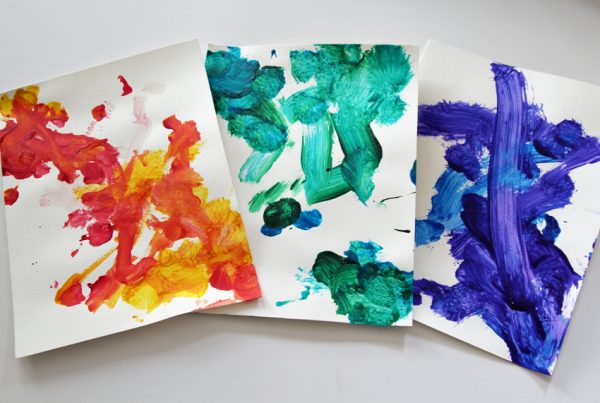 With a 2-inch circle punch, punch circles from each piece of artwork. I ended up with 5 or 6 circles from each painting. You'll probably have to cut the paintings apart to punch the sections you want. If you don't have a circle punch, just trace and cut circles from the paintings.
You'll need a 12×18-inch sheet of construction paper or poster board for the calendar background. Search online for a free printable yearly calendar – there are lots of choices from simple to fancy. I used a cute year-at-a-glance calendar from Scrappy Sticky Inky Mess.
Print and attach the calendar to the bottom half of the background paper with double-sided tape.
Decide how you want to arrange your art circles at the top of the page. One possible arrangement is to keep similar colors together, creating three rows. I love the vibrant colors all lined up!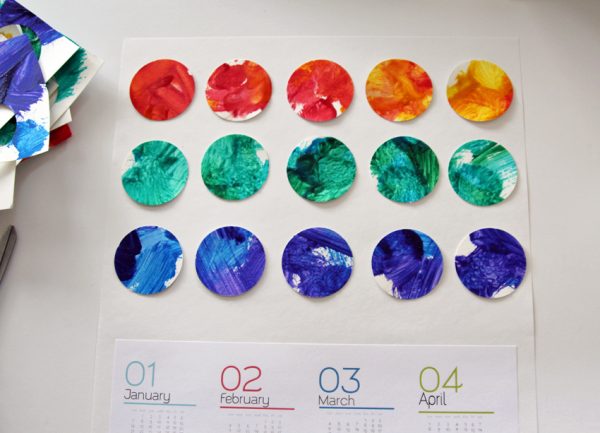 You could also make your rainbow colors flow from left to right, with the circles staggered. Play around with the arrangement until you find something you like, then use double-sided tape to secure the circles to the paper.
Now your calendar is ready to display! It's lightweight enough to hang with tape, or punch two holes in the top and hang with a string or ribbon. This calendar art project would also be a fun gift for your child to make for a grandparent or teacher.
Here's to the fresh start of a new year!