Our family has recently become a cheese family. Over the last few months, we've been having so much fun tasting and trying new cheeses. It all started with the movie The Boxtrolls. Have you seen it? It's such a fun flick. There's a scene in there where adults are eating cheese and talking about "notes and flavors and variations" of the cheese! And of course they have British accents which make it all the more fun and fancy. As my husband and I have had a love of cheese, we thought it would be fun to introduce our kids to cheese and make it silly and fun. We let each of our kids choose a specialty cheese from the store, then as we eat it at home, we talk in British accents like the movie and describe the taste and flavor of each cheese:
"Aromatic. Oaky. With the undertone of a mother's smile on a warm day."
– Mr. Trout, The Boxtrolls –
With the fun of buying and tasting different cheeses, I'm happy to be partnering with Safeway on this post. Here are the stores where you can get all your cheese board needs: Albertsons, Safeway, Vons Pavilions, Acme, Star Market, Shaw's, Carrs/Safeway.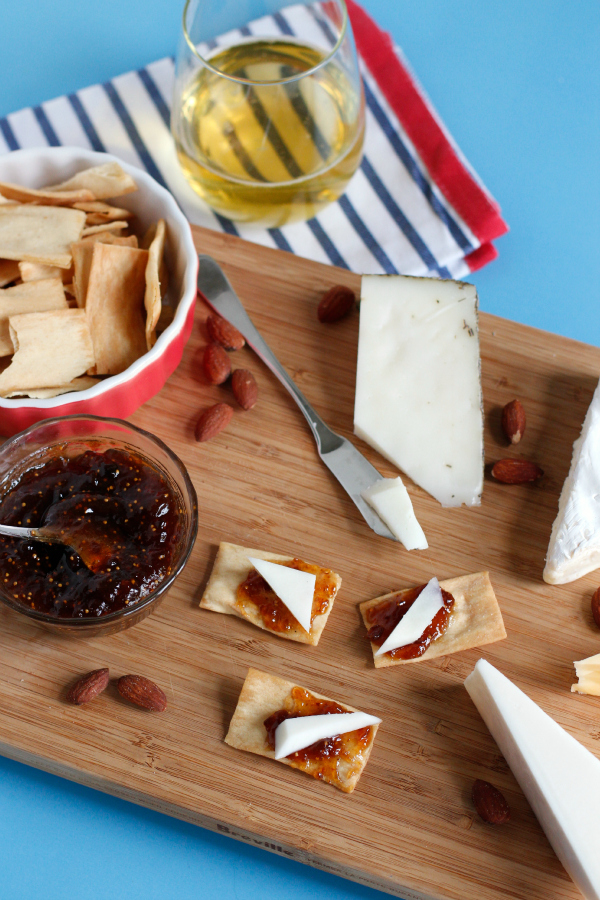 Creating a Family Cheese Board:
First up, choose your cutting board.
It's a little more fun to have a wooden board to place all your items on. It's best for cutting your cheese, spreading your jam, and has a more natural look for the elegant display of your cheese. There are some really fun boards out there, you could even find really cool vintage ones from a thrift store!
Next is the choice of cheese.
When your choosing cheese for your whole family, I suggest you go for a few more milder choices. My kids are really good at eating more fragrant cheeses, but they had to work up to that. Here are a few basic cheese choices for kids:
white cheddar
gouda
brie
havarti
mozzarella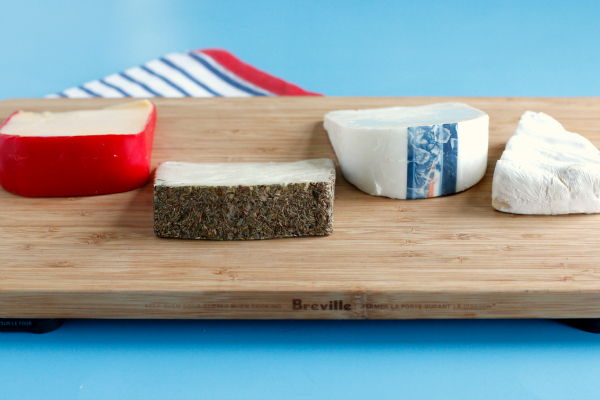 Our choices above: Gouda – a cow's milk cheese, Semi-soft Rosey Goat – a mild goat cheese with rosemary rind, Cablanca cheese -a mild goat milk imported from Holland, and a Brie – triple cream cheese so it's more soft. Before I cut up the cheese for the board, I love to show my kids the cheese rinds. There are all different types of rinds, some with wax and you want to remove them, and some are natural forming and you can eat them if you want, but don't have to. We don't really like the edible rinds, but they are interesting to try.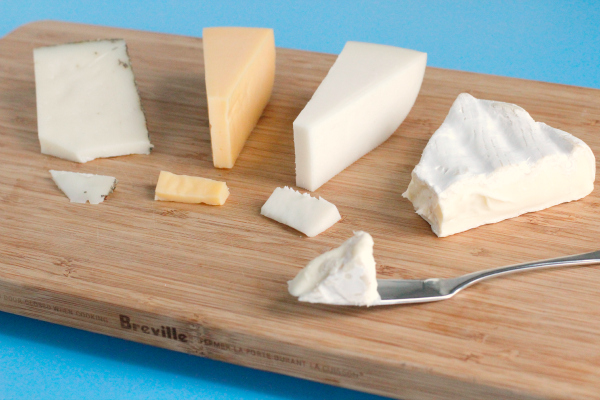 I cut up each cheese into a smaller section and place them on the board. You'll want to have a cheese knife with you as well, one that is child-friendly for your kids to cut their own cheese. And before we add any crackers or jam to the mix, I have my kids taste each cheese on their own. I really want them to find out what they like, what they don't like, and really taste the cheese for itself!
Next, we move on to the choice of crackers.
Once we've tasted all the cheese by themselves, we can now place them on a cracker. There are a lot of different crackers to choose from – hard, soft, seasoned, salted. There's also pretzels, rice crackers, bagel chips, crusty bread, crouton crackers. Even nuts can be put in the mix as well. Offer a couple of choices to see what your family prefers.
Last, add a little jam to a cracker.
We love fig jam. You can use any jam you have on hand, but there's something so perfectly pairing about fig jam, as it's not too strong of a flavor to overtake the cheese. It's delicious!
We also love to have a fancy drink along with our cheese. I picked up a bottle of sparkling apple cider for the family, or you can also buy a nice white or red wine to go with your cheese for the grownups.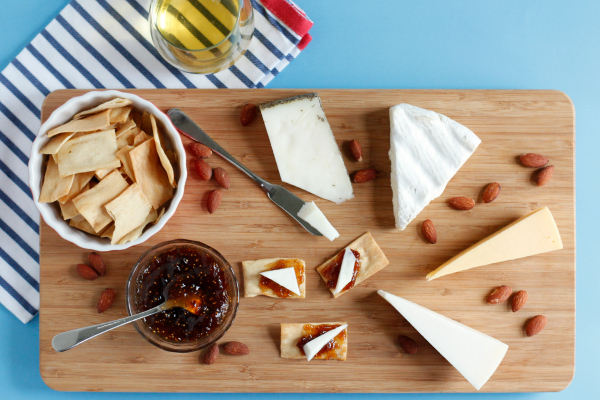 Now it's your turn to create a fun family-themed cheese board!
*This is a sponsored conversation written by me on behalf of Albertsons. The opinions and text are all mine.