Tis' the season for a little extra warmth and these Crochet Hand Warmers from our next Crochet-A-Day series project will do just the trick!
Crochet-A-Day: Crochet Hand Warmers
We're partnering with Consumer Crafts for a week's worth of crochet projects. Head over to ConsumerCrafts.com to buy all your yarn supplies for our Crochet-A-Day projects. They make it super simple to order online and have loads of yarn and supplies on hand.
They're also offering 20% off yarn and needlecraft products all this week. Wahoo!
I'm using Lion Brand Homespun Yarn so these hand warmers will be soft and snuggly. This yarn is perfect at keeping you cozy!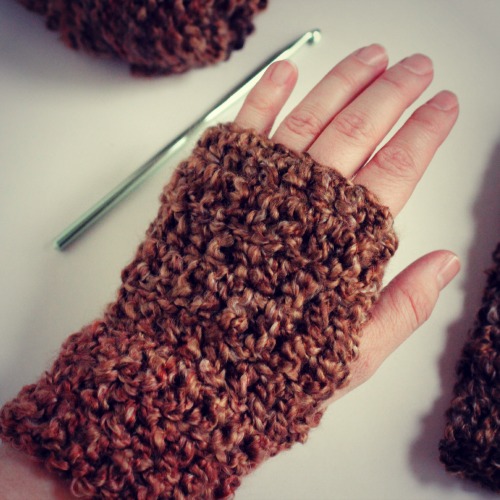 Supplies:
Instructions:
1. Chain stitch 23.
2. Row 1: Double crochet into the 5th chain from the end. Continue to double crochet to the end of your chain. You'll have a total of 20 double crochet stitches. Turn. Chain 3. (these are very similar to our Crochet Phone Cozy pattern)
3. Row 2-8: Repeat Row 1 for the next 8 rows. NOTE: If you want to have hand warmers longer on your arm, continue to double crochet more rows. 
4. Weave in and hide your shortest tail.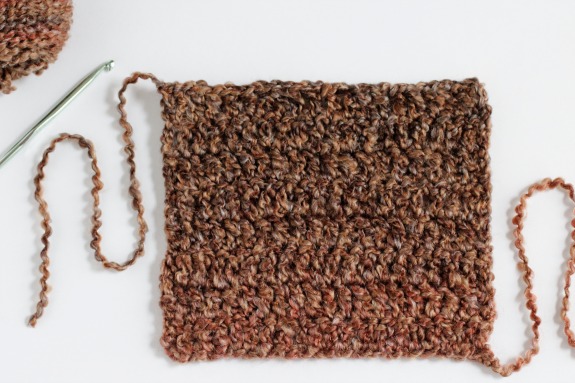 5. Fold your finished piece in half.
6. Add your crochet needle to your longest tail end.
7. Whip stitch the two sides together 2/3 of the way up the side. To whip stitch, thread through one side and then the other as the sides are lined up. Here's a great link for hiding your seam. If you're just learning and your whip stitch is a bit rusty, you can turn your work inside out after it's done to hide any blemishes.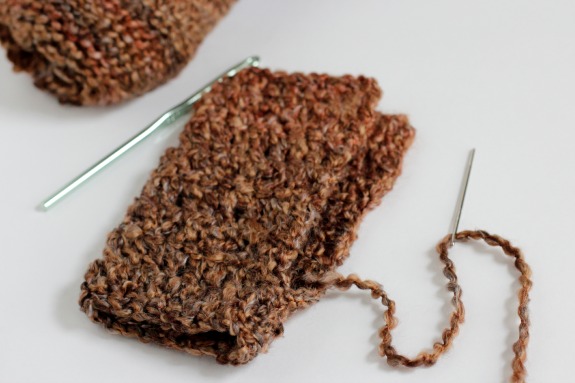 8. Leave a hole about 1-2 inches big and then continue to stitch to the top. For the hole, stitch your thread through only one side then begin again stitching the two sides together to the end. This will be your thumb hole.
9. Tie a knot and hide your tail.