We don't make a huge deal out of Valentine's Day in France. But since I love crafts, I always try come up with something fun that has a love theme. After all, any time is a good time to spread a little love right? We could all use a little more love in our lives. Since I am a big fan of printables, I decided to design a super simple card, and add a handmade touch to it. I love how these cards turn out. Write something nice inside and send it to all your loved ones! I hope you enjoy this cute Valentine's Day craft.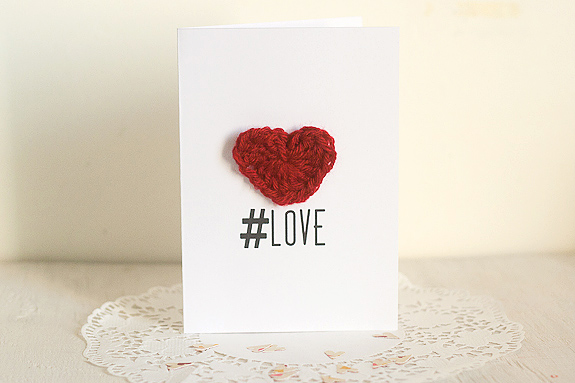 Crochet-A-Day: Crochet Heart & Printable #Love Card
You can download the printable PDF card and then add the crochet heart (or any other embellishment) to it. Each sheet has two cards. Just print, cut and fold.
Supplies: 
worsted weight yarn in red
crochet hook size 4.5  or G
Start by making a magic ring.
Make 1 double crochet in the ring making sure to work over both the ring and the tail of yarn.
Make 3 triple crochets. (see instructions for a triple crochet)
Then 3 double crochets.
Then 1 triple crochet which makes the point of the heart.
Now work the other half of the heart by reversing the order of the stitches.
3 double crochet
3 treble crochet
1 double crochet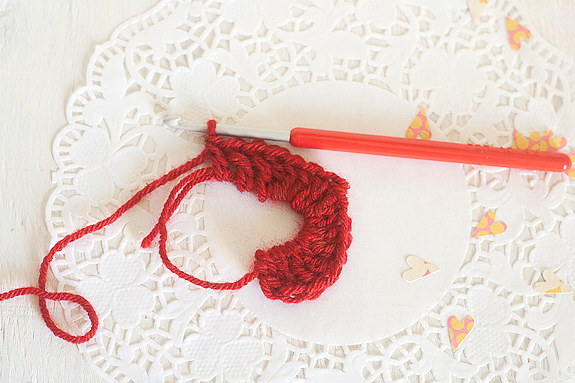 Now pull on the tail to shut the magic ring and tada!
Finish with a slip stitch.
Weave in ends and attach to your printed card.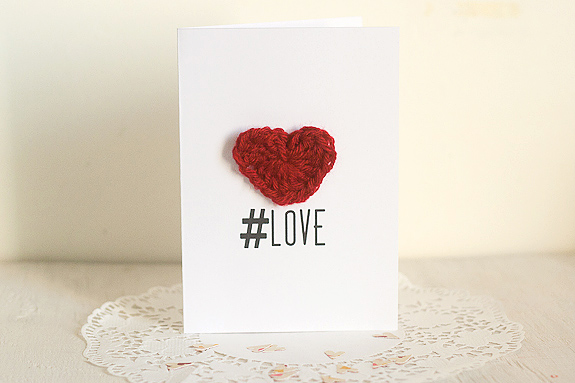 Other ideas:
Print the card on kraft cardstock instead of white.
Use a heart sticker, heart die-cut or other embellishment instead of the crochet heart
Let your kids draw a picture instead of using an embellishment.
Have fun spreading love this Valentine's Day!
SaveSave