We've come to the last tutorial for our Crochet-A-Day series. And we're using a different type of yarn today, helping showcase all the fun yarn projects you can make in just a day! How about trying ruffles yarn to make this super cute Crochet Ruffles Scarf!
Crochet-A-Day: Crochet Ruffles Scarf Pattern
I'm sure you've seen this ruffle yarn at the craft store. For a long time, I didn't know it stretched out to a 3-4 inch width. There are actually so many fun types of these yarns out there, some with glitter and fur edges. I also love how the yarn is multi-colored. It gives it such a fun color texture without having to switch yarns.
We're partnering with Darice.com for today's crochet project. Head over to Darice to check out yarn supplies for our Crochet-A-Day patterns. They have loads of yarn and supplies showcased.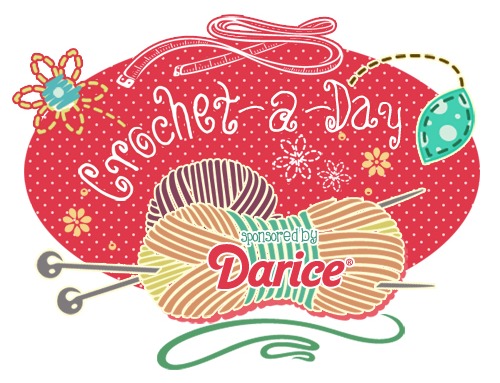 Over at Darice, I also found this fabulous yarn holder container. It helps keep your yarn all in one easy spot, instead of it rolling away to the other side of the room. Am I the only one who has lost their yarn under the couch? This holder is perfect to keep it nearby!
Supplies:
crochet hook I
crochet stitch markers
scissors
Instructions:
1. Start by stretching out your yarn for a foot or two in length.
If you can see from the photo above, the bottom of the stretched out yarn has a thicker edge. That's the outside fancy part of your scarf. The top side has smaller holes for gathering loops.
2. Fold over the beginning edge of your yarn about 4-5 inches and line up matching holes. Add your hook to the first hole of your folded edge. (This will hide your end. It might not look like it, but your ruffle scarf will be thick enough with ruffles it will get lost.)
3. Weave your hook into every other hole, keeping the yarn on your hook (very knitting like).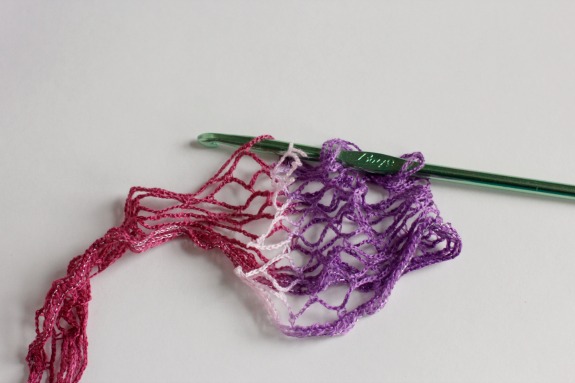 NOTE: You have some options. You can weave as little or as many as you'd like. It all depends on the fluff of your ruffled edge for your finished scarf. I have taken the time to play around with this ruffle yarn. Maybe try going into each hole instead of every other. Maybe try only weaving 2-3 loops at a time and then pulling through, etc.! 

4. Weave through 9 holes and stop.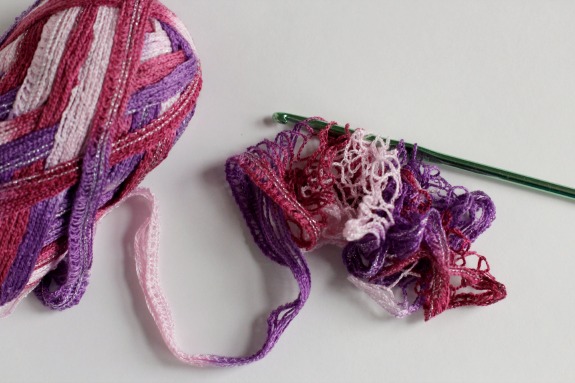 5. Turn your hook and "hook" the last loop you just went through. Pull that last loop back through all the other 9 loops.
You have your first set of gathered loops to make your ruffle!
NOTE: This is a good time to add a crochet stitch marker, just in case you lose your hook and it all unravels. I did that, and it wasn't fun to have to do 4 sets over again! I hooked my stitch marker in that last loop, continued weaving and pulling, then unhooked it and hooked it in the new loop.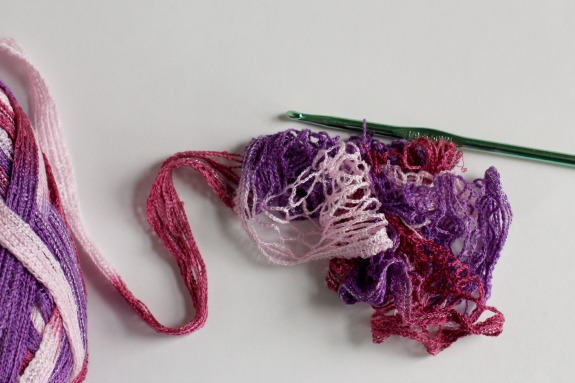 6. Continue to weave through the rest of the yarn through every other hole of 9 loops. Gather and pull through.
7. When you come the length you want or to the end of your skein, leave a 4-5 inch end un-weaved.
8. To tie off the end you have 2 options:
1- take the end and tie a knot into itself. Once the scarf is fluffed around, this knot will disappear.
2- take the last 4 inches of yarn and pull it through the last "hooked" loop. Pull it through for about 3-4 inches, when it almost doubles over itself. The end will get lost in the ruffle. This is hard to explain, but it will end up staying hooked. You could even tie a little knot into the yarn to help it not unravel if you're worried.
Now it's ready to wear. You can double it around your neck and then cross the ends over once for a tie. Super fluffy and fun. Yay for ruffles!
Be sure to check out all their yarn supplies and visit your local craft store to find Darice products!
**Thanks to Darice for sponsoring this post. Find all sorts of craft supplies and items for your fabulous craft ideas at Darice!
SaveSave