Today's storytime with Make and Takes brings us to the book my son and I just finished reading, The Curse of the Cheese Pyramid by Geronimo Stilton. It's an adventurous chapter book, part of the Geronimo Stilton series.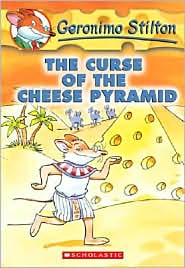 As I mentioned earlier in my Chapter Book post, my son received this book on CD and had previously listened to it on his own. I wanted to know what it was all about too, so we checked it out from our local library and read it aloud together. It involves a mouse named Geronimo, who owns a newspaper company and travels the world having exciting stories to write about.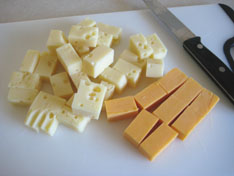 To celebrate this book, we made our own Cheese Pyramids. I cut up some cheese squares, ready for building. I just happened to have Swiss cheese too, perfect for the holes that the Cheese Pyramid has in the book.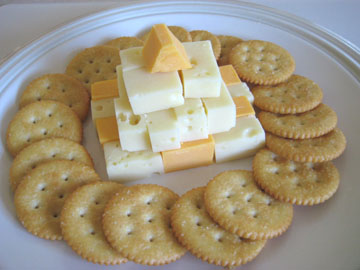 My son also drew a picture of a cute little mouse, cut it out, and it lived in the pyramid for a time. We also had fun eating our cheese pyramids with crackers at the end of building. It was fun to read together and then celebrate the book with cheese.
If any of you would like to be a Guest Make and Taker, sharing your favorite story and a celebration activity, leave a comment or email me at marie[at]makeandtakes[dot]com.