Stitch this Daisy card just in time for Spring. It's the perfect card to bring on the blooming flowers. Stitch this card to be given with a gift, framed as a gift, or make a bunch to give away with as gifts. The supplies and instructions are down below. Follow the links for the basic stitched pattern and instructions. Hope you love this spring time project.
Daisy Stitched Card Pattern
Supplies: Everything is available at your local craft or fabric store.
Punching Awl
Pattern for Daisy Flowers to punch: Download this pattern, then print it out: daisy-stitched-pattern
Cork board: For punching holes in card – found at kitchen or office store (try a cork hot plate)
Thread: I usually use DMC floss, with all six strands
Needle: Cross-stitch needle #26 for 18-22 count fabric
Cardstock: white piece, accent color piece, folded card piece
Envelope: white envelope that measures, 4 ½ " x 5 ¾ "
Glue: Glue stick, glue dots, spray glue is recommended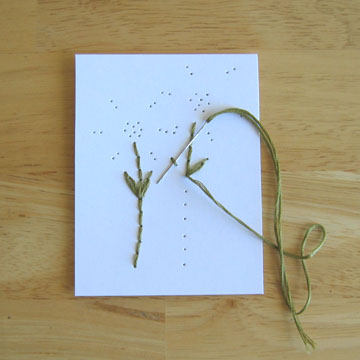 Instructions: For complete instructions on Punching, Stitching, and Gluing this card, please visit my Basic Instructions Post.
Sharing Their Cards: Here is what Sew I Can stitched with the pattern for a Baby Binky Card, and it looks great. If anyone else is stitching and wants to share their fun Hand-Stitched cards, email me at marie[at]makeandtakes[dot]com.
SaveSave