My daughters are 11 and 13, and one of the things I love watching as they grow is how their personal style changes and evolves. They both love putting together fun DIY fashion outfits and playing with different colors and patterns.
We recently had a chance to play with the new AirBrainz™ airbrush line from Testors®. With summer-like weather already appearing here in California, my girls decided to update their tank top collection with a few personalized creations. This project is a fun way to embellish plain, inexpensive tank tops, or even give new life to a tank top from your closet.
DIY Fashion Airbrushed Tank Tops
We're always game for trying a new craft, and the AirBrainz™ airbrush from Testors® is so fun! Not only is it affordable and easy to use (and clean!), you can mix and match colors to make your own unique airbrush. The airbrush body, grips, and clip caps come in turquoise, lime, orange, and pink.
Supplies:
Instructions:
Cover your work surface, and place a thin piece of cardboard inside the tank top to keep the paint from seeping to the back.
This was pretty-much a hands-off project for me – after a quick tutorial, my girls were off and running on their own. The clip cap system used on the AirBrainz airbrush makes it easy to change colors (with minimal clean-up – yay!). You just attach the clip cap lid with tube directly to the 1/4-oz paint bottles, then slide it onto the front of the airbrush. So simple!
Attach the airbrush to the propellant. Press firmly and twist-on the threaded adapter to the top of the propellant can.
Peel the backing from your chosen stencil and stick it on your tank top. The stencils are plastic and adhered really well to the fabric. We taped some paper around the stencil as well, to minimize over-spray on other parts of the shirt.
Now we're ready for the fun part – airbrush painting! Press the lever on top of the airbrush to paint, moving in a sweeping motion across the stencil.
When your stenciled design is covered, let dry for a few minutes before peeling away the stencil. The thin layer of paint from the airbrush dries very quickly on fabric. The stencil will still be sticky, so you can re-position it and paint again, if you like. And, it's easy to change colors, too – just remove the clip cap and paint bottle, and slide a new bottle onto the airbrush.
Peeling up the stencil is so exciting – I love how crisp and clear these stenciled turtles turned out!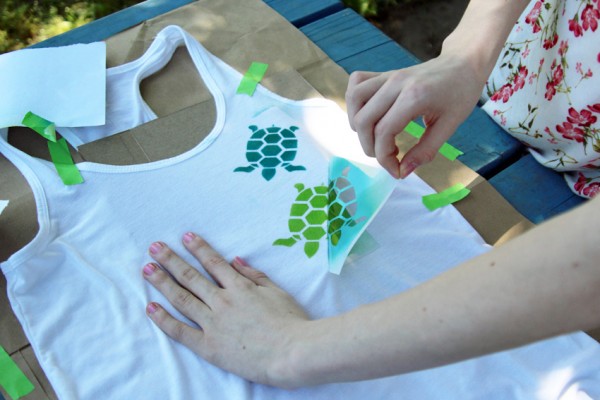 We tried airbrushing a ribbed tank top, too. I wasn't sure if the design would turn out as well on the textured fabric. But, it worked great on this pretty purple butterfly!
We tried one more technique with the airbrush and stencils. Instead of masking off around the stencil, we let the paint over-spray onto the tank top. This is a pretty cool look, too, which both my girls love. They are already hunting around their closets for more things to airbrush!
I set-up a little cleaning station while we were working. Once we were done with a paint color, we placed the clip caps in warm water. After our project, I cleaned the caps with warm soapy water, a soft toothbrush, and the included cleaning wire. Quick and easy! It's definitely nice to have quite a few clip caps on hand (maybe 4-6), so you don't have to wash while you're working on a project.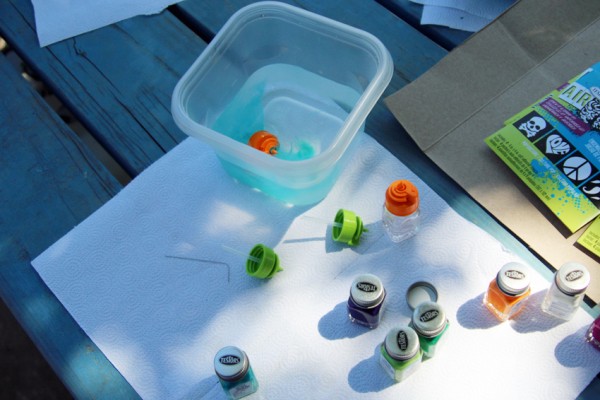 Easy to change paint colors during a project – more fun, less cleaning!
Using the propellant can is much quieter than a compressor
High-quality stencils with cool designs that really stick to the fabric
All the fun colors for customizing your airbrush
My girls wanted to wear their newly-decorated DIY fashion shirts immediately, which I think is a pretty good endorsement! Wouldn't this be a fun activity for a group of friends at a summer birthday or sleepover? If you have crafty tweens or teens at home, I bet they would love creating unique clothes, pillow cases, tote bags, and more with an AirBrainz airbrush kit.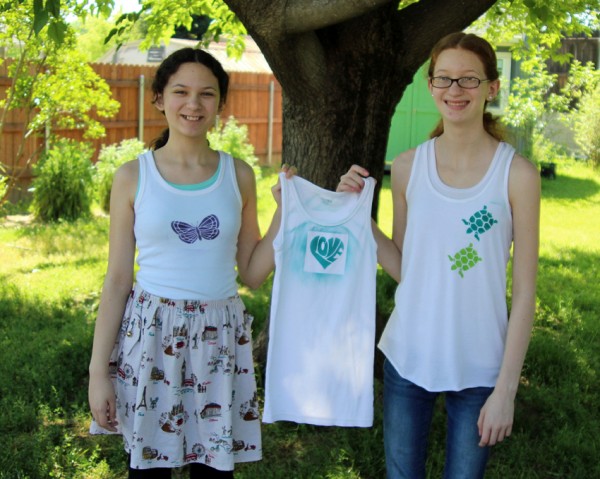 **Thanks to Testors for sponsoring this post. Be sure to visit them on facebook, pinterest, twitter and YouTube for more inspiration.Testors products are available nationwide at all Michael's Craft Stores as well!