I'm happy to have Amy from Progressive Pioneer here as my guest today. Her blog is all about getting back to the basics of life. She's sharing a great way to pack your kids lunch by using reusable items.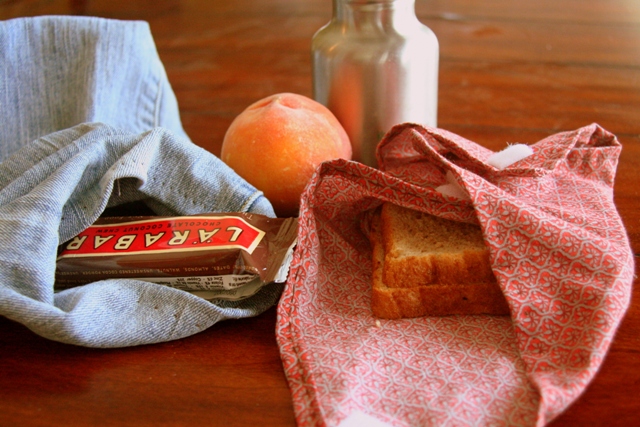 It's back-to-school time!  Instead of oodles of plastic bags and disposable accoutrements, how about a cute, reusable lunch sack, sandwich bag, and a few sources for thermoses and silverware?  I made mine out of an old pair of jeans so there was minimal sewing involved.  In fact, the whole project is so simple you might be tempted to have your kids make their own lunch sets!
DIY Reusable Lunch Set for School
Instructions:
Cut off a good length of the pant leg.  I always think regular lunch sacks are too short to roll down and make a good place to hold, so mine is quite long.  Turn it inside out and stitch the bottom end closed.  Mine was hand sewn as I made it while at a cabin, but I'll probably reinforce the seams with a machine so it's sturdier.
To finish the bottom you'll turn the bag right side out again and fold in the corners to make two triangles.  Then sew those down flat.  Think of those sturdy L.L. Bean bags.
Next hem the top of the bag (unless you're lucky enough to find an old pair of jeans with hems still intact!).  If you're so inclined you could add some pockets inside or out and even sew a strip of cloth along the inside with a few loops to keep silverware in place.

This sandwich holder is little more than a cloth napkin with Velcro tabs to keep it wrapped tight.  You could even use a small cloth napkin and skip the sewing.  I simply hemmed the sides of a piece of cotton cloth, eyeballing it for size (you might want to lay a slice of bread on it to get an idea; don't forget to factor in the hems!).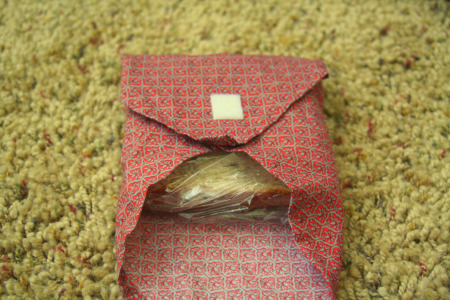 On the top left side you'll tack down two pieces of the "grippy" side of the Velcro.  On the right underside you'll tack down two squares of the fuzzy side of the Velcro.  Test it out before you sew them on permanently though so you get them in the right spot.  The sandwich cover can be used as a napkin or laid down on the grass for a little picnic.  Throw them in the wash just like you would cloth napkins.  I'd make half a dozen or more so you always have clean ones.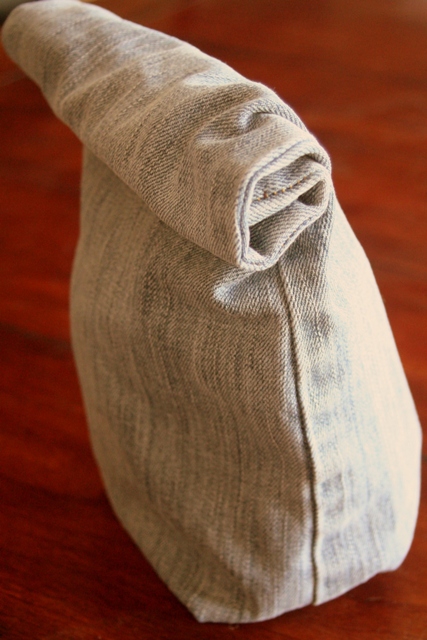 We like stainless steel thermoses and sippy cups.  They don't give your water that plasticky taste or leach yucky chemicals into the drinks.  Kleen Kanteen is a good one to try or Sigg if you want to get fancier.  And if you're packing things that require forks or spoons consider using bamboo utensils; it's cute, inexpensive, biodegradable (throw it in your compost pile!) and renewable (it grows really quickly!).  You can often find them at Whole Foods or Eco Bags.  Now just add some healthy snacks and a shady spot under a tree and you're ready to go!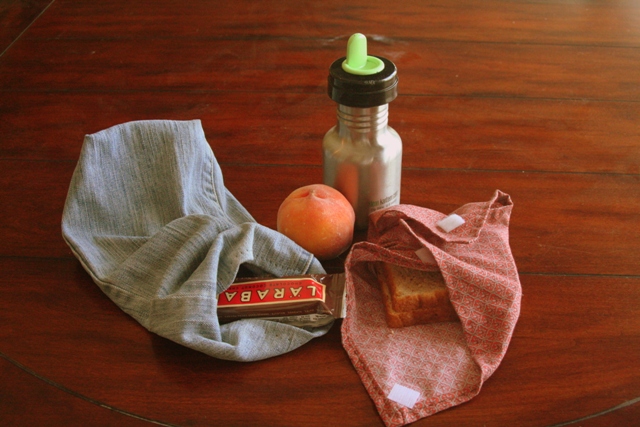 Thanks, Amy. These look easy and fun to make, helping the environment and saving us money. Come see more from Amy at the Progressive Pioneer, I love this great tutorial on canning, which I'm getting ready to do.