For our next project in our Crochet-A-Day series, I have the lovely Heidi of Hands Occupied sharing a fabulous amigurumi type-pattern for an Easy Crochet Hacky Sack. You'll want to make one and try your "foot" at the game of Hacky Sack! 
Easy Crochet Hacky Sack
A crochet hacky sack is so addictive to make! They're also a great way to learn how to do crochet increases and decreases. I have big plans for this pattern, folks. If I've got a teenage boy to make something for, I can whip up one or two crochet hacky sacks in his favorite colors for a not-lame handmade gift (a miracle!). If I've got friends with an active toddler in need of a toy, or a kid who might like a set of three to juggle with, I'll know exactly what to whip up. Did I mention you can make one of these in about an hour?
Supplies:
worsted weight yarn (I used Sugar'n Cream Twists in Denim Twists & Rose Twists.)
size H crochet hook
stitch marker (optional)
dry beans, plastic filling or popcorn (note: if making this for a baby, make sure to use batting instead of something they might swallow)
scissors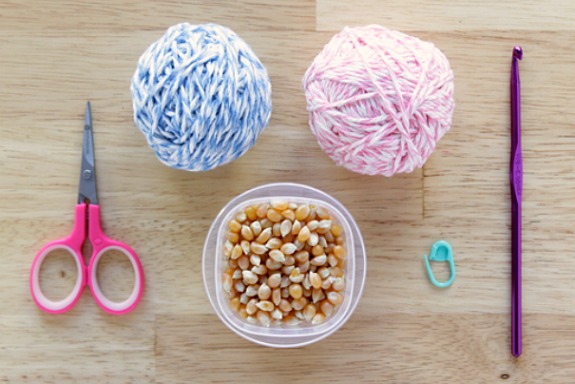 Abbreviations
st/sts – stitch/stitches
sc – single crochet
sc2tog – single crochet 2 together
Pattern for Amigurumi Crochet Hacky Sack
Round 1: Make a foundation row with 6 sts using the magic ring method. Optional, but highly recommended: Place a stitch marker at the beginning of the round, moving it to the first stitch of each new round as you go.
Round 2: 2 sc in each st around (12 sts)
Round 3: 2 sc in next st, sc in next st around (18 sts)
Round 4: 2 sc in next st, sc in next 2 sts around (24 sts)
Round 5: 2 sc in next st, sc in next 3 sts around (30 sts)
Rounds 6-13*. sc around (30 sts)
Round 14: sc2tog, sc in next 3 sts around (24 sts)
Start filling with your beans/popcorn/filling.
Round 15: sc2tog, sc in next 2 sts around (18 sts)
Round 16: sc2tog, sc in next st around (12 sts)
If needed, top off your hacky sack's stuffing.
Round 17: sc2tog until the open end is closed enough to tie off.
Weave in ends, hiding the tails inside the ball.
*That's 8 total rounds of just sc, FYI! :)
The beginning ring will look slightly open, as you can see in the top two finished hacky sacks pictured below. The finishing end of your hacky sacks will look more closed, like the two on the bottom row. Don't worry – I played around with my finished hacky sacks filled with popcorn a bunch and didn't have any issues with losing my popcorn kernel filling.
See? Make one or two of these and you'll have that pattern memorized to pull out for those times when you need a handmade gift right now. With literally over a dozen pregnant friends at the moment, I've abandoned my hope to make each bundle of joy its own blanket. I think some quick baby toys are in order!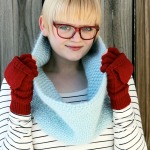 Heidi is the bookish gal behind Hands Occupied. When she's not knitting or DIYing, you can find Heidi behind the teen reference desk at an urban public library. A real party animal, she spends her spare time on Pinterest and Instagram.