I'm starting something new on the blog: Storytime with Make and Takes. As a teacher, this is something that's done all the time at school. You read a story to the children, then plan a fun activity or lesson to go with it. It furthers the learning of the story and helps it come alive. The children seem to remember the story that much better, it becomes a part of them.
Everybody Needs a Rock
To start story time off, we read a book that I have loved for a long time. Everybody Needs a Rock by Byrd Baylor. Who did not go rock hunting when they were a kid? This story talks about the rules of how to find the perfect rock. But not just any rock, the one that is just for you. The book's illustrations are amazing as well.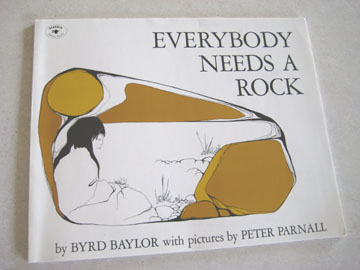 Rock hunting was a great way to get my kids out and about exploring. I drove them up the canyon a little ways and found a nice rocky place to look. We followed the rules from our story, getting down really low, staying quiet, looking for a rock to fit in our hand or our pocket, and even gave it a sniff. Then we gave it the water test, to see what other colors our rocks could produce.
Both my kids picked perfect rocks. My 2 year old found one really fast, but she loves it. My son really took to all the rules of the book. He ended up with two perfect rocks. One that was smooth and one that was rough and had lots of ridges with sparkles.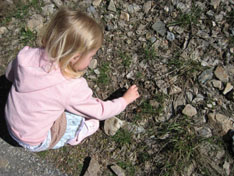 What you choose to do with your rocks now is up to you. I think we are going to put them in special places to look at and remember they are just for us. You could paint it, give it a name, or even use it as a decoration or paperweight. Have fun with story time and finding your special rock.