We're mixing up some fun and fancy layered drinks! These are perfect for the kids to make and sip on New Year's Eve. Have some good ol' family fun while you ring in the new year!
Kid-Friendly Fancy Layered Drinks for New Year's Eve
We love having a special family toast at midnight, and this year my girls will be toasting with these colorful fancy layered drinks. These drinks are so fun to make and delicious to drink. My girls have made quite a few "test" versions in preparation for New Year's Eve!
It's almost time to ring the New Year! We'll be spending the evening at home, eating our traditional nacho dinner, playing board games, and watching a slideshow of the year's photos. The kids will have no trouble staying awake till midnight – hopefully mom and dad can keep their eyes open, too!
Kid-Friendly Fancy Layered Drinks
The trick to making layered drinks is using juices and other beverages with varying amounts of sugar. The sugarier, denser liquids go on the bottom and the less-sugary liquids get layered on top. You'll find lots of options browsing the juice, flavored water, and soda aisles at the store. Just check the nutrition labels for the grams of sugar per 8 oz serving. Here are a few ideas for the layers;
Bottom layer (around 30-40 g of sugar): cranberry juice, grape juice, lemonade
Middle layer (around 15-20 g of sugar): sparkling juice (like Izze or sparkling apple cider), V8 Fusion, some flavors of Gatorade
Top layer (close to 0 g of sugar works best): Vitamin Water Zero, Club Soda, diet lemon-lime or cream soda, Gatorade G2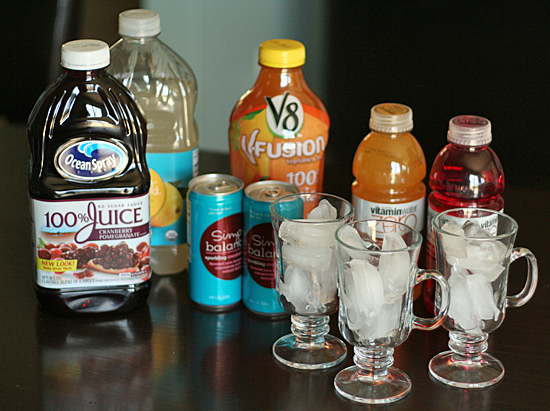 To make a layered drink, start with a glass full of ice. Fill your glass about a third of the way with your first drink – remember to use the drink with the most sugar! Then, pour your middle layer drink over the ice slowly. The ice will help the liquid slowly settle on top of the layer below. We found that using a measuring cup with a spout made for easy pouring.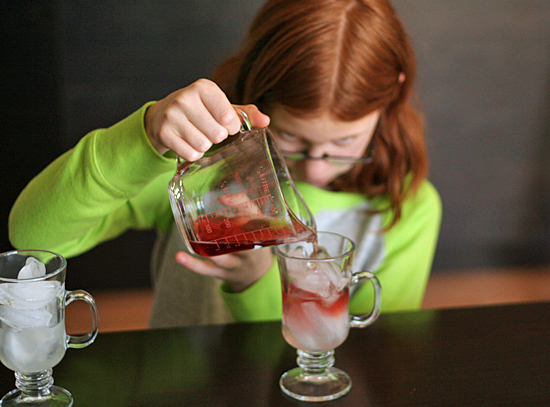 Add your final layer, again pouring slowly over the ice. My girls were so impressed that the different drinks stayed in layers – what fun!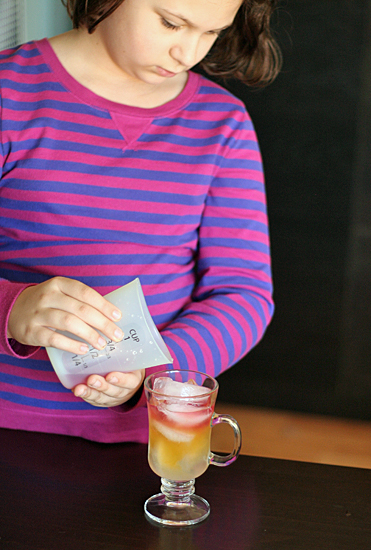 Admire your fancy layered drink and enjoy! It's fun to experiment with different color and flavor combinations. My nine-year-old thought hers tasted like rainbow sherbet – yum!
Cheers and Happy New Year from our family to yours!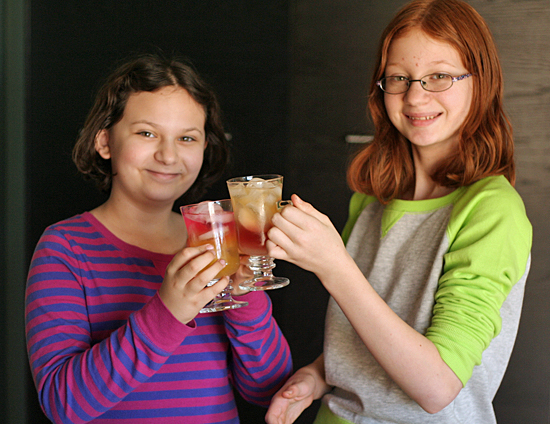 Happy New Year!
*Originally posted 12/30/13