In honor of President's Day this month, I thought it would be fun to share some interesting tidbits about various presidents and their favorite foods.
When I was a fifth grader, my father would make a weekly trek to my school to teach my class the history of each of the past U.S. presidents. Even now, I love reading and learning trivia about our present and former commander-in-chiefs.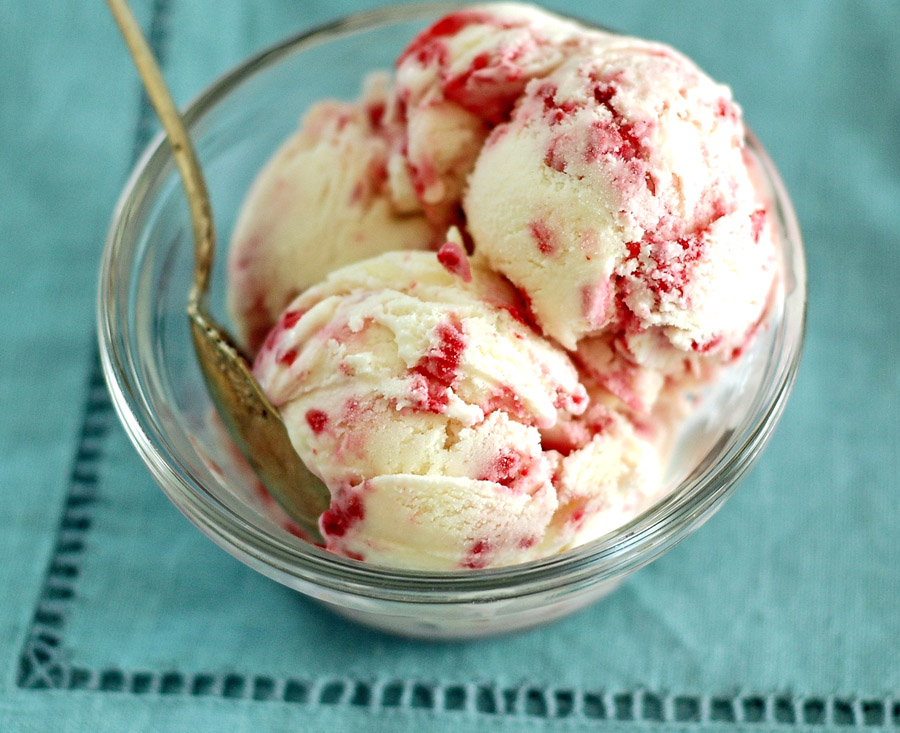 (Raspberry Cheesecake Ice Cream)
In my mind, when I think of George Washington, the next thought is always something to do with cherry trees and cherry pies.  In fact, he was a great lover of ice cream and often served ice cream at presidential Thursday night dinners.  Martha, the wife of the former 1st president, was a wonderful cook and even wrote her own cookbook.  He is said to have favored her fancy cakes.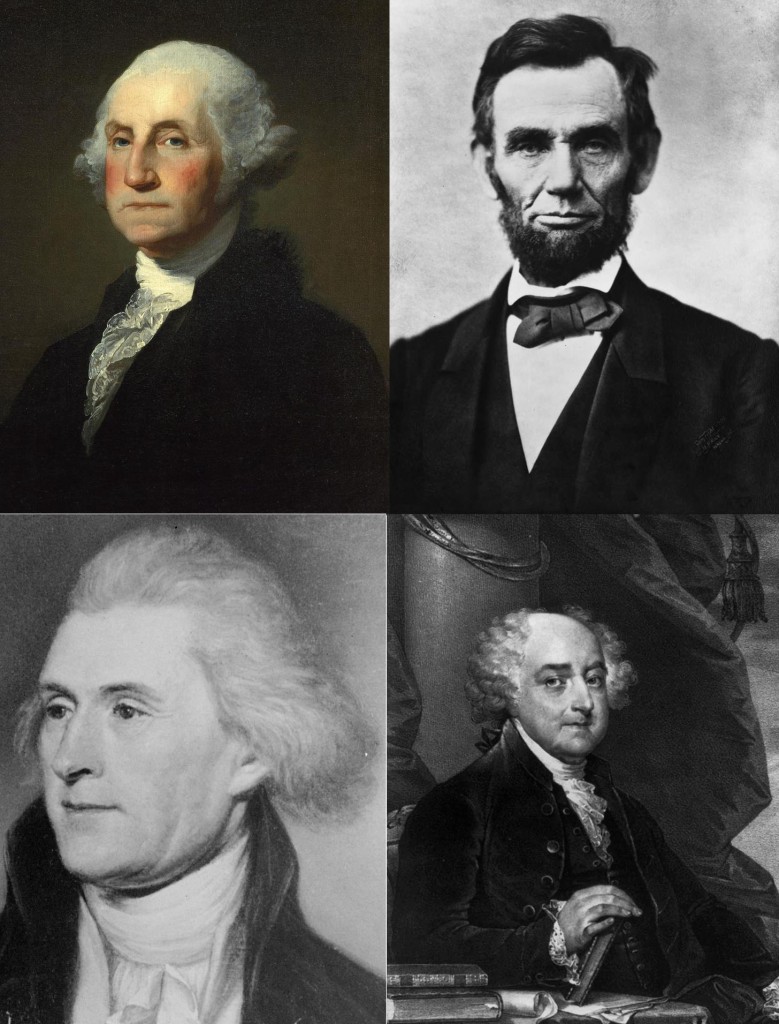 Thomas Jefferson was a lover of fine foods and drinks.  Back in his day, he was known for being a gourmet and introduced many foods to this country from his travels abroad.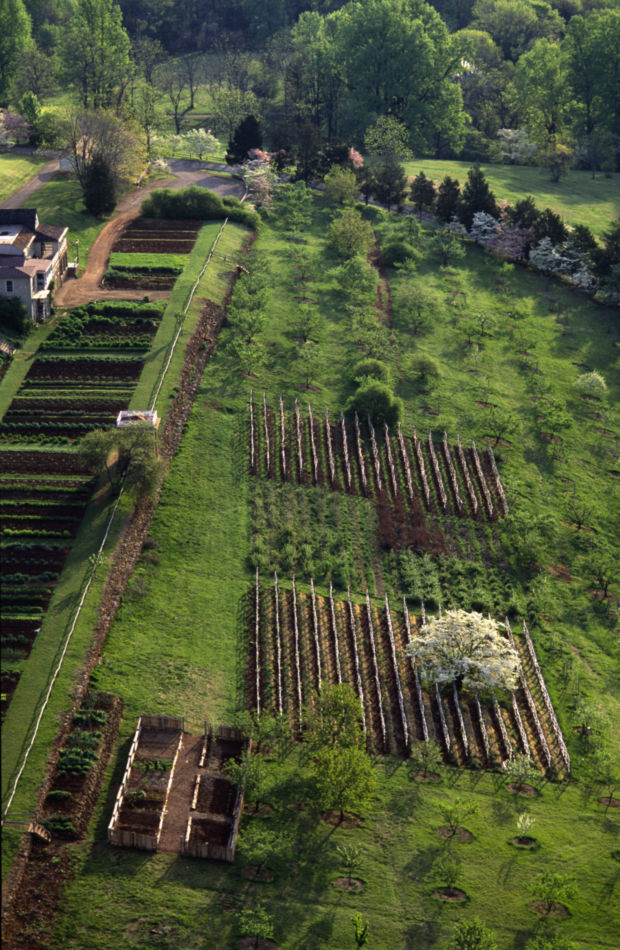 (aerial view of the Monticello garden from here)
He had a spectacular, prolific garden at Monticello and was said to be the first to grow sweet potatoes and tomatoes in the newly formed U.S.A.  He was very fond of vegetables and grew over 300 varieties of various veggies and herbs.   You can read more about Jefferson and his love of food here, buy a cookbook with his family's heirloom recipes here.  Chester Arthur was a close second to Jefferson when it came to epicures in the White House.
John Adams and his son, John Quincy Adams were known for their gardens and fruit orchards.  You can check out pictures and articles here and here about the Obama White House vegetable garden.  Andrew Jackson and Hillary Clinton were other residents of the White House who enjoyed gardening.
Chicken Fricassee with Herbed Biscuits was a favorite of the beloved Abraham Lincoln.  He is also said to have loved various cheeses and crackers.  And dessert?  What could be more American than Apple Pie?
Other former presidents became famous for their avid likes and dislikes of certain foods.  Most of us may remember hearing George H.W. Bush proclaim his disdain for broccoli and Bill Clinton's love of Big Macs.
For a fun twist to an otherwise uncelebrated holiday, it would be fun to include some of these menu items in your President's Day meal plans and incite some interesting conversation on U.S. History.  (I'm married to a librarian, so this is totally our sort of thing!)
Breakfast
Pancakes (the favorite of many)
Poached Eggs on Toast with fresh orange juice (JFK)
Baked Grits with Cheese (Jimmy Carter)
Golden Brown Waffles with Strawberries and Sour Cream (Gerald Ford)
Lunch
New England Clam Chowder (JFK's favorite)
Grilled Cheese Sandwich (FDR)
Dinner
Macaroni and Cheese (from Ronald and Nancy Reagan)
Chicken Fricassee (Abraham Lincoln)
Hamburgers (a favorite of President Obama and Bill Clinton)
Corned Beef and Cabbage (Grover Cleveland)
Snacks
Licorice Jelly Beans (a favorite of Ronald Reagan
Fresh Fruit (John Q. Adams)
Pretzels (George W. Bush)
Desserts
Ice Cream (homemade ice cream recipe from my kitchen)
Indian Pudding (recipe from John and Abigail Adams)
If you are feeling ambitious, you can try the famed cake by Martha Washington…
Rice Pudding with Lemon Sauce (Ulysses S. Grant)
_____________________________________________________
More President trivia:
Here is a list of favorite foods from Judy Asman from The Astute Recorder. The trivia below is partially from Ms. Asman with a few of my own additions from things I've read.
George Washington (1789-1797):  Ice cream, fish
John Adams (1797-1801):  apple cider, pickles, kale and onions
Thomas Jefferson (1801-1809):  Ice cream, pancakes, spoon breads, vegetables
James Madison (1809-1817):  Ice cream
James Monroe (1817-1825): chicken fried with rice, spoonbread
John Quincy Adams (1825-1829): fresh fruit
Andrew Jackson (1829-1837): French food, floating islands and mini-custard tarts
Martin Van Buren (1837-1841): oysters, doughnuts, raisins, figs, and apples
William Henry Harrison (1841): squirrel stew, hard cider
John Tyler (1841-1845): dessert puddings
James K. Polk (1845-1849): ham, corn pone, Southern food
Zachary Taylor (1849-1850): Creole food
Millard Fillmore (1850-1853): plain food, meat, potatoes, vegetables
Franklin Pierce (1853-1857): plain, New Hampshire food of his day, fried clams, chowder, apple pan dowdy
James Buchanan (1857-1861): French cuisine, gourmet food, cabbage
Abraham Lincoln (1861-1865): Fruit salad, crackers, cheese
Andrew Johnson (1865-1869): Fish, jam
Ulysses S. Grant (1869-1877): rice pudding
Rutherford B. Hayes (1877-1881):  Cornmeal battercakes
James A. Garfield (1881):  squirrel soup, milk, homemade breads, apple pie
Chester A. Arthur (1881-1885):  mutton chops, rare roast beef, seafood
Grover Cleveland (1885-1889, 1893-1897):  pickled herring
Benjamin Harrison (1889-1893):  corn
William McKinley (1897-1901):  potatoes, meats and fish, eggs, bread
Theodore Roosevelt (1901-1909):  coffee, wild game, biscuits and gravy
William Howard Taft (1909-1913):  Turtle Soup
Woodrow Wilson (1913-1921):  strawberry ice cream
William G. Harding (1921-1923):  chicken pie
Calvin Coolidge (1923-1929): curry of veal, pork apple pies
Herbert Hoover (1929-1933):  Virginia ham, corn soup, potato soup
Franklin Delano Roosevelt (1933-1945): scrambled eggs, fish chowder, grilled cheese sandwiches, hot dogs, and fruitcake
Harry S. Truman (1945-1953): roast chicken, Senator's Bean Soup
Dwight D. Eisenhower (1953-1961): onions, oxtail soup, succotash, prune whip
John F. Kennedy (1961-1963): New England Clam Chowder
Lyndon B. Johnson (1963-1969): Ice cream, pancakes, seafood, spinach soufflé, sweet potatoes with toasted marshmallows
Richard Nixon (1969-1974):  meatloaf, dried figs, cottage cheese
Gerald Ford (1974-1977):  pot roast, red cabbage
Jimmy Carter (1977-1981) eggplant, chicken, sirloin steak, cornbread
Ronald Reagan (1981-1989): Jelly beans, macaroni and cheese, monkey bread
George H. W. Bush (1989-1993): pork rinds, hated broccoli
William Jefferson Clinton (1993-2001): enchiladas, ribs, hamburgers, pie
George W. Bush (2001 – 2009): Mexican food, peanut butter and jelly sandwiches
Barack Obama (2009-present): Chili, hamburgers