Tis' the season for holiday treats! And these festive cupcakes are no exception. I was inspired from my cute niece, Laurel's spring flower cupcakes to create these Christmas style marshmallow toppers for the holidays.
Supplies for Sugared Marshmallow Cupcake Toppers:
frosted cupcakes
mini marshmallows
kitchen scissors
sugar crystals (aka sprinkles, the really fine kind)
1. Cut your marshmallows in half with a pair of clean kitchen scissors, not the junk drawer kind. There are two ways to cut these marshmallows in half. I like them cut in a circle/diamond shape, rather than the fatter rectangle shape. But you decide.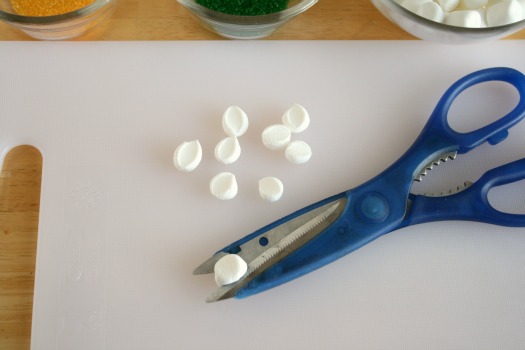 2. Dip the sticky part of your marshmallow into your sprinkles. Press firm to get sprinkles on thick.
3. Add your dipped marshmallows to your cupcake. There are all kinds of fun designs and shapes to create. I've made a tree, candy cane, and poinsettia flower.
Now display your cupcake creations. I found this white cupcake tier display at the local thrift store, one of those great finds! Have fun making all kinds of holiday sweets and treats!