How about a Ssslithering Heart-Shaped Rattle Sssnake for our next Crochet-A-Day series post. Too cute! We're ditching the hook and trying out some finger crochet for this tutorial!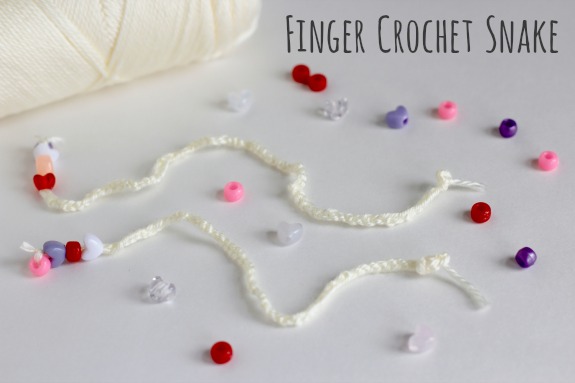 I'm happy to share we're partnering with Consumer Crafts for a week's worth of crochet projects. Head over to ConsumerCrafts.com to buy all your yarn supplies for our Crochet-A-Day projects. They make it super simple to order online and have loads of yarn and supplies on hand.
I've shared how to crochet a chain stitch snake with a hook which is also a fun and super simple project. But we thought we'd switch it up a little by changing our technique, using a finger crochet method. My sweet daughter Lucy has shown us how to finger crochet before. Follow this video tutorial to help make this snake.
Crochet-A-Day: Finger Crochet Snake
Supplies:
1. Finger crochet your yarn into a long chain piece, about 12 inches long. You can crochet your snake as long as you'd like.
2. Once you have it as long as you want, start on a second row by finger crocheting back through your first chain piece. Finger crochet 2-4 stitches for your second row. This will be your snake's head. (If you find this a little hard to do the first time or two, you can simply tie the head in a knot to make a bulb for it's head)
3. Pull your yarn through the last stitch and pull tight. Cut off your yarn about 1-2 inches away from your last stitch. This will act as you snake's tongue.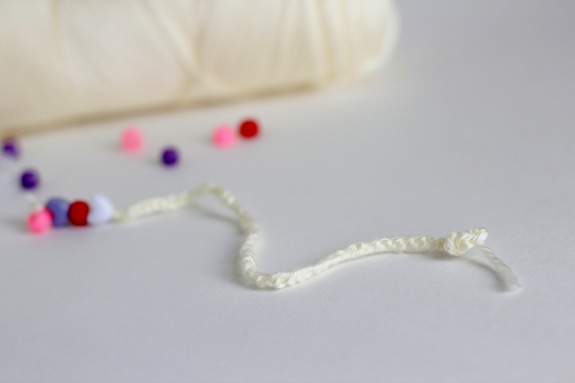 4. On the tail end of the snake, thread on 3 or 4 pony beads. Tip: use a little tape on the end of the yarn to help thread it through the bead if it's fraying. Using the last bead, tie a knot at the end of your tail. Tying the bead into the tail's knot will help secure it and keep the beads on.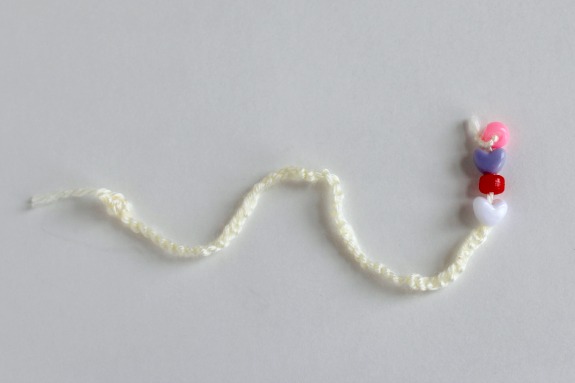 You're done. You can make all sizes of these snakes and give them to your friends as a Valentine's gift!
**Thanks to Consumer Crafts for sponsoring this post. We'll be sharing tutorials all week using products purchased at ConsumerCrafts.com. 
SaveSave