For this fun project, Kendra, our Guest Make and Taker, has let us in on a fabulous trick for giving our flat curtains some flare! Follow her easy instructions and pictures to help take your curtains from drab to fab!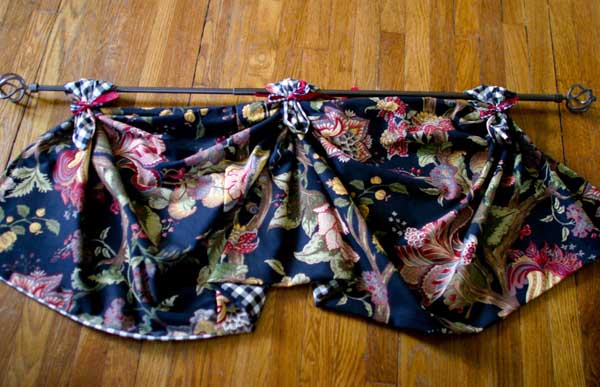 These are the easiest curtains ever. The only thing easier is draping some fabric over a stick and nailing it to the window (which I did in college…and it was cool in an "I'm earthy and don't care about fabulous curtains" kind of way). If you will excuse the wrinkles in the curtains…I'm in the process of packing to move cross country, and that is my excuse for everything these days.
1.) To begin, measure the window you are covering. This particular window was 40 inches (from the outside of the window molding to the other outside edge of the window molding.
You're going to want to make your curtain 2 ½ to 3 times the length of your window, depending on how "gathered" you want the panel to be (or how much fabric you have available). This panel is 2.7 yards long (or 100 inches). I personally wish I would have made it a bit longer (maybe 3 yards?). I would error on the "too long" side, as it is easier to take away fabric, then to add it. The width is entirely up to you. I chose to make this 24 inches wide. Add an inch or so for seam allowances. Cut rectangle is 102 inches x 26 inches.
1.) Cut 2 rectangles using coordinating fabrics, put right sides together and sew the length of the 2 longest sides and one of the shorter sides (leaving one short side open so you can flip it inside out). I used 1 inch seams. Don't sew? No problem, just use fabric tape.
1.) Flip it the "right" way and sew up the last side (or you can just tuck it in and use fabric tape). Pros might use a basting stitch here…i just sewed it right up. Now give it a good iron.
1.) Next lay it out with your curtain rod above it. Start in the center and gather a handful of your curtain. Pull it over. Secure it with coordinating ribbon. Continue to gather and tie your curtain. This window only needed 3…larger windows may use 5 or 7 gathers. Voila. Fabulous Almost Fool Proof Curtains.
Thanks Kendra, for great curtain tips. I have about 5 windows that could use this treatment. Now I just have to decide on the fabric.
If any of you would like to be a guest make and taker, leave a comment or email me at marieATmakeandtakesDOTcom.