Valentine's Day is just around the corner and this Footprint Bee Mine Valentine's Day Cards Kid Craft is the perfect excuse to get crafty with the kids AND mail some happy mail to unsuspecting grandparents far away!!!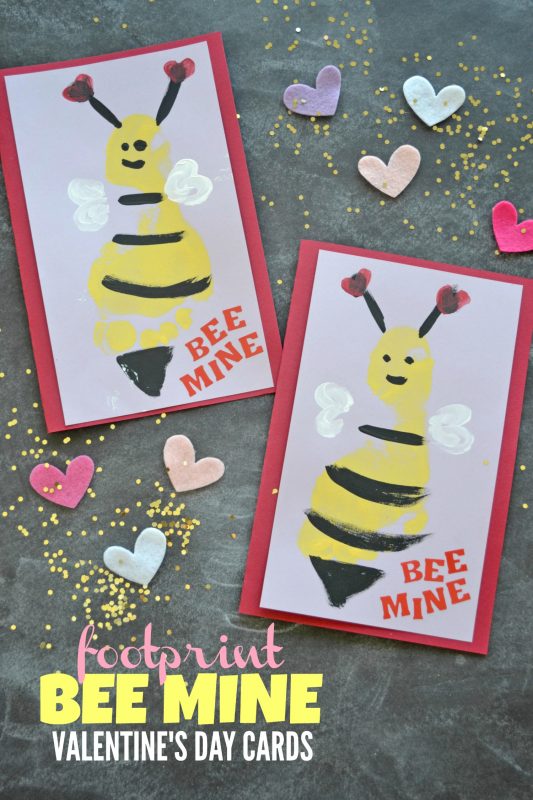 Enjoy making some beautiful "bee-tastic" keepsakes with your child today, with our easy step-by-step Footprint Bee Mine Valentine's Day Cards tutorial.
It's so easy! All you need is some cardstock, some craft paint and a little creativity to create some one-of-a-kind pieces that can be treasured for years to come! Not to mention – they can be easily framed and made into instant decor as well!
So no more excuses my crafty friends! Let's get "buzzing" and make these adorable Footprint Bee Mine cards today! Happy crafting and gifting, my friends!!!
Supplies for Footprint Bee Mine Valentine's Day Cards:
Cardstock
Black Paint
White Paint
Yellow Paint
Paint Brushes
Scissors
Glue Stick
Scrapbook Stickers
Paper Plate
Baby Wipes
Directions:
First have your child pick a foot and paint it completely yellow. Press it down in the center of a single sheet of cardstock.
To give your Footprint Bee life– grab your remaining paint and have children paint on some fun bee features to their stamped footprint. Think wings, antennas, a smiling face and of course those iconic black stripes! Set aside to let it dry completely.
Next grab another sheet of cardstock and fold it in half. Set aside. Now grab your footprint bee and trim around it so you can glue it to your new card front.
To finish it off, add some scrapbook stickers to the front of the card that say "BEE MINE." Then write a sweet message inside, slip in an envelope and mail away! Don't forget to add your child's name and age on the back of the card, so the lucky receiver will remember forever when it was made!