Let's have fun learning about shapes! I've put together a list of a dozen low-prep, hands-on ways for your kiddos to explore shapes. We love incorporating these simple ideas into our car rides, daily walks, and snack time. Many of these shape activities can be played as simple games, which always gets my little guy excited to join in. Plus, I just love hearing my three-year-old tell me all about hexagons and trapezoids!
12 Fun Ways to Explore Shapes
1. Draw shapes outside with sidewalk chalk. Give your child shape challenges, like "march around the square," "jump in and out of the circle," or "count the sides on the triangle." This is a great way to burn-off some of that endless energy our kiddos have!
2. Go on a shape hunt. Give your child a clipboard and paper with two or more shapes to find. Hunt inside and outside. Or, play shape I-Spy in the car.
3. Create shape collages with paper, felt, or fabric shapes. Precut a bunch of basic shapes in rainbow colors and set-out a shape buffet!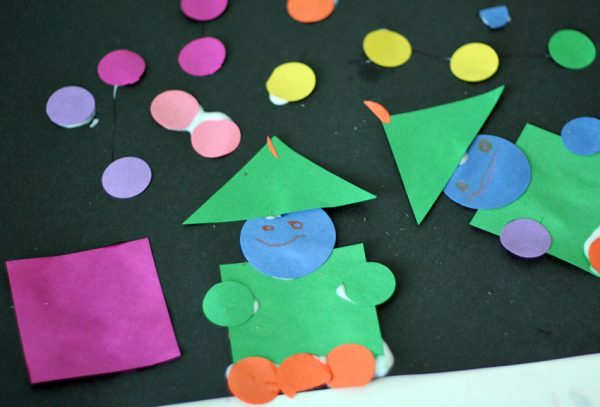 4. Glue popsicle sticks into triangles, rectangles, and squares. Decorate with paint, buttons, or glitter and use them for picture frames.
5. Play a shape guessing game. Take turns giving clues such as "My shape has 3 sides" or "My shape has no corners."
6. Make pictures with shape stamps and washable stamp pads. (We love these solid and outline shape stampers.)
7. Make designs and pictures with pattern blocks. PreKinders has printable picture mats for pattern blocks, too.
8. Play a silly shape drawing game. Make your own shape dice and create funny pictures using only the shapes you roll!
9. Have a shape day – my girls loved this when they were younger, and now I get to plan days like this again with my three-year-old:
Circle day: hula hoops, Frisbees, Ring Around the Rosy, round crackers, pancakes, and bracelet-making.
Triangle day: triangle-cut cheese & bread for sandwiches, playing a musical triangle, drawing trees, roofs, sailboats, or tents.
Rectangle day: graham crackers, printing with sponges & paint, building with blocks or bricks, and making paper flags.
10. Head outside and create a shape hopscotch game with sidewalk chalk. Or, here's an indoor version, too!
11. Make shapes with pipe cleaners, yarn, play dough snakes, or Wikki Stix. Bonus: these activities build fine motor skills, too!
12. Read books about shapes. Here are a few of our favorites:
Captain Invincible and the Space Shapes by Stuart J. Murphy (3-D shapes)
Museum Shapes – The Metropolitan Museum of Art
Round is a Mooncake and Round is a Tortilla by Roseanne Thong
The Greedy Triangle by Marilyn Burns
When a Line Bends…A Shape Begins by Rhonda Gowler Greene
Perfect Square by Michael Hall
Have fun as you explore shapes!