Have you been growing zucchini this year? If you are looking for zucchini recipes we have Zucchini Parmesan Tator Tots, Chocolate Zucchini Bread, and Fried Zucchini. Today we have a delicious sauteed zucchini side dish to share with you.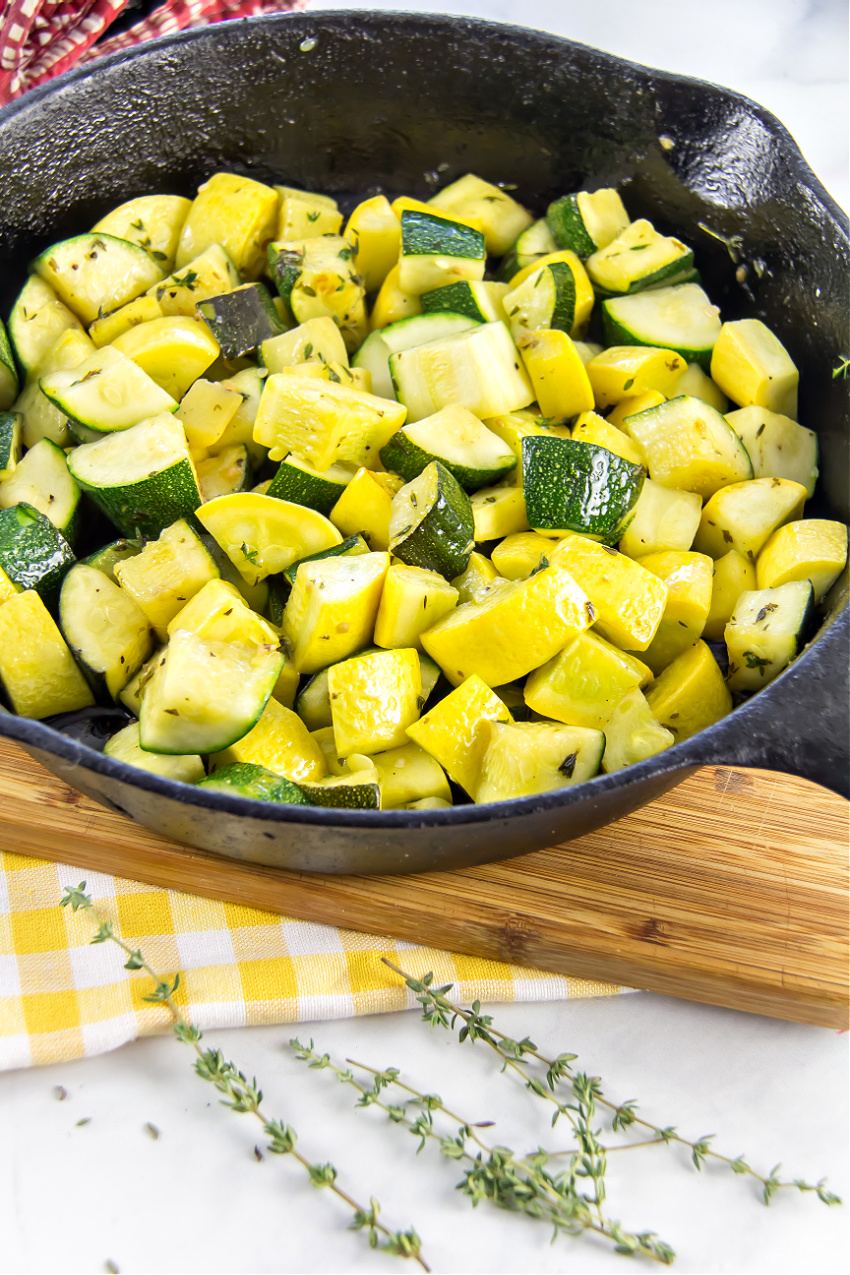 We planted zucchini in the spring and ended up growing a lot of zucchini to use in dishes. It's also made great free food for our chickens this year, they absolutely love it. I've been tossing it in with different veggies and sauteeing it in garlic butter at least twice a week. This is my basic recipe, but we add other fresh produce too when I have some that need to be used up.
How to make sauteed zucchini
Wash, dry, and then dice your zucchini and yellow squash.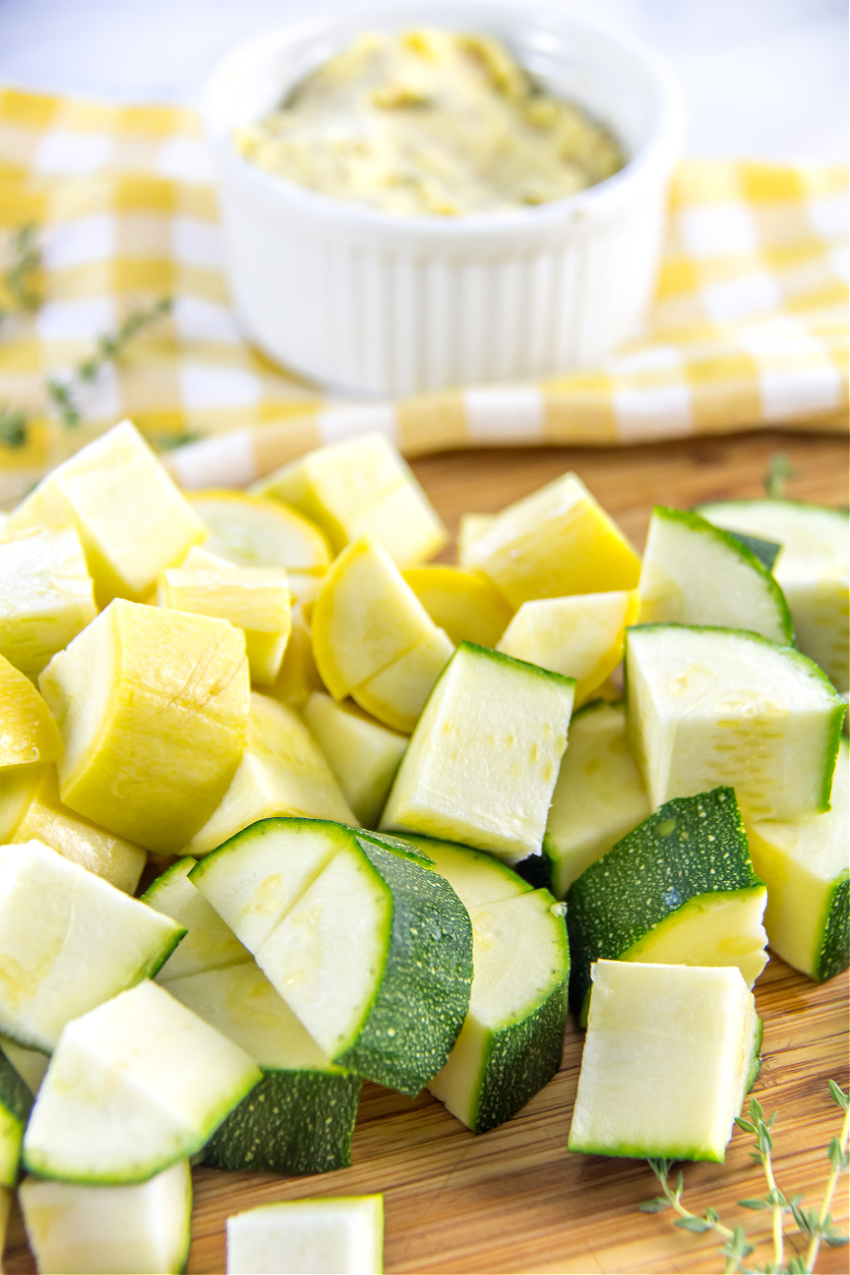 Get your skillet hot, and then add a tablespoon of garlic butter. Toss in the diced zucchini, thyme, salt, and pepper. Turn down to medium-high heat and toss occasionally to ensure it cooks evenly, but don't overcook it or it will become mushy. Sauteeing zucchini for 5-6 minutes over medium-high heat should be sufficient.
Sauteed zucchini tips
Here are my tips for sauteeing zucchini in garlic butter.
Use a non-stick pan or cast-iron skillet
By dicing into chunky pieces as opposed to thin slices it will help the zucchini stay firm and less mushy when cooking it.
Our homemade garlic butter recipe is quick and easy to make if you don't have store-bought garlic butter on hand.
Use one medium zucchini for every three people unless adding a lot of other produce, then you'll need two.
You can use dried thyme if you don't have fresh thyme on hand.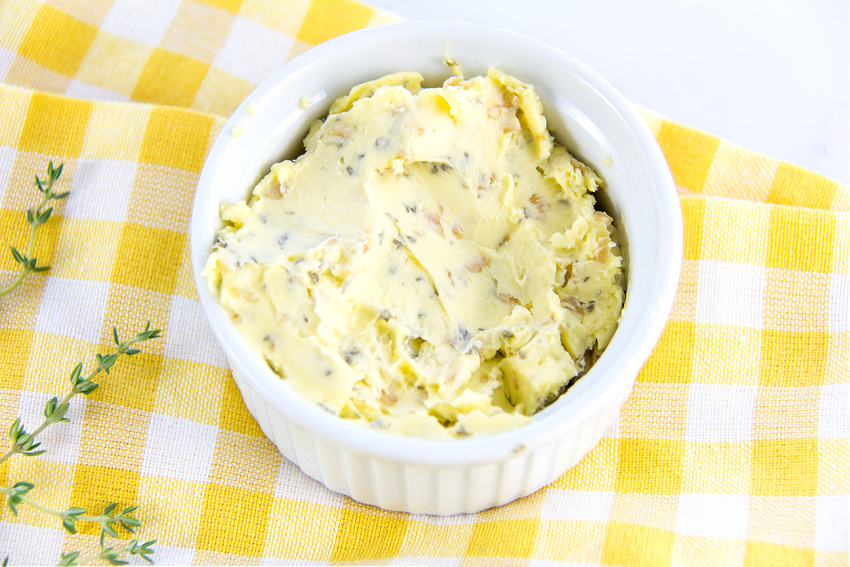 Fresh produce you can saute with zucchini
Here are some of our favorite produce that we often include in this dish:
carrot
onion
mushrooms
bell peppers
green beans
cabbage
spinach
squash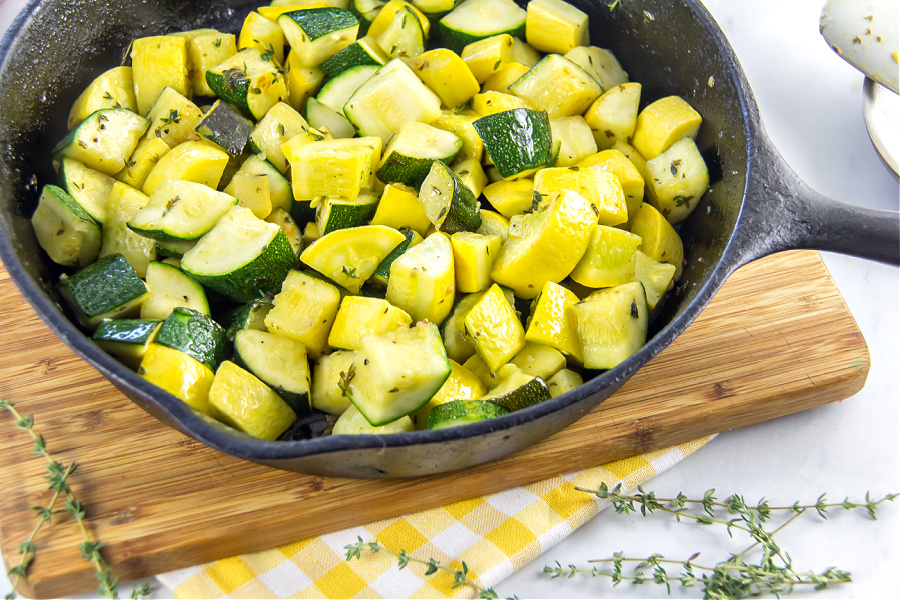 Please Pin Post For Later:

Sauteed Zucchini and Yellow Squash
Zucchini and yellow squash sauteed in garlic butter.
Keyword:
sauteed zucchini, zucchini side dish
Ingredients
1

tbsp

garlic butter

homemade or store-bought

1

medium

zucchini

1

medium

yellow squash

1

tbsp

fresh thyme

1

pinch

salt and pepper
Instructions
Dice zucchini and yellow squash into large pieces.

Heat the skillet until it's hot.

Add garlic butter and stir until melted.

Toss in the zucchini and yellow squash.

Add fresh thyme, salt, and pepper.

Stir occasionally so everything is coated in garlic butter and cooks evenly for 5-6 minutes. Serve immediately.