Looking for a fun project to make with your kids this Hanukkah? Here's a sparkly Star of David made from craft sticks, yarn and glitter they will love to create and display! All dressed up in shiny blue and white, this pretty ornament is perfect for your front door.
Supplies you will need for this craft:
6 craft sticks
White yarn
Blue and white glitter
Blue ribbon
6 blue craft jewels
White craft glue
Instant grab glue
Scissors
Paintbrush
Note: You can paint the craft sticks white before you begin if you like. This will help to hide any wood that may peek through the yarn. This step is completely optional.
To begin, add glue to the craft stick and wrap with white yarn. Repeat for all six sticks.
Use instant grab glue to connect three craft sticks together in a triangle. Repeat for the other three.
Mix a small amount of white glue with several drops of water, just enough to thin the glue. Paint the triangles with the glue mixture, getting the yarn wet.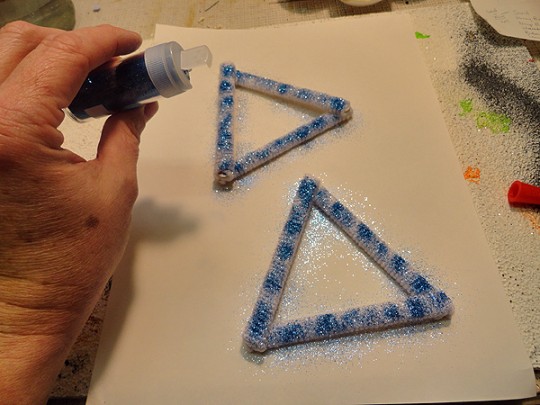 Sprinkle blue glitter over the wet triangles.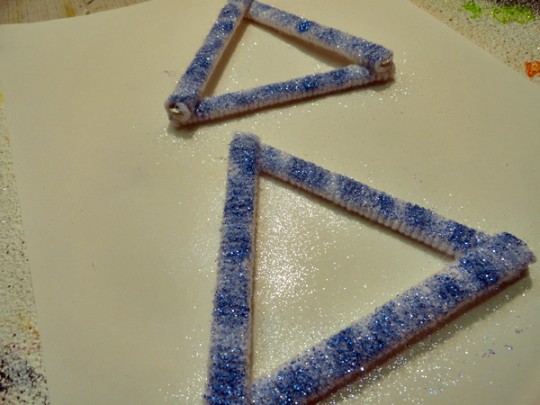 Repeat with white glitter.
Use instant grab glue to attach one triangle to the other, creating the star. Again, using instant grab glue, attach a blue craft jewel to each point on the star. Attach a ribbon hanger.
Below is a video showing the glitter effect:
Have fun and Happy Hanukkah!