Garlic bread is a staple side-dish for us, especially on pasta night, or when grilling. We are sharing our favorite garlic butter recipe that turns a plain baguette or gluten-free baguette into delicious garlic bread in no time!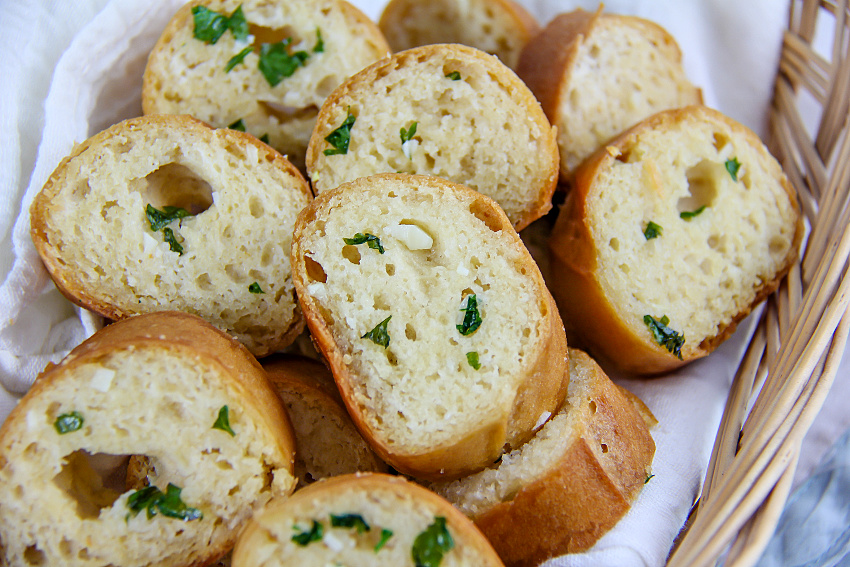 When my son was put on a gluten-free diet a couple of years ago it was such a struggle to find things he liked. He really missed some of his favorite foods such as bread and pasta and struggled with gluten-free options. It's taken a lot of trial and error to find substitutes he loves. This recipe has been a big hit; he says it's the best garlic bread he's ever had. That's a win in my books because it is so easy to make and I always make extra garlic butter that we use on steaks and vegetables too.
Kid-Approved – Gluten-Free Garlic Bread
The best part is you only need four ingredients – five if you use unsalted butter as I did.
How To Make Garlic Butter
To make the garlic butter simply crush the garlic and finely chop the parsley, and combine those with softened butter in a bowl. Don't melt the butter in the microwave, just leave it out on the counter until it's softened.
Tip: I usually only buy unsalted butter, so if you are like me, just add a pinch of salt to the ingredients when combining.
The recipe (below) calls for two garlic cloves to be crushed, but you can add three. My son just doesn't like his bread to be 'too garlicky' so I add a little less for his. I will often separate the ingredients though and make a jar of garlic butter for the non-gluten-free bread that has extra garlic in it. Make sure to label your jars so you don't get them mixed up. Leftover garlic butter can be stored in the refrigerator for up to two weeks.
Follow the directions below for making the garlic bread. Don't forget once you've buttered your baguette to put the extra garlic butter into a jar.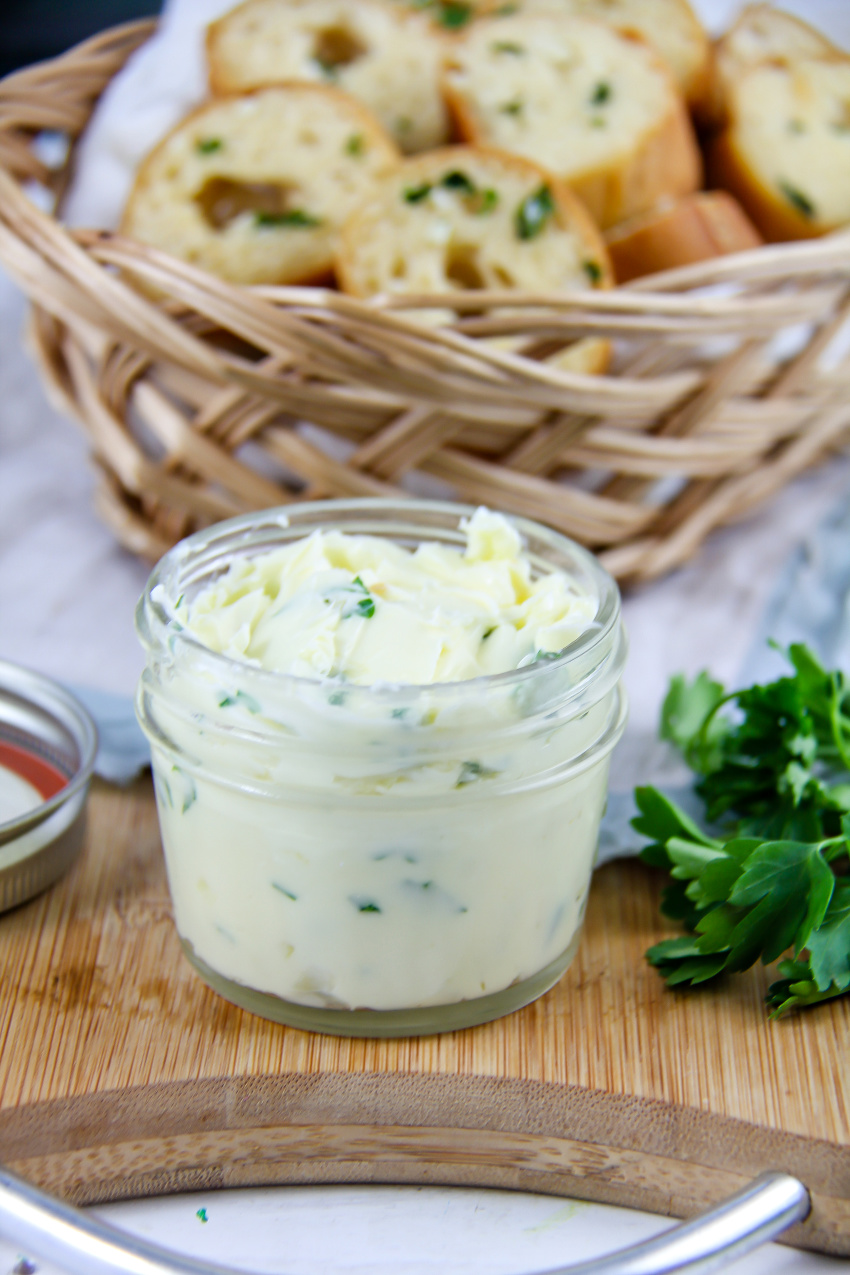 How To Make Garlic Bread
We always purchase BFree white gluten-free demi-baguettes. They are not only my son's favorite but each package comes with two baguettes in individual packaging. Seeing as these are demi baguettes you don't want to slice them in half and butter the inside. Instead, take a knife and cut half-inch slices along the baguette making sure not to cut all the way through.
Tip: We find that these baguettes can be a little hard, so before slicing, I pop it into the microwave for 10 seconds to soften it. This helps to stop it from breaking when separating the slices to spread the butter.
Place the baguette on aluminum foil on a baking tray. Using a butter knife carefully open each section of bread and spread garlic butter on each side.
Bring up the sides of the aluminum foil so it forms a basket around the bread, but is open at the top so the bread will stay crispy and brown.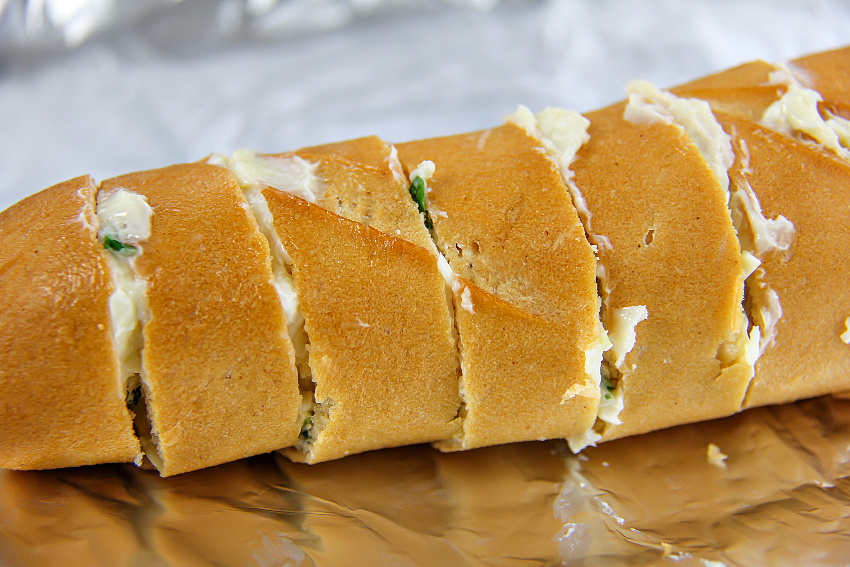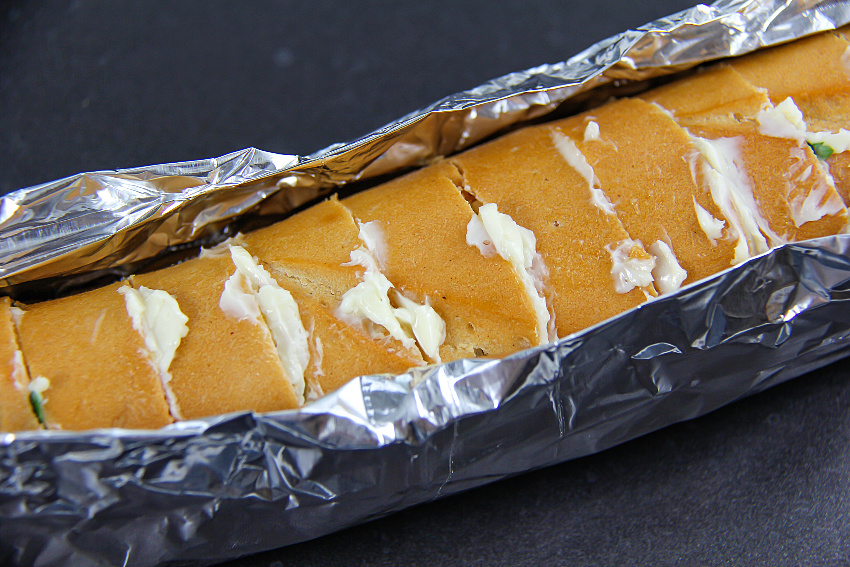 Pop it into the oven that has been preheated to 350F for about 15 minutes.
Please Pin Post For Later: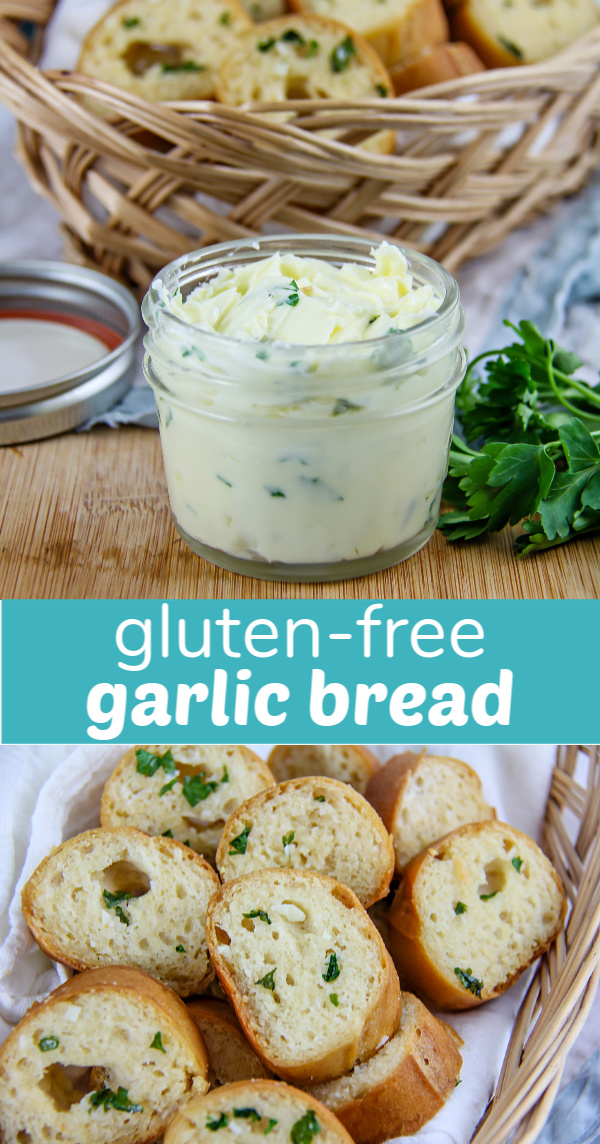 Gluten-Free Garlic Bread
How to make garlic butter and gluten-free garlic bread
Keyword:
bread, condiments
Ingredients
1

gluten-free demi-baguette

1/2

cup

unsalted butter (softened)

If you have salted butter on hand use that, just don't add the extra salt

2

cloves

garlic (finely minced)

2

tbsp

parsley (finely chopped)

1

pinch

salt
Instructions
Preheat the oven to 350F.

Combine the butter, parsley, garlic, and salt in a bowl.

Slice the baguette into half inch pieces. Don't cut all the way through the bread, leave the bottom in tact.

Carefully spread the garlic butter on both sides of each slice.

Create a basket around the bread using aluminum foil leaving the top exposed so it browns.

Place on a baking tray and pop it into the oven for about 15 minutes.