Today I am sharing one of my favorite "go to" recipes, Healthy Vegetarian Tostadas. I work ten hour days and my handsome husband works as well. During the week we are all about quick and easy meals. These veggie tostadas are super simple to make and they are tasty too!
I use small corn tortillas as the tostada base. I like to keep things healthy so I bake them-no frying is necessary. Just spray both sides of the tortilla with cooking spray and broil them for 5-7 minutes. The tortillas will crisp right up! They make the perfect base for the tostada.
I like to spread vegetarian refried beans on first because they act as the "glue." Then, I go topping crazy! You can add whatever toppings you like. Some of our favorites are: lettuce, tomatoes, fresh cilantro, cheese, red onion, mango salsa, avocados, and a squeeze of fresh lime juice.
These tostadas are fun to make and eat. Get the whole family involved! Let everyone choose their favorite toppings. The corn tortillas are crispy and the layers of toppings add tons of flavor.
If you are looking for a quick, healthy, and tasty meal, give these veggie tostadas a try! They are one of our favorite weeknight meals.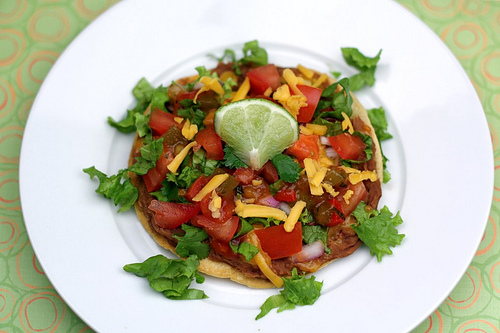 Veggie Tostadas
Ingredients:
Corn tortillas
Refried Beans
Toppings:
Cheese, shredded
Lettuce, shredded
Tomatoes, diced
Red onion, chopped
Salsa
Fresh cilantro, chopped
Avocado, chopped
Fresh lime juice
Method:
1. Turn on the oven to broil. Spray both sides of the corn tortillas with cooking spray. Place tortillas on a baking sheet. Broil for 5-7 minutes. Turn them over once. Keep an eye on them to make sure they don't burn. Remove from oven and let cool.
2. Prepare your toppings. Heat up the refried beans in a microwave safe bowl. Stir.
3. Take a corn tortilla and spread refried beans over the top. Add whatever toppings you like.
4. Enjoy!
Note – you can add meat if you want extra protein. My husband sometimes adds grilled chicken to his tostada. Also, feel free to add other toppings like olives, jalepenos, diced green chiles, corn, etc. You can get creative with this recipe!