It's finished! I am done with the quilt that I started almost a month ago. Here were the quilt colors from a previous post. Now they are put all together in a fun pattern that was easy and fun. I love it and think it turned out great, all vintage looking. I am naming it "Here Comes the Sun" as I am hoping it melts the snow outside my house.
Here Comes the Sun Quilt
I am still getting this whole quilting thing down. I learned I am impatient and press the sewing foot too fast with my lead foot, so some of my sewing lines are squiggly. I looked to Crazy Mom Quilts for attaching the back with the middle and the top. I don't have wood floors, so I pinned mine to the carpet and then pinned it all throughout. Also, I was a little rusty on finishing the binding, so I looked up these great websites for help: Kelly Mccaleb, Expert Village. Here are pictures of the pinning, of the quilt all done, and what the back looks like. I machine quilted across every line horizontally.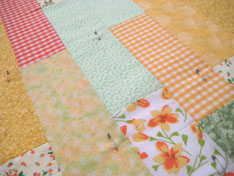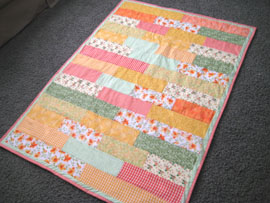 Things I love about this sun quilt:
It cost me $14 for the whole thing, top, batting, and backing. Good ol' Walmart fabric. Perfect for practicing my quilting.
The rectangles are long and fairly wide at 4 inches each, so it was fast to patch together.
It is not a squares patch quilt, so I didn't have to match any seams together, stretching the fabric until each line matched up. Yeah!
I used my machine for every part of the sewing. It made it very easy. Normally I have at least hand-sewn the binding, but I wanted to test the machine out on that. I think the binding turned out great and when I need to finish a quilt fast, I will do it again next time.
I sewed a little sun in the corner of the quilt to remind me of its sunny purpose.
Things I don't like about this quilt:
I should have used a little less green and emphasized the yellows more.
Some of the fabric was not cotton, rayon or something, and one piece melted from my hot iron.
Next time, I will try to use quilt frames my Mom has to attach it all together tighter. But I do love this washed look, all wrinkly and vintage looking.
My next quilts are for my kids. I have left over I Spy fabric and I am making them smaller versions to play with in the car. I will post them when I have the Mini I Spy's done.