I've joined up with Martha Stewart and Plaid once again to share a fun holiday inspired craft. When I opened the box of fun painting supplies they sent me to use, I went straight to the adhesive stencils. Did you hear me right? Adhesive stencils!! Maybe I don't get out much, but I've never heard of adhesive stencils. I don't often paint with stencils as I am so worried my paint will bleed and leave me with a big mess. I find them to be more work than I want as they need to be taped down in place, one more step than I want to make (you know me, super simple). So when I saw these adhesives, I couldn't wait to use them.
I came up with some festive stenciled holiday treat jars, perfect as a gift to my sweet neighbors. And with this type of stencil, your surface doesn't need to be flat. You can stick them onto a curvy surface like a round jar! So cool. Here's how I made these fun little jars.
Supplies for Stenciled Holiday Treat Jars:
small glass jars – mine are from Ikea: Rajtan spice jars $1 each
craft paint and paint brush
candy
ribbon – optional
1. Wash and dry your glass jars.
2. Peel and stick on one of the festive holiday adhesive stencils to the side of the glass jar.
3. With a paint brush, any style, add your paint to the inside of the stencil. These stencils are small, so watch your sides. You could add some painter's tape to the outside of the stencil if you're worried you might go over.
When painting on glass, you may want to add a few coats of paint. I only did one coat of paint on these jars, as I liked that streaked look. Made for a fun contrast and texture. For my tree, I did a sort of splotched look with my brush.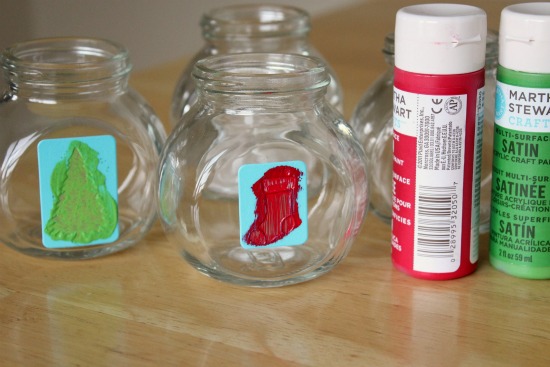 4. Remove your stencil and reveal your beautiful image. Let these dry for a few hours.
For permanent paint on your glass, the Martha Stewart paint collection suggests to first wash the glass with alcohol, cure the paint for 21 days and top rack dishwash.
5. Add in your candy. You could use almost anything, as long as it fits inside the jar's opening. You can leave these jars plain or add a fun ribbon or piece of rick-rack.
Now it's ready to give as a gift. These are perfect for neighbors, friends, and loved ones. A little treat for the Holidays.
Looking for more gift ideas? Make these Bath Bombs Kids Can Create!
Disclosure: This is a sponsored post by Martha Stewart's Crafts and Plaid. The content and ideas are all my own and are going to be gifted to my neighbors :)