I recently mentioned on my blog that I had 12 roma tomatoes that needed something to do. Two people suggested I roast the roma tomatoes in the oven. I was intrigued and decided to give it a go! I'm very glad I did…not only did my house smell like heaven for 5 or so hours, but I really love the final product. Oh, and it was EASY. That attribute automatically earns 1000 points in my book!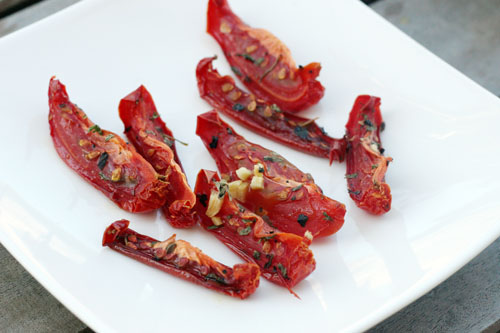 Keep in mind, I've only done this once and I've only done it with roma tomatoes. And I've yet to use my beautiful roasted tomatoes in anything…I've just eaten them straight up, which was divine. But I am planning to use them on homemade pizza or in a pasta dish, which should taste pretty fabulous. They might even be good in a salsa…just thinking out loud here. (I'm totally open to any suggestions you have for using roasted tomatoes, by the way!)
Enough chit chat, let's get on with the cooking, shall we?
First off, mince a large garlic clove and toss it into some olive oil, to infuse the oil with the garlic flavor.
While the garlic works its charms on the oil, slice 10-14 roma tomatoes into 8 wedges per tomato, just like so.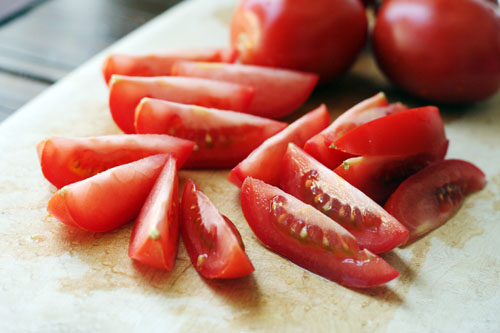 Spread the tomatoes on a large cookie sheet then brush with the garlic olive oil, making sure all those good garlic pieces make their way onto the tomatoes. Sprinkle the tomatoes with salt (kosher if you have it), pepper, a bit of sugar, and whatever spices you like (I used oregano, basil and parsley). Aren't they looking lovely?
Now throw them into a 200-degree oven for 2-6 hours, give or take. I cooked mine for 5 1/2 hours and I thought it was the perfect amount of time…they had shriveled up pretty significantly and started to get chewy in places, but still had a nice amount of moistness.
To store, place your roasted tomatoes in a container and drizzle with a bit of olive oil. Seriously, aren't they gorgeous? Isn't it so cool that you can make these with so little effort?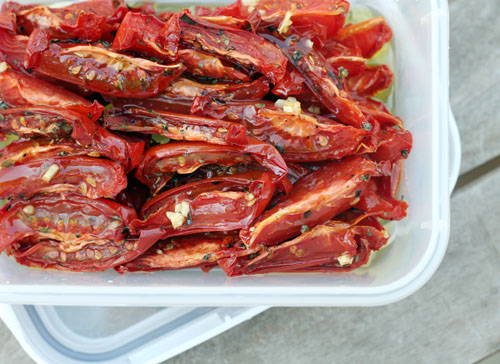 My friend Faye (a pastry chef who cooks a ton and actually knows what she's talking about) told me these roasted tomatoes are a good cheat for sun-dried tomatoes…I agree with her. She also said you can store them in a bit of olive oil in the refrigerator for quite a while. I know, super exact and helpful, but at least you know you don't have to eat them the day you make them. For you lucky people "cursed" with an overabundance of tomatoes from your summer gardens, you now have a new way to use those tomatoes up! And then invite me over for dinner, of course!
Homemade Roasted Tomatoes
Ingredients
10-14

roma tomatoes

you could experiment with other tomatoes, but romas are less delicate and less seedy and work well

Olive oil

probably about ¼ – ½ cup

1-2

garlic cloves

minced

Salt

kosher, preferably

Pepper

Spices you like – Oregano

Basil, Parsley, Red Pepper Flakes, whatever!

Sugar
Instructions
Add minced garlic to the olive oil and let sit while you prepare the tomatoes.

Slice tomatoes into wedges, 8 per tomato.

Spread on cookie sheet and brush with garlic olive oil.

Sprinkle with salt, pepper, spices, and sugar.

Bake at 200ºF for 2-6 hours or so (5½ hours was my magic number).

Store in the refrigerator drizzled in olive oil.
Thanks to Faye and Ginger for "teaching" me how to roast tomatoes (via blog comments!) and putting this fabulous idea in my head!
To see the recipe in a concise, printable format, click here. And please share your ideas for how to use these yummy homemade roasted tomatoes!
Jane Maynard, writer and founder of the food blog This Week for Dinner, is a wife, mother to two beautiful girls and freelance graphic designer. Jane loves eating, which comes in handy for a food blogger. Chocolate, cannoli, and H&H Bagels are her top foods of choice.