It is that time of year when beach towels are everywhere in my house. We are either at the local pool or in the sprinklers. While regular towels are just fine and serve their purpose, I love Hooded Towels.
Before, I have made these great hooded towels for my kids and their bath time. They are shivering when they get out of the tub and these towels cover them head to toe. I also attempted, as you can see, to sew fabric letters on the back to make them personalized. I need a better sewing machine if I were to make it look professional, but cute all the same.
I bought these polka dot towels from the $1-2 section at Target. You could use bath towels, character towels, or start from scratch at the fabric store with terry cloth. I like these ones from Target because they came with two matching colors and I could put them together. With my bath-time towels, I used a regular sized bath towel and a matching hand towel.
If you are using a hand towel, cut in in half (you will only need one of the halves). If you cut the end of a regular size towel like me, cut it 9-10 inches wide.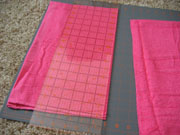 (Skip this step if you are using half of a hooded towel). For the cut beach towel, fold in both sides about 2-3 inches and sew in the flap. This will be the front of the hood and will look nice, plus they are usually too big and need to be taken in a little.
Next, lay out your large beach towel and line up your cut small towel (the hood) on top of the large towel, then pin. I like to sew these on top of each other, instead of two right sides together. I think that the towel hangs better if you do it this way.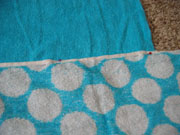 Now sew them together. I like to use a zig-zag stitch with my machine. It gives it a fun look.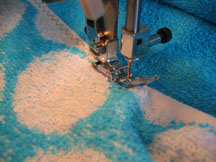 Then pin the hood sides together to form a triangle point at the top and sew them together. Make sure you are sewing from the inside, so that the seam is not seen when the child wears the towel.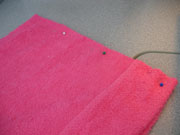 You can leave the towel finished like this, or I like to sew one more line. I turn the hood inside out and sew a line straight to make the bottom of the triangle of the hood. That way the point is not showing and the hood is not quite so big as to cover their eyes.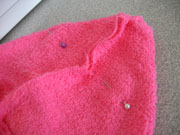 I hope these pictures help, because my written instructions seem jumbled. It really is easy and takes only 3-4 sewing lines and you're done. Have fun making these towels, helping your kids stay dry!