*This fun sewing project is sponsored by Disney Book Group.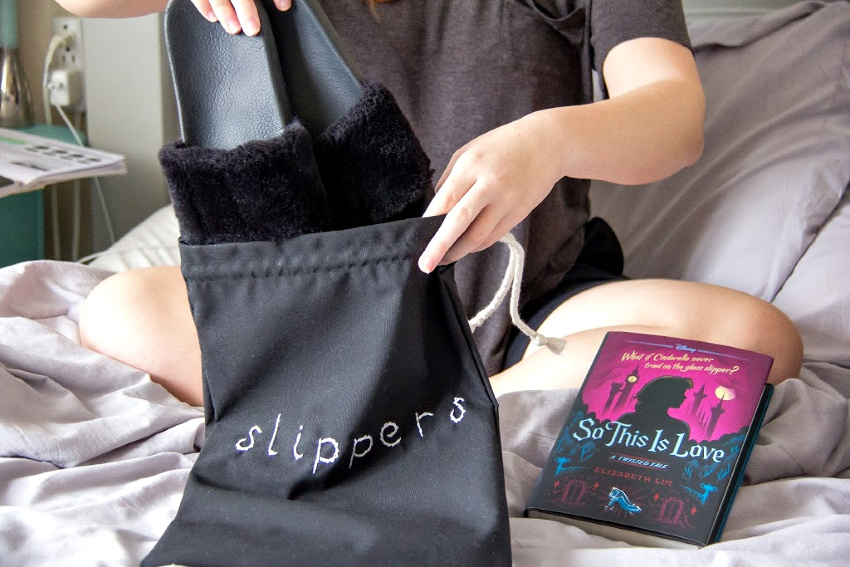 What if Cinderella never tried on the glass slipper?
So This Is Love, by Elizabeth Lim is a new book currently available for your Young Adult reader. It's the latest installment in the Disney A Twisted Tale series which puts a "twist" on the stories you know and love. In this iteration of the classic story, Cinderella is not rescued by the prince, but rather up and leaves herself and takes on a role at the palace as a seamstress. So, inspired by the story, we've put together a weekend of fun for your teen (or tween) including a sewing project and in their downtime, they can curl up with this new book.
This sewing project coupled with basic embroidery is the perfect beginner project to teach your tweens or teens. They'll love being able to make something they can store their 'glass slippers' (or sports shoes) in at home, school, sleepovers, practice, or when traveling.
How To Sew a Drawstring Shoe Bag
We made our bags in assorted sizes, but feel free to make just one size. Embroider them with a favorite brand or color of shoes, a glass slipper, or make bags for dirty or clean shoes to keep in the car.
Supplies:
Heavy fabric – anything a little heavier and thicker than regular cotton such as a cotton blend, denim, or anything you would make reusable bags out of.
Sewing machine
Embroidery thread and needle
Ruler
Washable (or water-soluble)  fabric marker or pencil
Safety pin
Bead (optional)
Instructions:
One thing that has always bothered me about store-bought shoe bags is they generally come in one size. Which means smaller shoes such as flip-flops and sandals swim in them. The instructions I'm sharing are for the smallest size bag which fit my teenager's (women's size 7-7.5) flip-flops, sandals, and slippers. Add two to four inches onto the dimensions before cutting your fabric for larger shoes such as ankle boots and sneakers, or if your teen wears a larger shoe size.
Begin by cutting the fabric. Fold your fabric in half. The smallest bag we made is cut 12″ by 16″. The largest one (for her low-rise casual shoes) is 14″ by 18″ to allow for the extra heel height and bulk of the shoe.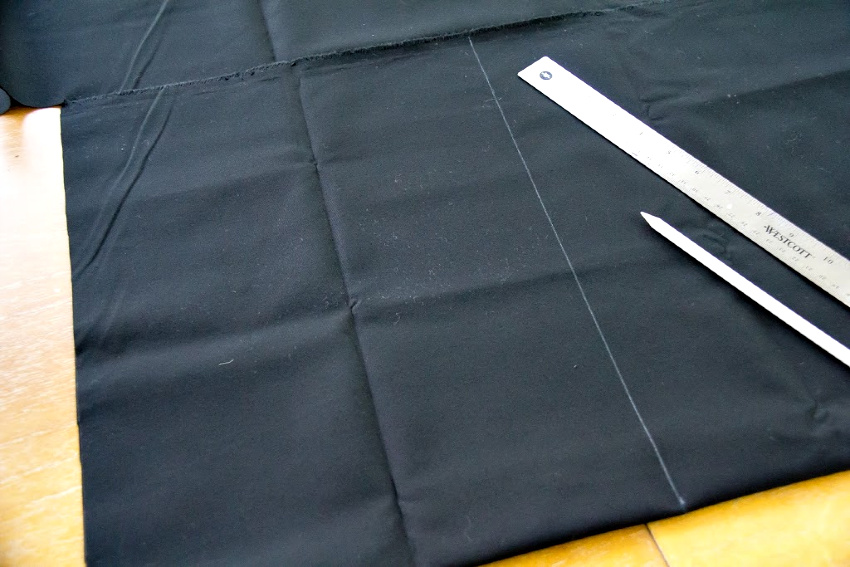 Open your fabric. On the two longer sides, pin or press (my preferred method) a 1-centimeter seam and then stitch it in place.
Fold over the shorter ends 1.5 inches and pin. Sew two lines on each. This will create a seam to prevent the fabric from fraying and also create a panel to thread the cord through (see the images below). When sewing the second line, make sure your cord will fit through, if not, make it a little wider.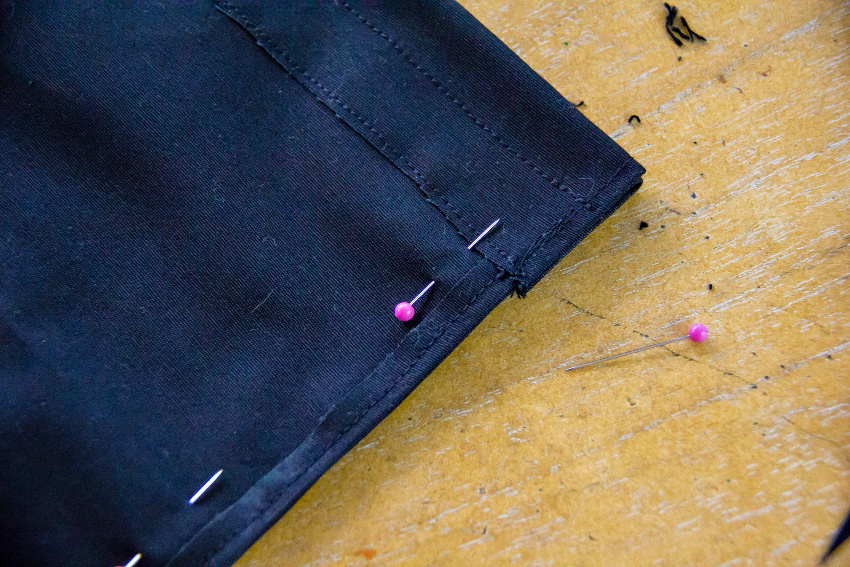 Fold your bag back in half with the wrong side facing out. Sew the side seams together making sure to leave the panel for the cord open. If you sew the section of the panel together you won't be able to thread the cord through.
Turn your bag in the right way to thread the cord through the panel.
Cut a section of cord and then tape of the ends if you need to. Attach a safety pin to help you guide the cord through the panel. Once you get to the other side of the bag pull the cord out of the first side and into the other side. Continue threading it through until you have the two ends at the same side.
Adding a bead is optional, but I like to add one because it keeps the ends of the cord from making their way back into the bag.
If you choose to do this, thread both ends of the cord through the bead and then tie them in a knot so they can't go back through.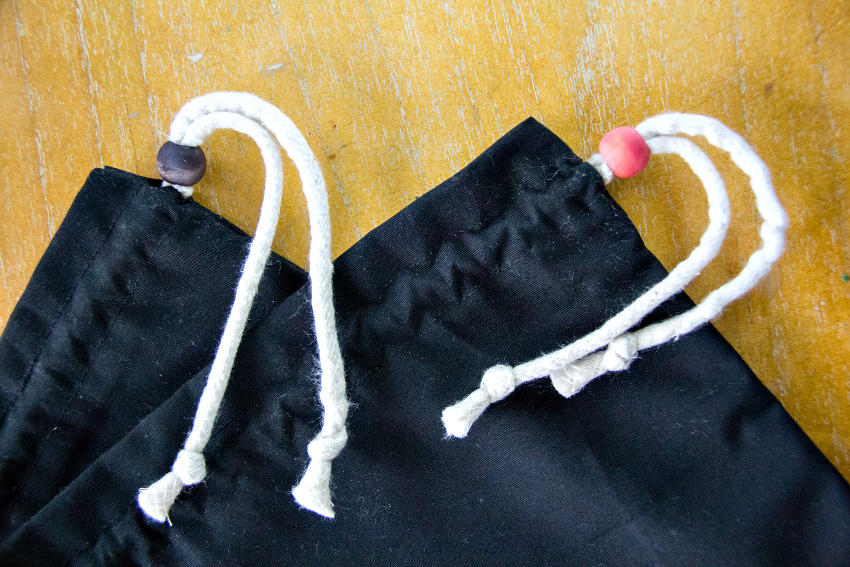 The final step is to embroider the front of your shoe bags. I used stencils to create words, but you could freehand draw a shoe or words on yours instead. Make sure you use a washable marker or pencil no matter what you choose to do.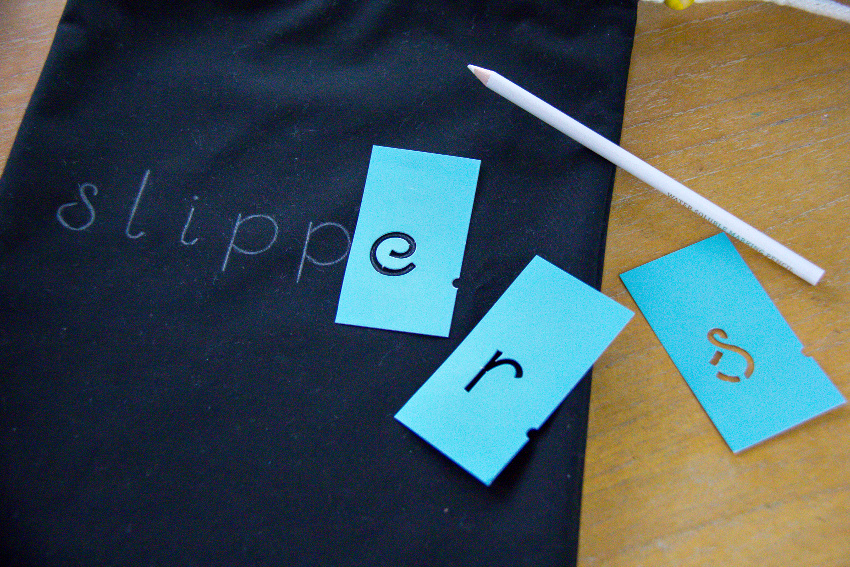 Use embroidery thread and a needle to do an outline stitch around each letter.
The four bags we made are for sneakers, flip-flops, sandals, and slippers.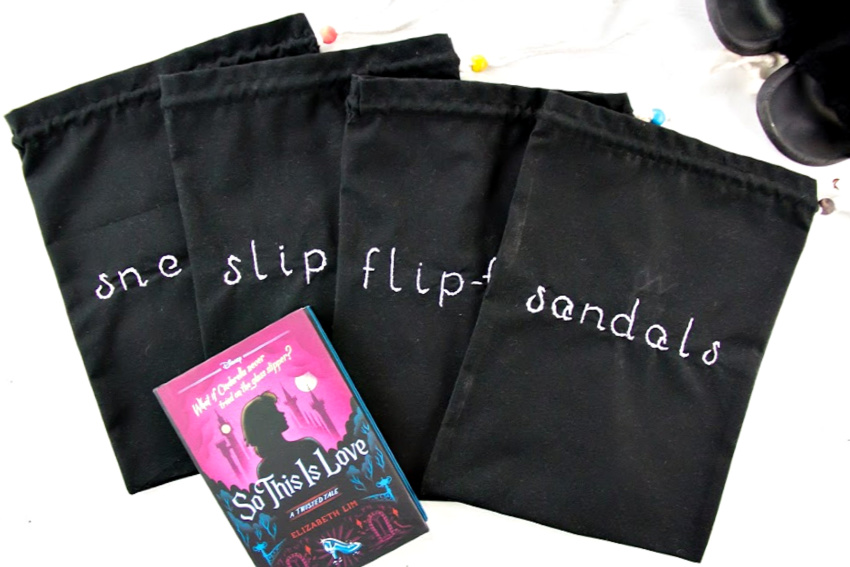 Don't forget to pick up a copy of So This Is Love and the other books in the A Twisted Tale series. Some of the other recent re-tellings in the series are Straight on Till Morning (a new take on Peter Pan!) and Conceal, Don't Feel (re-imagining Frozen!)
Please Pin This Drawstring Shoe Bag Tutorial For Later: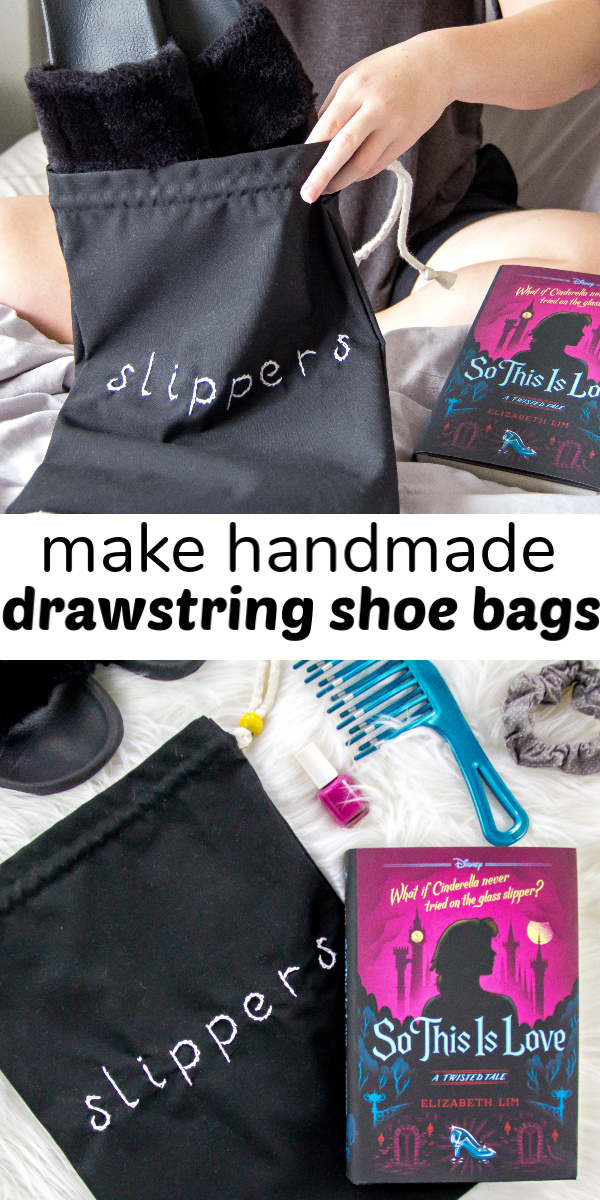 Read more about So This Is Love: 
What if Cinderella never tried on the glass slipper?
Unable to prove that she's the missing princess, and unable to bear life under Lady Tremaine any longer, Cinderella attempts a fresh start, looking for work at the palace as a seamstress. But when the Grand Duke appoints her to serve under the king's visiting sister, Cinderella becomes witness to a grand conspiracy to take the king—and the prince—out of power, as well as a longstanding prejudice against fairies, including Cinderella's own Fairy Godmother. Faced with questions of love and loyalty to the kingdom, Cinderella must find a way to stop the villains of past and present . . . before it's too late.