These hand-stitched cards are simple and fun to make. I've been stitching them for quite a few years now and have shared many patterns in my Card Patterns category. Today I've taken a video of me stitching a Gift Box Greeting Card for you to see just how easy it is. You can follow right along.
Supplies: Everything is available at your local craft or fabric store.
Punching Awl
Pattern for Gift Box to punch – Download this pattern, then print it out: Gift Box Stitched Card Pattern
Cork board: For punching holes in card – found at kitchen or office store (try a cork hot plate)
Thread: I usually use DMC floss, with all six strands
Needle: Cross-stitch needle #26 for 18-22 count fabric
Cardstock: white piece, accent color piece, folded card piece
Envelope: white envelope that measures, 4 ½ " x 5 ¾ "
Glue: Glue stick, glue dots, spray glue is recommended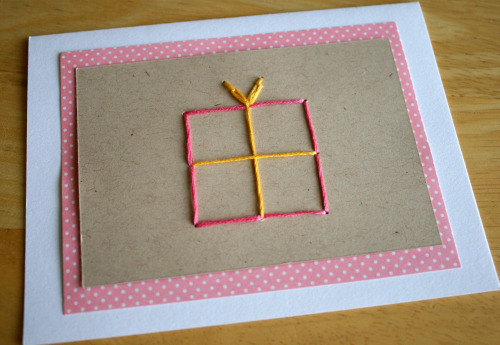 Instructions: For complete instructions on Punching, Stitching, and Gluing this card, please visit my Basic Instructions Post.