I have been trying to clean out my fabric drawers, tidying up a bit. My closet is overflowing with fabric and other crafty items. I came across tons of cut squares left over from making I Spy Quilts. So I decided that I am going to sell the extra fabric as kits at The Stitching Barn Shop.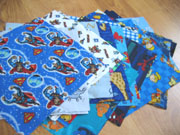 For each kit, there are 30 – 8 1/2  inch squares of fabric (1/2 inch allowing for 1/4 inch sewn edge on all sides) pre-cut to easily sew and make an I Spy Patchwork Quilt. There are 2 of every square to make it more fun for the kids finding the pairs when the quilt is done. The fabric is all sorts of fun shapes and characters that kids will enjoy. I have a boy kit, a girl kit, and a mixed kit for boys and girls. The mixed kit comes with batting and the backing that I had extra of as well (binding not included, but I just folded over the backing for the binding on my quilt.)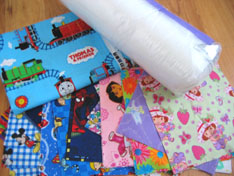 Here are a few great sites that share their knowledge and love for Quilts:
Have fun making quilts. I love the look and feel and comfort of a quilt!