My 4 year old son Matt and I love to play the game "I Spy With My Little Eye". Remember playing as a little kid, who doesn't? Anytime we stand in line waiting for anything, we play I Spy. It can keep him occupied for a good 15-20 minutes. I suggest you try it the next time you're waiting in the grocery line. For details on the game, I Spy.
Well, that brings me to my next Make and Take. There are patchwork quilts called, "I Spy Quilts". They are colorful and fun and can be a convenient game for kids to play anywhere with your quilt. You could make the quilt small for in the car fun or large for a picnic gathering. To play the game with the quilt, ask the child to find a fabric square with a certain item on it and they go looking. The quilt can be made up of 30-50 fabric squares that are of scenic things, like: flowers, animals, bugs, shapes.
I Spy With My Little Eye Quilt
I recently made an I Spy Quilt that goes a few steps further with matching squares and a playful backing.
I have collected lots of fabric, mostly T.V. character fabrics that my kids love (yes, we watch too much T.V.) and made big squares of them: 8 1/2 inch squares cut, (they will be 8 inches square after sewing with a 1/4 seam on all sides) large enough to stand on. Then I put two of the same squares in the quilt, so they can find the matching one. Then the kids can take the quilt anywhere or just in the play room to play "I Spy". It can be a fun new game to play with friends. I have made boy fabric quilts and girl fabric quilts. This photo shows a large quilt with boy and girl squares for both of my kids to share.
The large quilt above is 7 x 10 squares and the small quilt below is 5 x 6 squares.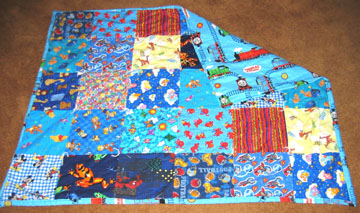 I also put a fun Backing on the quilt for reversible fun. For boys, I have bought Thomas the Train fabric that has tracks running all over. The kids can I Spy on the front and play trains on the back. For girls, you can buy a princess theme or Dora fabric that they can bring their dolls out and pretend. Now you have 2 games in one handy quilt.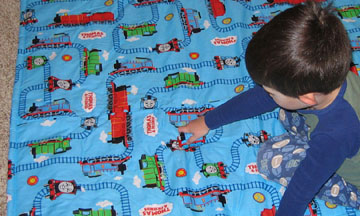 Hopefully this will entertain your kids as much it has for mine. Happy Quilting!!