Vannesa from I Never Grew Up is today's Guest Make and Taker. She's starting to post some great ideas on her blog for learning the Alphabet letters. These activities are sure to spark interest in the ABC's, getting your child ready for school and ready to read.
We just started a new activity at my house, "Letter of the Day". My ideas are geared towards my 2 ½ year old, but most of these activities can be used for any age of child working on the alphabet. I try to incorporate reading, music, art, gratitude, exercise, nature, touch, and a family activity into teaching each assigned letter. We actually spend two days on one letter, making enough time for all the fun activities and all the regular things going on in our day to day life. This may seem like a long list of things to do, but each of them only takes a small amount of time and hardly any planning ahead. For more detailed ideas on each letter, visit my blog to follow us along as we work on them.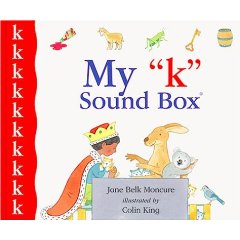 Reading – We start off every letter by reading, My "A/B/C/etc." Sound Box Books by Jane Belk Moncure & Colin King. These are the ones we like but after looking at the library there are quite a few alphabet book sets you can check out. We also read at bedtime to go along with the letter. On days where it is hard to find books for certain letters, we read our favorite alphabet books: Chicka Chicka Boom Boom by Bill Martin Jr., John Archambault, and Lois Ehlert, Kipper's A to Z by Mick Inkpen and ABC: A Child's First Alphabet Book by Alison Jay.
Music – To help teach the sound of the letter we use our Leap Frog Fridge Phonic Magnetic Set.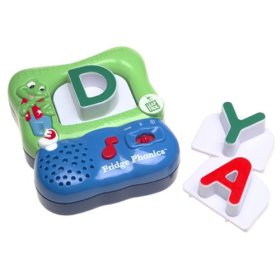 We also play at different times of the day the CD track of the letter we are working on from "Sing Alphabet Sesame Street". There are so many music CD's that help teach the alphabet, my daughter likes Sesame Street so we went for this one.
Art – We do two art projects to go along with each letter. The first one we create the actual letter from all sorts of supplies (feathers, pipe cleaners, sand, paint). Then we go through old magazines and look in our craft bins for little trinkets to glue on to make an art collage around the letter. While we go through magazines we also cut out the certain letter we are using in different fonts on different pages so she can become accustomed to the different styles the letters can be seen in.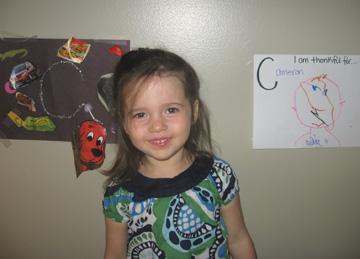 Gratitude – The other art project we do goes along with our Gratitude Alphabet we are trying to complete that we are displaying downstairs in our play room. For each letter we draw/create/cut out the things we are thankful for that start with the letter. It's been anything from a person, to a favorite food to our favorite object outdoors.
Exercise – Later on in the day we play a certain game or do a certain exercise that goes along with the letter. We only spend a few minutes, but it helps participate in an activity the letter starts with. For the letter C we played a simple game of Catch. You may have to be pretty creative with certain letters, making up your own game or exercise beginning with the letter!
Nature – While we are taking our daily nature walk with our dogs, we take time to point out all the things we see beginning with the letter of the day. We haven't got to Q, Z, X so it has been easy so far. You might try listening to a sound outside that makes the letter sound, if you can't visually find something that starts with the letter.
Touch – My mother did this with my siblings and I to help us learn to feel the shape of the letters. She had us trace the letter in different touches: dried beans, sand, water, finger paints. She always started teaching us the letters at a pretty young age so before she knew we could actually write the letters she would have us just get used to the feel and shape of each letter.
Family Activity – I end teaching the letter with a family activity that goes along with it. In my family, we love to cook and eat, so usually it has to do with food. For D we made homemade donuts and for Z we made some yummy zucchini fritters.
Celebration – After we complete a few letters we take a day off to have a nature scavenger hunt or treasure hunt including clues having to do with the letters we've learned. The clues can be as simple as recognizing the letter or as hard as having them write the letter 20 times before advancing on to the next clue.
Have Fun! Thanks for letting me do a guest post Marie, we love your site and have gotten many great and fun ideas from it! You can get more ideas and reviews to help parents entertain, care for and educate your children from my daily posts at my blog I Never Grew Up along with fun giveaways to win posted every other week
Thanks, Vanessa. What fabulous ideas to incorporate in learning the ABC's. I love that kids are learning letters through all kinds of mediums. Nature walks are a great way to get active and learn at the same time. Thanks for sharing your great ideas on Letters of the Week.
If any of you would like to be a guest make and taker, leave a comment or email me at marieATmakeandtakesDOTcom.