Guest post by Tiffany of Simply Modern Mom
I know we haven't met yet, but can I make a confession? My husband Nathan and I haven't been taking time to enrich our marriage ever since our oldest was born… three and a half years ago. You know how it goes. Kids seem to take over every aspect of my life. The few spare moments I have while they are sleeping, I try to get some things done or try to catch up on some sleep. Nathan, well he is the perfect dad. When he is not working or attending and doing stuff for graduate school, he is helping around the house and playing with the kids. Somehow in the mix of things, no matter how hard we tried to avoid it, kids turned into the no. 1 priority in our lives.
Don't get me wrong. We love our kids. Kaye, 3, and Elle, 1, are the spark, spunk and laughter in our lives. However, not wanting to neglect our marriage, Nathan and I committed to Project 52: Date Nights. A project we created dedicating one night a week to going on a date, just the two of us. Sounds fun but is it possible? I mean we have two young kids at home, a tight budget and absolutely no free time in our schedule. Sounds familiar? Well, anything is possible as long as you make it possible.
This is how Project 52: Date Nights works. It's simple. I promise. And this is for everyone — married, single, empty nesters, engaged. First, look at both of your schedules and find a reoccurring time, any time, during your week to do a date. We scheduled Fridays from 9 to 10 p.m., after the kids are in bed. And yes, it's only an hour. Do what fits into your busy schedule, even if it means a date during your lunch break or during the kids' nap times. Don't think that is possible? Sacrifice. What are you willing to sacrifice for your relationship with your spouse or special someone?
Second, set up some criteria that works for the both of you. On my site, Simply Modern Mom, I have a Project 52: Date Nights pledge that takes you through the set up process. The trick to coming up with the criteria is to make it doable. Considering our situation with little children and our finances, we can't afford to pay a babysitter and the date each week. What we decided would be doable for us is at-home dates costing $30 or less. So far, all of our dates have been free. Nathan and I are taking turns being in charge of date night on a monthly basis. Remember to tailor the project to what is doable for your situation.
Lastly, have an accountability system. Someway for people to check on you and make sure you are doing your dates. Someone who will hold you accountable for not doing it. Get your family and friends involved. Nathan and I blog about our dates each Tuesday on Simply Modern Mom. We do a he-said-she-said post critiquing the date we had the previous week. We also have an accountability system using link lists and comments for people to share ideas and check up on each other's weekly dating progress.
We are at week 5 and our communication has already improved. Think you'll have a hard time coming up with date ideas? Not if you knew how simple a date can be. It is mostly about the time you spend with each other. Samples of simple at-home dates include…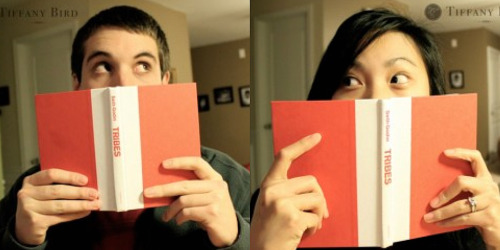 Create a cafe or coffee shop atmosphere at home and discussing a book you both recently read.
Play the First Words game where one person read the word on the card and the second person say the first thing that comes to mind. You can download the PDF First Words game cards.
Look through each other's high school yearbooks.
Have a ice cream tasting night. Try new flavors neither one of you have every tried before.
I hope you will join us in this movement to improve your relationship with your spouse or special someone. Start anytime. Then check in each Tuesday at Simply Modern Mom's Project 52: Date Nights to meet other people who are also participating. Happy dating!
Tiffany Bird is the mom behind Simply Modern Mom, a site dedicated to keeping life simple for the modern mom. She is an avid list maker and likes to have things systemized, organized and simplified in her life. The site Simply Modern Mom present tips, make crafts and decorate homes for modern mom of any lifestyle. Tiffany and Nathan met in college and will be celebrating their 6t.h anniversary this year. They have two girly girls, Kaye and Elle