Valentine's Day is just around the corner, can you feel the love? I can! And I'm planning to give a little love to a few of my friends for Valentines. I've been a little obsessed with crochet lately, if you haven't seen on my instagram, and I'm gifting some of my scarf creations. Which there will be more details about crochet soon, with patterns and tips from a newbie!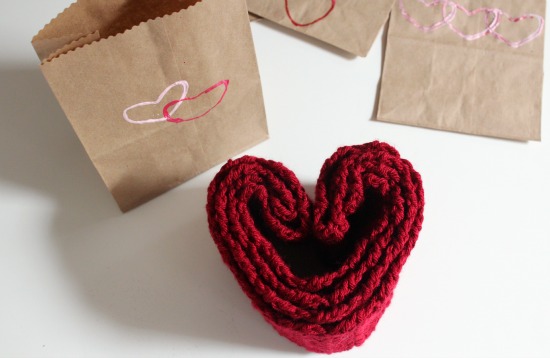 As I needed something to put my little scarves in, I decided on a brown paper sack, but needed to spruce it up. In comes paint and heart-shaped paper tubes. You know me and my other obsession… stamping with paper tubes!
This technique is so quick and easy, it's not just for the kids. I had so much fun stamping. And my gift bags turned out perfect!
Supplies for Heart Stamped Gift Bags:
1. Start by cutting the tops off your paper sacks with your fun zig-zag scissors. If you don't have any, make your own scalloped shape as you cut off the top. You want it about 2-3 inches above what will be inside, just enough to close off the top.
2. Cut your paper tube into 2 inch sections. Bend one of the sides in and the opposite side out, creating a heart shape. You may have to crease the tube so it's more of a heart shape and not an apple shape.
3. Dip your heart shaped tubes into paint and stamp them onto the paper sacks.
4. I also stamped some hot lips by accident, as the heart wasn't creased sharp enough. But I LOVE how it turned out! I added a little line of paint in the middle to complete it.
5. Let these dry. Then roll up your newly crocheted scarf, or make a batch of your favorite cookies, and add it to your cute little gift bags!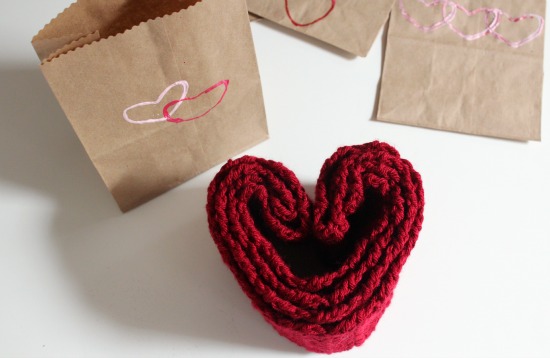 6. To seal up the top. You can simple add ribbon or staple the top, but I closed these up with some of our pipe cleaner paper clips shaped like a heart!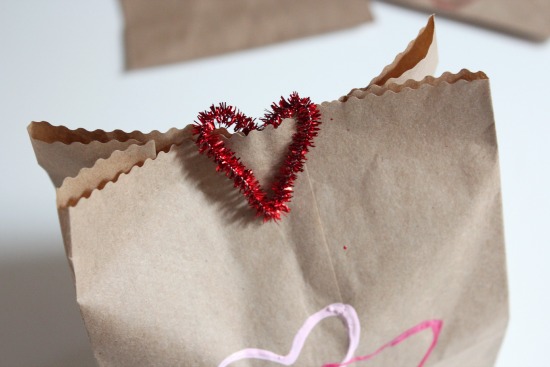 These would be perfect for a teacher too! Have fun crafting for Valentine's!
Want more Valentine's Day ideas? See this darling Valentine's embroidery hoop project and these Free Printable Valentines!