Pipe cleaners and hearts just seem to go together. We've made rings, love goggles, and now these super sweet paper clips. They are perfect for attaching all kinds of paper. I bet there's a teacher or two who would love a set of these for Valentines!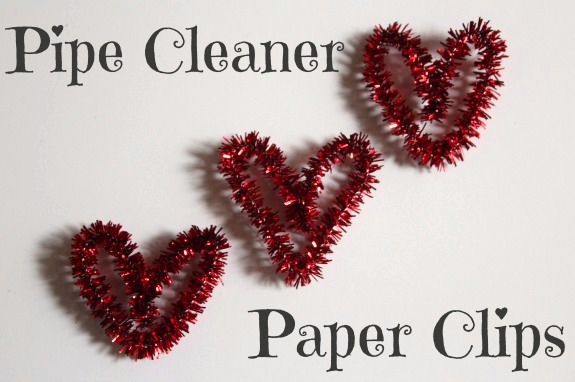 Supplies for Paper Clip Hearts:
1 pipe cleaner
scissors
something to clip :)
1. Depending on the size of paper clip you want, cut your pipe cleaner to desired length. Each of mine were 4 inches long for a mini one. You could go smaller or bigger.
2. Bend your pipe cleaner in half for the bottom of the heart.
3. Fold the two ends in to the center and twist them together.
4. Bend and crease the corners of the heart on all sides to give it more of a clip-type feel.
5. It's ready for paper. Maybe even some paper hearts!
Happy clipping!