Our house was looking a little drab after putting the Christmas decorations away, and my girls wanted to make things more festive by decorating for Valentine's Day. Homemade decorations to the rescue! We started with this cute and super-easy lovebird paper garland to hang across our mantle. This would be a great after-school craft to have waiting for the kids this week!
If you've ever made a paper doll chain, you'll know how to get started. Accordion fold a strip of drawing or copy paper – nothing too thick, since you'll be cutting through multiple layers at one time. We used pieces of 12×18″ white drawing paper, cut in half lengthwise.
With your paper strip folded up accordion-style, draw a simple bird shape. Both the beak and tail should be touching the edges of the paper. Don't make the beak or tail too pointy, since those are the parts that will join the birds together.
Cut through all the layers of paper and open to reveal your lovebird garland. Cut as many of these as you'd like to have for your finished garland – you can just tape them together after decorating.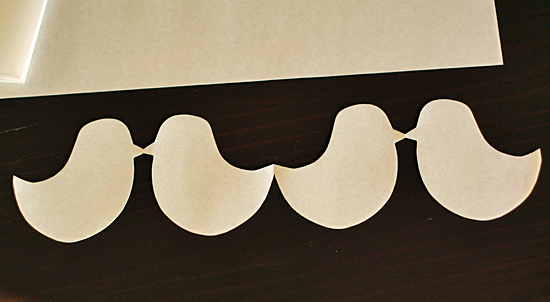 Decorate your birds however you like. We used crayons in mostly pinks, reds, and purples, but paints, markers, or even stamps would be fun to use.
Now, every lovebird needs some heart-shaped wings! We dug through our never-ending pile of scrap paper and gathered pretty papers for our heart wings. You could also use construction paper, magazine pages, or even recycle some of your kids' paintings. Use a glue stick to attach a heart to each lovebird.
Attach your garlands together using a little clear tape on the back and hang your adorable lovebirds somewhere special. Happy crafting!