My daughter is so ready for dress-ups. I made her the Ballerina Tutu, that she now wears, and she loves to put on my son's Ninja Turtle costume, too. At my sister's house, she also loves to wear a white apron they have. So I decided it was time to make her own Apron.
Little Apron Sewing Tutorial
I have seen so many cute aprons lately. Some are vintage style, you know, like the ones my Mom has in her closet (which I want to have some day!) So I found some scrap fabric in my drawers of fabric and started cutting. I am all for simple, so here is the pattern for how I made this half-apron. I made two at the same time and decided to put on up for sale in my Shop too.
Apron Instructions:
I used my rotary cutter and mat to cut a trapezoid shape. I folded the fabric in half and cut a slight angle from bottom to top. It measured 14 1/2 inches across the top, 19 inches across the bottom, and 16 1/2 inches for each side. Really you could make it longer or wider and it would be fine. This apron would fit a 1-5 year old girl.

Then I grabbed my fantastic pre-made Quilt binding made by Wrights (found at Wal-mart or JoAnns). I love this Apricot color and it goes great with the fabric I had. I sewed the binding around each side, then the bottom. You can try to maneuver the binding with folding corners for a cleaner look and one long piece, but I am lazy.
Then for the top, I got a piece that measured 42 inches long. I should have used a longer piece, like 60 inches or more, so that the string in the back could drape down a little. Then I pinned that top binding piece on so that it was even across the whole top, with long ends to tie the bow in back. I sewed the end of the quilt binding, then sewed across the top to bind it and sewed up the opposite end to finish. I used a zigzag stitch, making it look fun.

Then for the pocket, I grabbed some extra fabric again, but found a matching button to tie it all together. I cut the pocket fabric 5 inches by 7 1/2 inches. I folded down the top side 1 1/2 inches for a seam. But first I sewed a button on in the top center of that fold. Then folded down the top side and pinned it. I sewed a straight stitch at the bottom of the folded part and under the button. Next I pinned the pocket on the skirt. I also used a zigzag stitch here and when around the side, bottom, and up the other side. I sewed the pocket right on top of the fabric, with no turning down for a seam. I'll let the pocket fabric fray a little.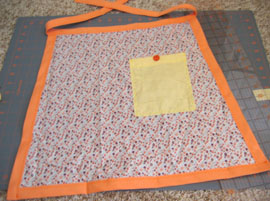 Voila! You're done. I hope I didn't confuse you. These instructions seem jumbly, so I hope the pictures help. Another option that I think I will try next, is using double-bias tape (which is smaller binding) for the sides and bottom and then the quilt binding for the top. Also, You could easily make this an adult size. In fact, I think I will do that.


I love this little apron and now she always wants to put it on and it is a struggle to take it off of her. Good luck to you, and have fun making cute Aprons.