With back to school in full force, we're definitely thinking about lunch prep while keeping snacks with a healthy option. So I'm sharing 3 ways to help make lunch prep easy!
I'm hoping to make lunch prep easier on myself this year, as it's a big part of my morning with 3 kids to get them out the door on time with a healthy lunch option.
How cute are these new Glad Disney designs on these lunch containers, available in both Star Wars and Frozen designs?! My kids are big fans of both of these movies, so it's going to be so fun to add these containers to their lunch! These 14 piece multipacks, which are only available at Walmart and on Walmart.com, come in a few different sizes, making it easy to pack just the right amount of food in each container for school lunches. They are also BPA – free, dishwasher and microwave friendly, Glad Disney Multipacks are easy to use and easy to clean!
Make-Ahead Lunch Prep for Back to School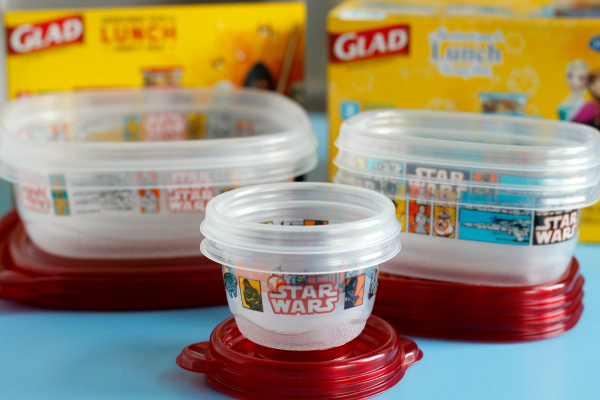 1. Sunday Lunch Prep:
For the upcoming school year, I'm planning to have at least 2-3 sets of container packs so it will carry us for a week of food prep with my kids. I'll take Sunday afternoon to prep lunches for 5 school days, choosing food that will last in the fridge, all prepped and ready for the week. Then I'll simply wash our containers over the weekend and refill them again next Sunday with the week's lunches!
2. Get the Kids Involved:
I have one child who's happy with a peanut butter sandwich everyday. But my other children want a little variety in their lunch. So they are involved in the lunch prep by choosing a weekly menu they are happy with. When you have the right containers and lunch gear, you can get pretty creative with what you add to your lunches. My kids love sushi, so we add that in for the first 2 days of the week, since it won't last the full 5 days. We also love to use tortilla wraps with peanut butter or with ham and cream cheese. You could make muffins on Sunday to add to lunches, or even cold noodle pasta is yummy too. Check out our Back to School Pinterest page for more ideas!
3. Get the Right Lunch Gear:
Be sure to purchase a reusable lunch bag your kids can use all year. These lunch bags get tossed around in buckets and on shelves, so invest in one that will last. You'll also want a few reusable cloth napkins, utensils, reusable freezer cold packs if you have items that need to stay cold, and enough Glad Disney Multipacks on hand for your family's lunch prep!
This is a sponsored conversation written by me on behalf of Glad. The opinions and text are all mine.