Fall is here! Whether you've been apple picking, or simply love apple recipes all season long, we've got you covered. From an apple galette, to cheesecake stuffed baked apples, and homemade applesauce. We are also sharing these delicious baked mini apple pies.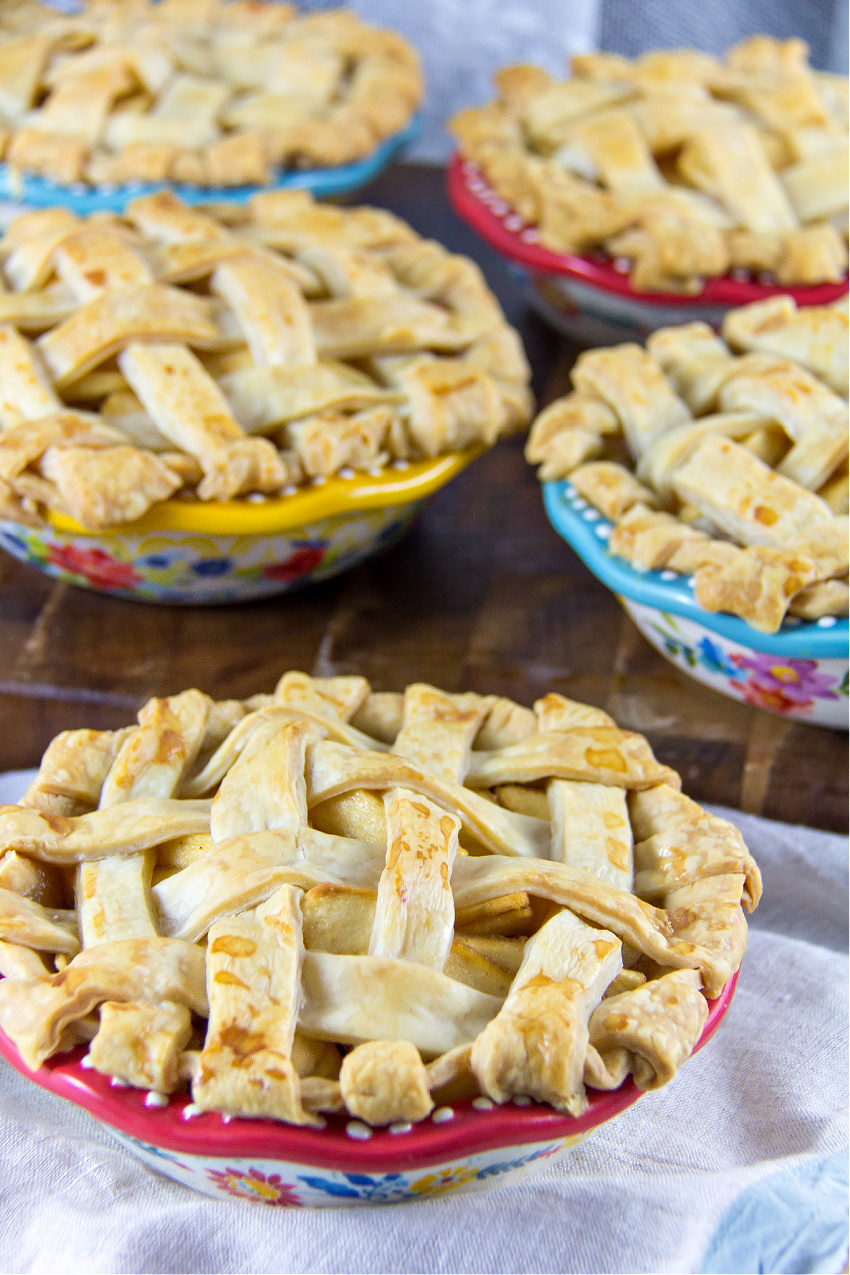 The best apples to use for apple pies
Although Granny Smith apples are the preferred favorite of most people for apple pies, I actually prefer Pink Lady apples. You can even use a combination of apples, such as have Granny Smith and half Pink Lady. Avoid apples that have a lot of juice because they are more likely to turn your apple pie filling very liquid-like, thus creating a mushy pie crust and an applesauce consistency in the middle.
How to make apple pie filling
I use an apple slicer to cut my apples, peel off the skin, and then cut each slice into thirds. If you aren't going to pre-cook your apple pie filling, then the thinner the apples, the better to ensure they cook through when baking.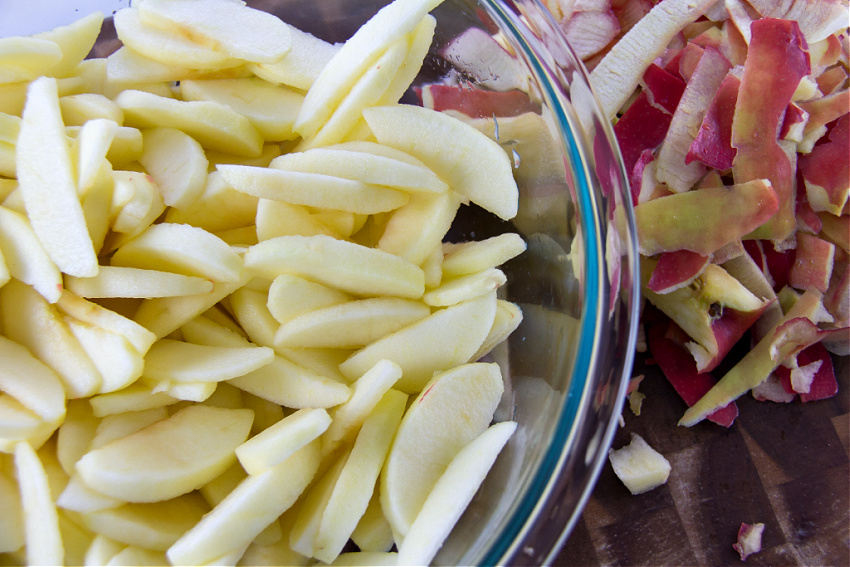 To prevent your apples from going brown, toss them with the juice of a lemon, and then add the brown and white sugar, and herbs. Set the bowl aside for about an hour, trust me on this. The juices will be extracted from the apples and will settle at the bottom of the bowl. Don't discard that juice though, we'll be using it.
How to use pre-made pie crust for mini apple pies
I have one kid who is gluten-free and other family members who are not. I simply don't have the time to make two varieties of pie crusts from scratch. When I made these mini apple pies I made a second batch of filling and put it into a pre-made gluten-free pie crust and topped it with a crumb topping. My son loved it so much.
Pre-made pie crusts are perfect for 9″ pies, but what about 5″ pies as I made? It was actually quite easy to adjust. Four pre-made pie crusts were perfect to make five mini pies.
Place the pie dish upside down on the pie crust and cut around it, allowing for a little extra around the sides. Turn the remaining dough into a ball and roll it back out again. You'll need three pre-made crusts to make the bases of the five mini pies. Slice the remaining pre-made dough into thin strips to make the lattice tops.
Prevent a soggy pie crust
There are many methods used to prevent having a soggy pie crust. The first thing I do is put a cookie sheet into the oven while it's preheating, so when you put your pie dish into the oven on top of the tray it's already hot.
I then use a fork to put small holes in the pie crust, and brush a beaten egg over the top.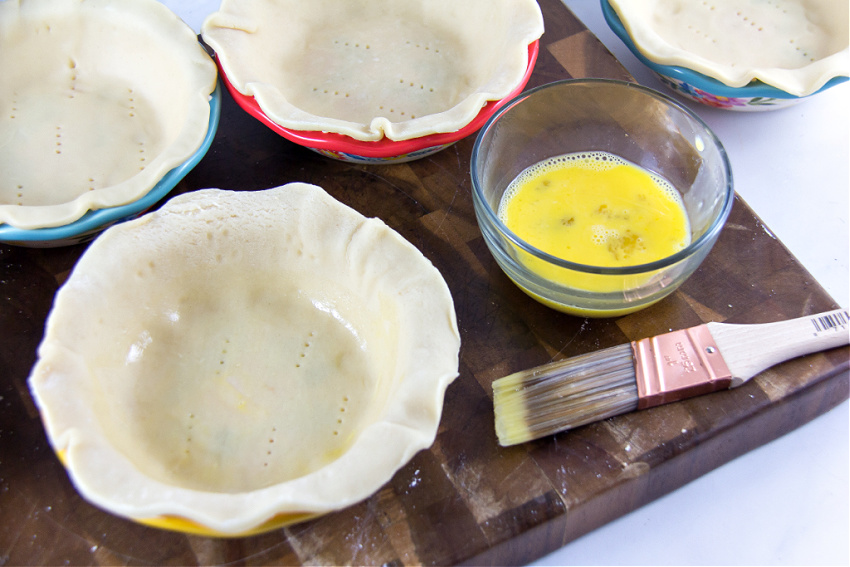 Remember when I said not to discard the liquid from the apples? This also plays a very big part in preventing soggy crust. Strain your apples, and cook the remaining juice with a tablespoon of cornstarch to thicken it. After your apples are placed inside the pie crust, pour the thicker sauce over the top. This will not only prevent your apple pie filling from being mushy, but you won't have a soggy pie crust either.
Create your lattice top, and then brush that with a little milk.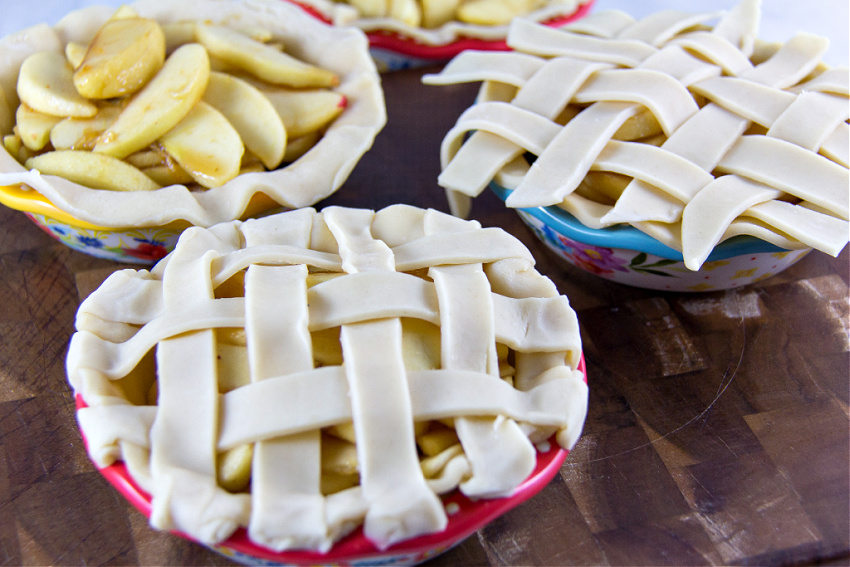 Bake your mini apple pies for 30-35 minutes until the top has browned.
Please Pin Post For Later:

Homemade Mini Apple Pies
Ingredients
2

pkgs

pre-made pie crust

3

lbs

Pink Lady apples

1

lemon

juice only

3/4

cup

brown sugar

packed

1/2

cup

white sugar

1

pinch

salt

1

tsp

cinnamon

1/4

tsp

nutmeg

1/4

tsp

ginger

1

tbs

cornstarch

1

egg

beaten

1

tbs

milk
Instructions
Preheat the oven to 375F with a cookie sheet inside

Wash, core, and peel the apples. Cut into thin slices and place in a bowl. Drizzle lemon juice over the top and toss to make sure apples are coated.

Add the brown sugar, white sugar, salt, cinnamon, nutmeg, and ginger to the bowl. Set aside for 1 hour.

Unroll the pie crust and cut circles a little larger than the pie dishes. Press into each pie dish, poke holes with a fork, and then brush beaten egg over the bottom.

Strain the apples, reserving the liquid at the bottom.

Add about 1.5 cups of apple to each pie dish.

Pour the reserved liquid into a saucepan, and over medium heat mix with cornstarch until reduced and thicker.

Pour the thickened sauce over the apple slices in the pie dishes.

Cut thin strips of remaining pie crust and create a lattice top for each pie, pinching the sides together.

Brush the lattice top with milk.

Put your pie dishes on top of the cookie sheet in the oven for 30-35 minutes, until browned.