Here is the recipe for Chocolate Cake in 5 Minutes. I promise, it really works! Once I saw it, I knew I had to try it. I love this cake for two reasons: First, you get cake in 5 minutes instead of 25 minutes (I just can't wait 20 more minutes!) Second, there's no left overs to eat two hours later, helping with portion control… unless you make it again two hours later!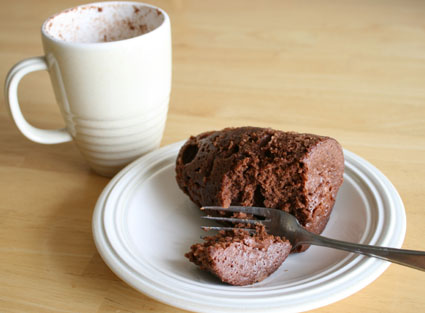 Recipe for Microwave Cake in a Cup:
4 Tablespoons cake flour
4 Tablespoons sugar
2 Tablespoons cocoa
1 Egg
3 Tablespoons milk
3 Tablespoons oil
1 Mug
Instructions:
1. In your microwavable mug, mix your flour, sugar and cocoa, then spoon in your egg.
2. Pour in the milk and oil and mix it with a fork.
3. Place your mug into the microwave for 3 minutes on high.
4. Let your cake set for a minute or two, then remove from the microwave.
I was a little skeptical at first, thinking it might be gooey inside, but it was cooked perfectly. Now, it's not as delicious as this cake or this cake, but good enough to cure the chocolate craving. It suggests to use cake flour, but I just used all purpose flour. It still tasted fine, but I know cake flour should make it a little more fluffy. Also, it needed a little frosting, so I whipped up a powdered sugar & milk glaze (stir 1 cup powdered sugar with 1 tablespoon milk) while it zapped in the microwave. My kids are now asking for cake everyday. Oh, this is truly trouble!