I've been experimenting with using vintage book covers lately. I have quite a few of them left back after removing the vintage book pages, and what better way to give them new life than to make them into "new" books? This kind of mini is pretty simple to make, and just perfect for recording day trips or short vacations.
Supplies for Mini-Album:
Vintage book cover with the pages removed
Double-sided scrapbook paper (I grabbed a pile from my scrap box)
Strong hole punch like a Crop-a-Dile
Two binder rings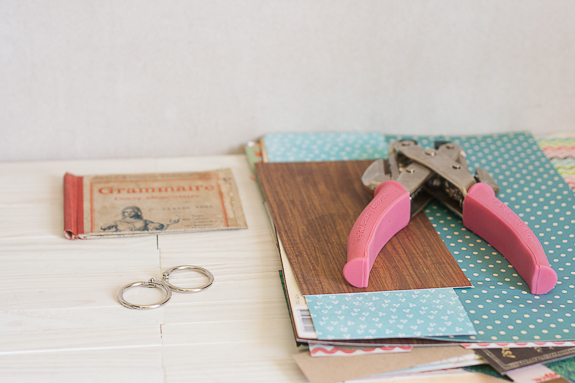 Instructions
Lay your book cover open and measure width and height. Then cut 10 pieces of  patterned paper that are half inch smaller in width, and a quarter inch smaller in height.
My cover is 9&1/2″ x 3&1/2″ so I cut my patterned paper 9″ x 3&1/4″.
Now fold each piece of paper in half so that the short sides meet.
Close the book cover, and measure two points about 3/4″ from top and bottom, along the spine
Punch holes at these points
Stack the folded papers inside the book so that they just barely touch the binding, and make a mark where the holes are
Now remove the papers, and punch holes in the stack. You might have to divide the stack into two or three, if your hole punch isn't strong enough to punch them all at once
Replace pages between the cover and use binder rings to hold together.
You can make these whatever size you desire. Mine is just perfect for small photos, like Instagram printed out at 2×2. Here's what it looks like when open. I really like the look of the folded pages.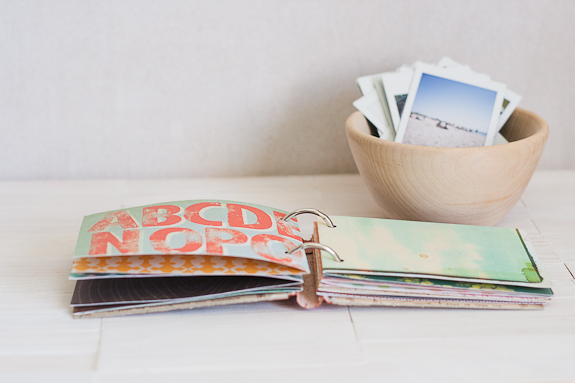 What will you use yours for?